---
Style / World of Watches (WOW)
TAG Heuer Monaco V4: Back in Black as the Phantom
True to its name of having and using Techniques d'Avant Garde, TAG Heuer has created several ground-breaking movements and watches throughout its history. 1916's Micrograph, for example, could measure elapsed time to 1/100th of a second, while the Mikrotimer Flying 1000 unveiled in 2011 beat it by a factor of 10 with a chronograph that […]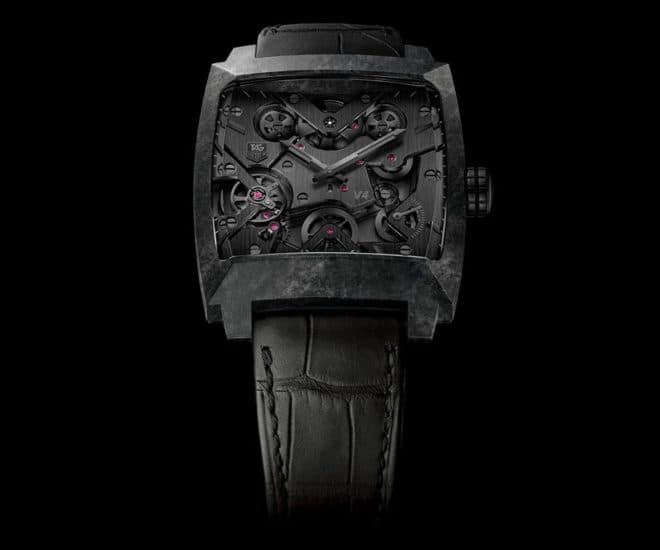 True to its name of having and using Techniques d'Avant Garde, TAG Heuer has created several ground-breaking movements and watches throughout its history. 1916's Micrograph, for example, could measure elapsed time to 1/100th of a second, while the Mikrotimer Flying 1000 unveiled in 2011 beat it by a factor of 10 with a chronograph that was accurate to 1/1000th of a second. The Monaco V4 introduced in 2004 was another revolutionary product, given its movement's usage of belts rather than gears. In keeping with the theme, the watch also discarded the traditional oscillating weight in exchange for a linear weight that moves on a rail.
For Baselworld 2015, TAG Heuer has brought the Monaco V4 back… in black. The reinvented timepiece, the Monaco V4 Phantom, is now nearly entirely monochromic, beginning with a case and movement bridges of Carbon Matrix Composite (CMC). Despite being comprised of identical materials, the case and movement bridges look radically different; TAG Heuer had aligned the carbon fibres in the bridges, and micro-blasted them to achieve their vertically brushed surfaces in matte black. The carbon fibres in the case, on the other hand, are randomly arranged and thus lack the regular "graining" seen in the bridges.
Apart from CMC, titanium carbide also features prominently in this watch. Besides being an extremely hard material with a technical slant like the Monaco V4 Phantom, titanium carbide is also black, which matches the watch's palette. As such, several components of the Monaco V4 Phantom have been coated in black titanium carbide, including the crown, main plate, wheels, indexes, and screws. The faceted hands have also been coated with the material, and TAG Heuer has gone all out by applying anthracite grey SuperLuminova to them. With the only dashes of colour coming from the movement's jewels, the Monaco V4 avant-garde aesthetics have been turned up another notch in this iteration. 
---