---
Style / World of Watches (WOW)
TAG Heuer and Porsche Bind Carrera Heritage
New for 2021, the TAG Heuer Carrera Porsche Chronograph represents the start line of an important brand partnership.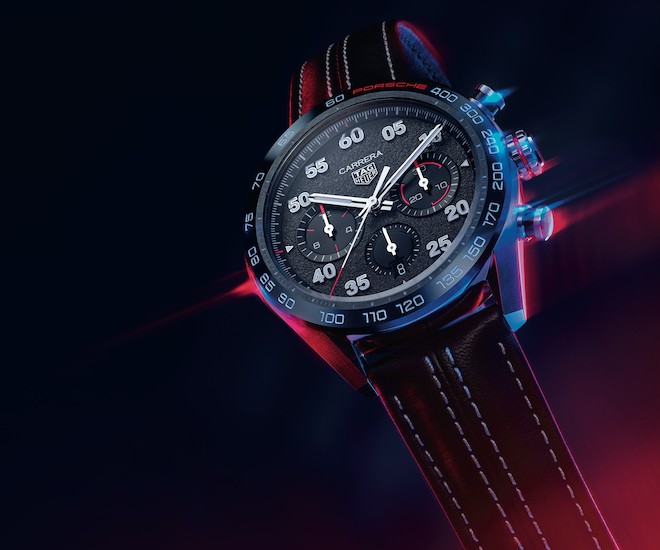 Swiss watchmaker TAG Heuer and German sportscar behemoth Porsche announced a partnership yesterday that was decades in the making. If you know anything about these brands, then you will probably know that both have icons called the Carrera. Watch and car enthusiasts have been hankering for the two Carrera worlds to meet, and they got their wish with the TAG Heuer Carrera Porsche Chronograph. This new watch, the first 2021 model from TAG Heuer, is only the first step in what the brands say will be a long-term affair. Before we get into the details on the watch, you should first know that this model maintains the heart and soul of the Carrera sports chronograph models launched last year. That of course means that the Heuer 02 Automatic movement is the engine of time here.
Back to this historic partnership for a moment… You may well have thought that TAG Heuer and Porsche have been in cahoots forever, but you would be mistaken. TAG Heuer CEO Fredreric Arnault and Porsche AG Executive Board Member Detlev von Platen shared a digital launch for the partnership, and noted that this is all new ground for both brands. However, they did note that the two brands have been doing a bit of a space-time tango for a good part of their history in the 20th century. Well, perhaps the more apt analogy would be that they have been racing on the same tracks, just in different classes. While there is plenty to chew on here, we will return to the historical substance of this another time. For the moment, the main thing to remember here is that neither brand's Carrera has anything substantive to do with the other – until now. One can imagine a double chronograph in the future for this partnership because reality has finally caught up with perception here, but we digress. 
So what can fans expect? TAG Heuer and Porsche ambassador Patrick Dempsey expressed it best with his gleeful delight at the partnership, which felt like it might have burst right through the screen when he Zoomed in on Arnault and von Platen's show. It's a come-on-and-get-happy moment, but there will no doubt be plenty of mutually beneficial research and development here. For now, aside from the TAG Heuer Carrera Porsche Chronograph, the brands have announced that they will be joining hands in motorsports, tennis and golf. The already successful TAG Heuer Porsche Formula E collaboration will continue, with the team looking to challenge for the World Championship this year. TAG Heuer will also be supporting Porsche in the area of virtual racing, meaning e-sports, while also playing co-driver at Porsche's classic car events and rallies. 
For golf, there's the Porsche Golf Cup and the brand's sponsorship of the European Open tournament, both of which TAG Heuer will now join. In tennis, there's the Porsche Tennis Grand Prix in Stuttgart (Porsche's home-stomping grounds), which TAG Heuer will now be the Official Timing, Watch and Chronograph partner. That's pretty much it, but do expect a whole lot of tagging along to come. This leaves us with the new TAG Heuer Carrera Porsche Chronograph, which is indeed a handsome watch, and is available immediately.  The watch is a special edition, not a limited one. There are two very distinct versions – one with an unusual leather strap and the other with a steel bracelet. Normally, we would opt for the bracelet but the highly evocative stitching of the leather strap is almost hypnotic. 
As previously noted, the watch is the same Carrera sports chronograph that we covered in some depth last year, right down to the 44mm dimensions. It's a big fella and wears like it, but it is not uncomfortably large. Key visual references to note are the engraved Porsche name on the ceramic bezel, and the font used for the indexes. The numerals in play are also completely different to the vanilla Carrera chronographs. They are meant to evoke a sense of the Porsche dashboard of course.
Specifications
Movement: Automatic Heuer 02 with chronograph and date; 80-hour power reserve
Case: 44mm in steel with fixed ceramic bezel; water-resistant to 100 metres
Strap: Black calf leather with hand-stitching or steel bracelet
Price: S$8,250 (leather strap) and S$8,500 (steel bracelet)
For more information, visit TAG Heuer's official page here.
---