---
Style / World of Watches (WOW)
#SpeedyTuesday and Rising auction values reflect Growing Interest in Vintage Omega Speedmasters
#SpeedyTuesday and rising auction values will continue to be place tailwinds for Omega Speedmaster auction values for the years to come.
Over the last few years, Omega Speedmaster chronographs have been growing in auction resale values. Late 2017, a rare, early first generation ref. CK 2915-1 Speedmaster from 1958 was discovered in the attic of their family home by the owner's son, eventually auctioned at  Bukowskis Auction House in Stockholm for a price equivalent to $275,508 US dollars, marking a new World Record for Omega Speedmasters.
The stainless steel first generation 1958 Speedmaster ref. CK 2915-1 is identified by its famous design, including a black dial with Broad Arrow hands, tachymeter scale on the bezel and sought-after calibre 321. Rarer still, was the unpolished case and original dial, making it one of the rarest CK 2915-1 models seen at auction, and certainly one of the most desired and the slightly over quarter of a million dollars was reflecting of the growing resale values of vintage Omega Speedmaster chronographs.
#SpeedyTuesday and Rising auction values reflect Growing Interest in Vintage Omega Speedmaster chronographs
By mid 2018, another Omega Speedmaster ref. CK 2915-1 "Broad Arrow" in better condition was auctioned by Philipps, smashing both estimate and the previous Bukowskis record with close to half a million dollars –  $408,500, it wasn't a surprise but it was dramatic. These headlines of doubled auction values were usually reserved for competing brands but of late, as watch connoisseurs seek "blue oceans" (business nomenclature referring to new, uncontested market that creates new consumer value often while decreasing costs), Omega seems to be where collectors, watch investors and speculators appear to be turning. In fact, the CK 2915 references 1, 2, and 3 all command resale values that have almost doubled.
2018 comes to a close, the runaway success of #SpeedyTuesday was book-ended by the crazy success of the Omega "Ultraman" Speedmaster edition, selling out a few minutes after web registration opened as rabid fans obsessively clicked refresh while waiting for the page to load and accept their details. However, I reserve my appreciation for the Speedmaster "Alaska III", a 1968 update, 10 years after the original Omega chronograph was launched.
"Redesigning the sub-counters of the chronograph and changing their markings into a radial layout ensured an easier and more exact way of reading the chronograph's elapsed timing results." – Petros Protopapas, Omega Museum Director
Omega began work on the "Alaska III" project with the goal of improving the classic Moonwatch we all know and love to include anti-reflective surfaces and an easy-to-read dial. The result was a similar, made in America (more on that in a bit) brushed stainless steel case with large radial numerals on the subdials specifically requested by NASA Engineer Jim Ragan (most recently seen on the 2017 #SpeedyTuesday model), making this model one of the most aesthetically distinct models apart from specially designed "Snoopy" or "Apollo" limited edition dials.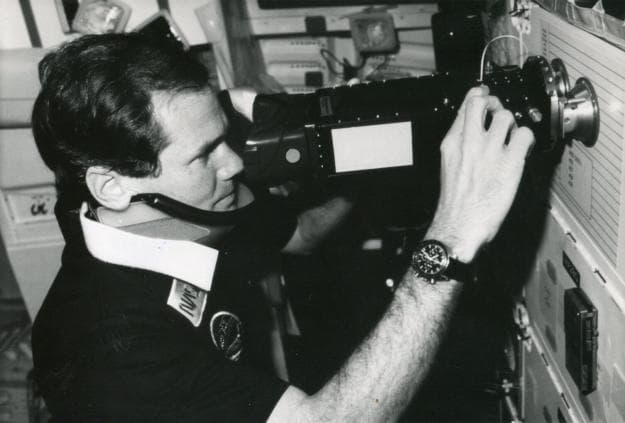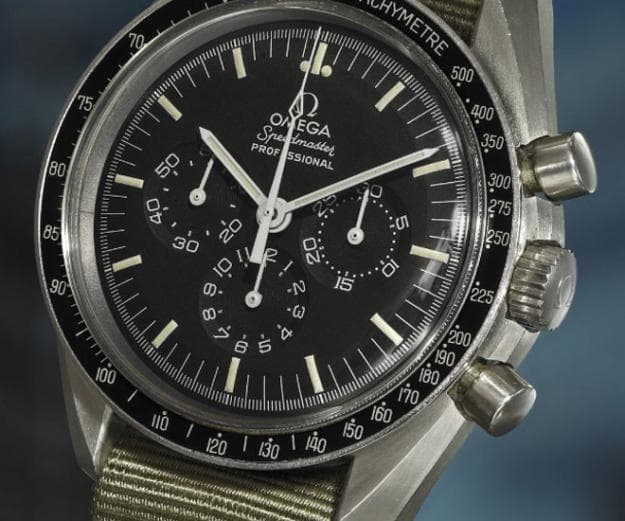 The first batch of the Omega Speedmaster Alaska III was a production run of 56 pieces and NASA used them on-board the Space Shuttle missions in the 1980s. Aside from the dial evolution, the 1968 Speedmaster chronograph also introduced the calibre 861, the second movement introduced into Omega's iconic chronograph.
Compared to the previous calibre 321, the Alaska III's chronograph calibre had a much simplified but no less effective (still NASA mission-certified) architecture. Several updates were achieved through modifications including a flat balance-spring and a shuttle cam instead of a column-wheel, a change that provided greater consistency and a lower production cost. The balance frequency was raised to 21,600 v/h to improve precision and, from the early 1970s, the steel chronograph brake was replaced by a brake in Delrin®, a low-friction polymer that improved the movement's longevity.
The cases of the Omega Speedmaster "Alaska III" were also made in the USA due to the "Buy American Act" which made this version of the Bienne Manufacture's chronograph, the first to not feature the traditional 'Swiss Made' markings on the dial as Federal regulations necessitated that a certain percentage of value had to be American made. Forced to comply, Omega worked with an American case manufacturer and chose the 'Star Watch Case Company' of Michigan for these Alaska III models. Another important distinction was the treatment of the case. These were blasted using microbeads to reduce glare, because light might reflect on the metallic case in ways that could bother astronauts during operations.
According to Phillips, the Alaska III was eventually sent in as one of three candidates when NASA initiated a new solicitation in 1978 for the Space Shuttle program. After a series of environmental tests which pitted Bulova and Omega against each other – again – NASA found the Speedmaster superior – again. The so-called "radial dial" Moonwatch became the first of many Alaska projects to become officially flight-qualified, and remained so until the Speedmaster X-33 models became standard issue in the late 1990s but 'radial dial' Speedmasters remained on the active inventory for many years.
Fresh to the auction market, it was impressive that the Omega Speedmaster Alaska III raised auction resale values of $187,500 without prior price-value benchmarks. It looks like #SpeedyTuesday and rising auction values will continue to be place tailwinds for Omega Speedmaster auction values for the years to come.
---