---
Style / World of Watches (WOW)
Slim d'Hermès Mille Fleurs du Mexique
Folklore, flora, and fauna come together in the beautiful Slim d'Hermès 
Mille Fleurs du Mexique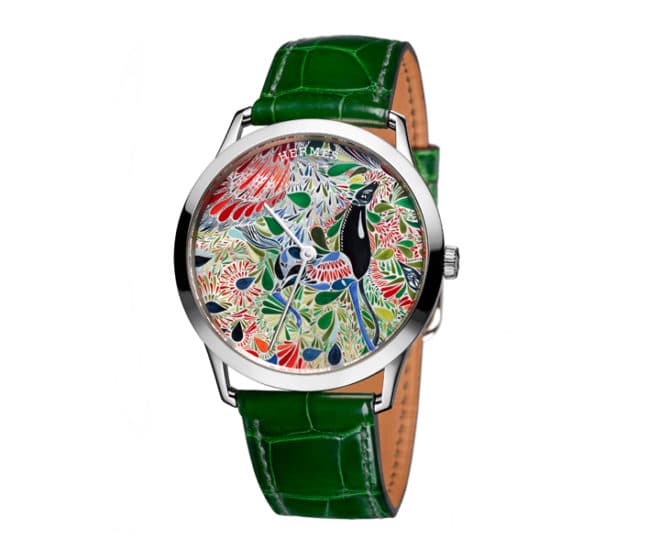 A thousand flowers from Mexico – one could easily imagine this to be the title of a follow-up book to Gabriel García Márquez's One Hundred Years Of Solitude, but it is the name of a new Hermès timepiece dedicated to the natural beauty of Mexico, the country in which Márquez lived until he passed away in 2014. Away from the sleek, fashion-forward streets of Paris, Hermès ventured into the lush forests of Mexico to find the inspiration for this dial, housed in the recently introduced Slim d'Hermès case.
The French maison, however, didn't do it alone; it had the help of Mexican graphic designer Laetitia Bianchi, who had earlier created a design for an Hermès Carré scarf. Bianchi's design embraced the Mexican tradition of using bright bold colours to form a tapestry of leaves and flowers reminiscent of the 15th and 16th century artistic style, hence the name Mille Fleurs.
Of course, as a nod to Hermès's equestrian heritage, the designer made sure to feature amid the rich foliage, a horse – most probably an Azteca horse, which is a breed that's indigenous to Mexico. But no one except Bianchi knows for sure because the original artwork is skewed a little more towards the abstract rather than figurative. What is certain is that it is made up of a profusion of feathers, flowers, leaves, and animals native to the land, transforming and disappearing or appearing depending on one's perspective. With the Slim d'Hermès Mille Fleurs du Mexique, the scene had been miniaturised and replicated on a mother-of-pearl dial by an enamellist.
Work on this six-piece limited edition timepiece begins when the enamellist creates a sketch of Bianchi's artwork on the natural mother-of-pearl dial. He then etches more vividly the lines that define the scene and prepares the colours required to fill them. Using extremely fine paintbrushes, some as fine as a strand of hair, he applies the colours to the dial in layers as many as 20, each of which is followed by a round of firing in the oven at 90 degrees Celsius. The enamellist's proficiency is apparent in how he manages to balance the precision of each stroke with variations in colour tonality, emphasising the handcraftsmanship behind the artwork. The selection of colours, as well, was tastefully put together to coax the eye towards the prancing horse without taking attention away from the dazzling verdure.
Paired with a posh forest-green alligator strap, which needless to say was handcrafted at the Hermès leather workshop, the Slim d'Hermès Mille Fleurs du Mexique adds a bright blast of colour to any ensemble. And collectors with a penchant for abstract art might be tempted to express their artistic inclinations with this vivacious timepiece.
Specs
Dimensions: 39.5mm
Functions: Hours, minutes
Power Reserve: 42 hours
Movement: Self-winding Calibre H1950
Material: 39.5mm in white gold
Water Resistance: 30 meters
Strap: Smooth green alligator leather with white gold pin buckle
Story Credits
Text by Celine Yap
This story was first published in World of Watches.
---