---
Style / World of Watches (WOW)
On Newsstands: WOW Legacy 2022
This special annual issue is on newsstands now and puts the spotlight firmly on traditional watchmaking and its values.
For the inaugural issue of WOW Legacy, the team travelled back through time to journey through the very evolution of Swiss watchmaking. This special annual issue is on newsstands now and puts the spotlight firmly on traditional watchmaking and its values. It will be our forum for all horological objects classical and dressy. Of course, we know that watchmaking did not even get its start in Switzerland, so future annual issues will get into the weeds of what happened in the domain of timekeeping in Great Britain, France, Germany, the United States and Japan. For our start though, we just had to fire up the Tardis for a Swiss field trip.
We went back 200, 100, and even 20 years ago to understand how the cultural zeitgeist of those eras had an impact on the watches we wear today. We undertook a hefty task, and explored the confluence of location and legacy by touring the main Swiss cantons where watchmaking first erupted. The story became a beast of its own. The more people we spoke to, the more research we did, the more we realised that the tales that had been fed to us over the years had slowly been watered down, almost romanticised, with many details lost as we moved forward. So we dug deeper to understand the real impact of certain legends that we take for granted today. In the Jura Valley, for instance, we're told that watchmaking emerged because the location was remote. But… why? How? Who were the main proponents?
"These questions are typically ignored amongst contemporary collectors, who might be swept up in the rising tide of horological appreciation today and thus unable to ask such questions," said WOW Editor-in-Chief Ashok Soman. "But where it all came from informs where it is going, and that is precisely what the Legacy issue gets into. First and foremost, watchmaking is about art and science — that might be sustained by brand-powered marketing today, but the watchmakers of old used both to actually sell their wares."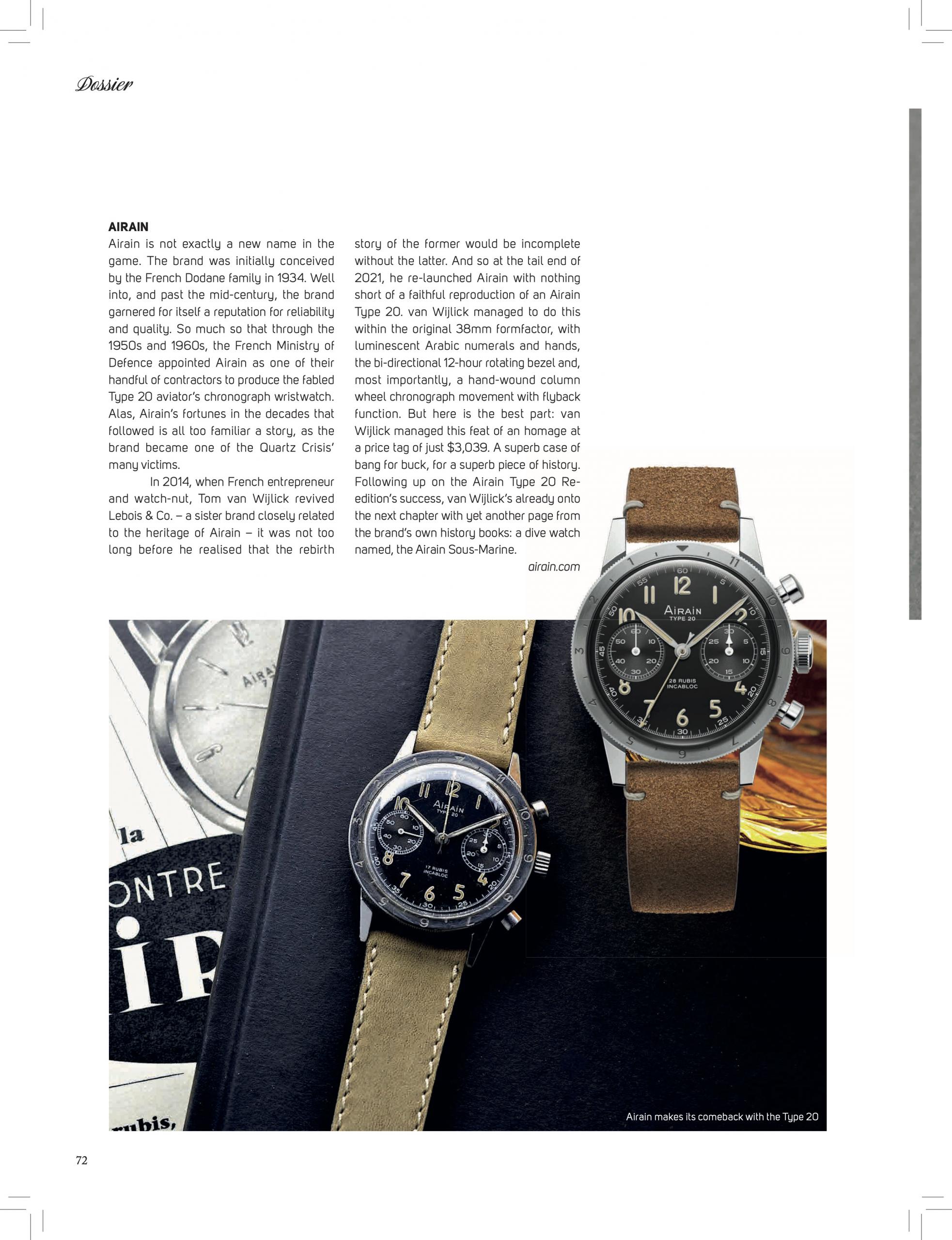 "While this issue of WOW Legacy celebrates the giants that came before us, we cannot forget the contributions of those who continue to perpetuate, celebrate and preserve these traditions," said WOW Legacy Project Editor Karishma Tulsidas.
Every action has its consequence, and it is these consequences that form the building blocks for what we call "legacy" today — the actions, thoughts and ideas that continue to be passed on from generation to generation. There is one man in the annals of horological history whose actions have arguably had some of the greatest effects on how the industry operates today. That man is Abraham-Louis Breguet, founder of his eponymous maison, who inked a new design language for pocket watches back in the 1800s, and masterminded various technical inventions that continue to power our watches today. On the cover of the first issue of WOW Legacy, it made sense to pay homage to this incredible watchmaker whose genius continues to inspire us today. Discover how the new Tradition 7047 Tourbillon Waltz is a tribute to Abraham-Louis' life.
But we're certain that even the most visionary of business leaders would not have guessed that some of the watches launched under their purview — especially those built for the battlefield — would become modern tool watches for the 21st century warrior, albeit of the keyboard kind. We unpack the origins of some of the most iconic collections of all time, some of which have fascinating stories of derring-dos and immutable grit attached to them. You might be surprised to learn, for example, that the Blancpain Fifty Fathoms — a collector favourite — had been doomed to fail for life beyond the seas, and had been all but declared a commercial failure. Read more about these collections in the issue here.
For more watch reads, click here.
---