---
Style / World of Watches (WOW)
Moto 360 gets gold-toned edition
Motorola has now made the gold Moto 360 official and listed the smartwatch on its site as "Coming Soon".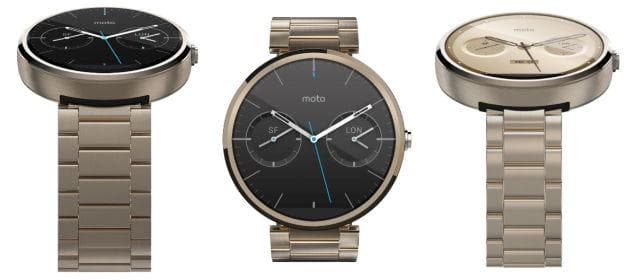 The best-looking Android-powered SMARTWATCH is turning on the style just in time for the holiday season.
As well as a new Champagne Gold edition, customers will be able to specify the watch with a host of colored or polished stainless steel bands.
Until now the watch has only been available with a leather strap but the new choices are meant to reflect the fact that a watch, no matter how smart, is also a piece of jewelry or an accessory and therefore needs to reflect the style of its wearer.
WHAT DO THE WATCHMAKERS THINK OF APPLE WATCH?
Motorola is also adding to the number of leather straps available for the Moto 360 and says that it will be rolling out a selection of thinner bands and straps too for those of us with smaller wrists.
The standard Moto 360 costs $250 but if specified with one of the aircraft-grade stainless steel straps the price goes up to $299. However, going for gold will cost a further $30.
However, that premium is nothing compared to the purported cost of Apple's gold smartwatch.
If the latest reports are to be believed, the upcoming 18-karat edition of the Apple Watch is going to cost the same as a Rolex.
DON'T MISS: MOTOROLA MOTO G FERRARI EDITION
According to French website iGen, the smartwatch is going to come with a price tag of $5000 when it launches in Spring 2015.
Even the stainless steel version is expected to cost $500 in the US. With that in mind, the Moto 360 is a bargain.
Motorola has also added Moto Body, a new app focused on well-being that tracks heart rate, steps taken and calories burned; plus a selection of new watch faces for the device and an option for wearers to create their own, all via updates to the Moto Connect app.
---