---
Style / World of Watches (WOW)
Cut and Polished: Jaquet Droz and Mineral Dials
Mention decorative arts in horology, and Jaquet Droz will invariably come to mind. The association's well-deserved, since every Jaquet Droz collection has references with immaculately decorated dials. The timepieces demonstrate the brand's expertise in several techniques, including Côtes de Genève engraving, grand feu and paillonné enamelling, and gem-setting. To top things off, its Les Ateliers […]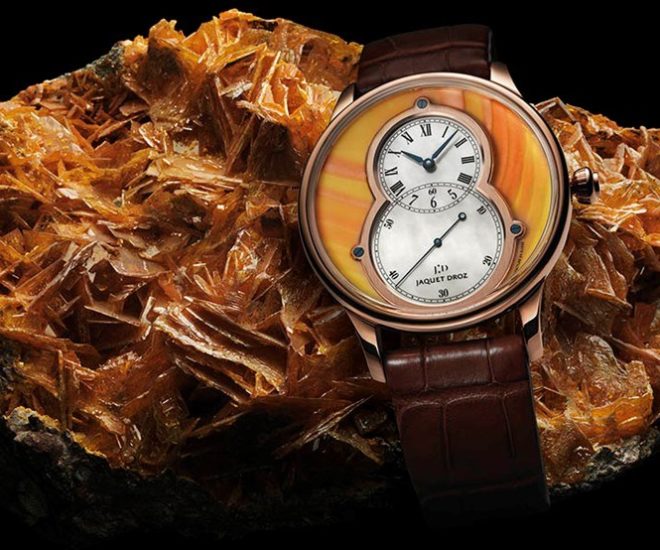 Mention decorative arts in horology, and Jaquet Droz will invariably come to mind. The association's well-deserved, since every Jaquet Droz collection has references with immaculately decorated dials. The timepieces demonstrate the brand's expertise in several techniques, including Côtes de Genève engraving, grand feu and paillonné enamelling, and gem-setting. To top things off, its Les Ateliers d'Art collection puts it in an exclusive club of métier d'art-capable watchmakers.
In a variation on the theme of decorated dials, Jaquet Droz has unveiled several timepieces featuring dials of alternative materials. As these materials are mined, not made, every specimen is unique. Clearly, this demands a different sort of finesse from the usual decorative techniques. The chief challenge here is to choose a suitable piece and decide which of its surfaces to cut, polish, and present.
Grande Seconde Imperial Jasper
As its name suggests, the subject here is a dial of imperial jasper, a variant of jasper mined near San Cristobal, Mexico. This particular piece contains banding with layers ranging from light pink to dark orange, and frames the mother of pearl sub-dials with a red gold border. The use of red gold extends to the 43mm watch case, creating a warm appearance that's balanced by the cooler sub-dials. This timepiece is powered by Jaquet Droz's self-winding Calibre 2663, which beats at 28,800 vph and holds a 68-hour power reserve. The Grande Seconde Imperial Jasper is a once-off creation.
Petite Heure Minute 35mm Ruby Heart
For something even hotter, consider the Ruby Heart. This timepiece presents the familiar ruby atypically – rather than a polished and faceted gem, Jaquet Droz uses a single slice of it as the watch's dial. The ruby's strong hues dominate the watch, while its cross-sectional cut reveals textured inclusions that lend visual interest. To avoid cluttering the dial, the timekeeping "sub-dial" is a mere ring with the hour and minute hands. These features are in red gold, like the watch case, which houses a self-winding Calibre 2653 movement that runs for 68 hours when fully wound.
Grande Date Lapis Lazuli
In stark contrast to Ruby Heart, the Grande Date Lapis Lazuli looks almost cold to the touch. The intensely blue stone forms the background here, against which the mother of pearl sub-dial and big date windows are set. Red gold is used to frame the sub-dial and big date apertures, and as the case material. Interestingly, this combination of colours and textures mutes the metal's characteristic warmth without diminishing its elegance and luxurious touch. Beneath the lapis lazuli dial lies a Calibre 2653G, which is self-winding with a 65-hour power reserve ticking at four hertz. The watch is limited to 88 pieces.
Grande Seconde Meteorite
Last but not least, the Grande Seconde Meteorite is for those who want a literal piece of the heavens. This watch's dial shows the distinctive Widmanstätten pattern unique to iron meteorites that have fallen to earth from outer space. This pattern is formed as the meteorite cools down over thousands to millions of years in space, and is not reproducible in laboratories. The pattern of three bands intersecting each other at 60 degrees is achieved by cutting the meteorite equidistant from the crystallographic centre. For a touch of class, a red gold ring with inlaid diamonds surrounds the mother of pearl sub-dials. The Grande Seconde Meteorite is limited to 88 pieces in red gold.
---