---
Style / World of Watches (WOW)
Interview: Franck Muller
The eponymous founder of Franck Muller discusses the luxury watch business and his perspective on watches.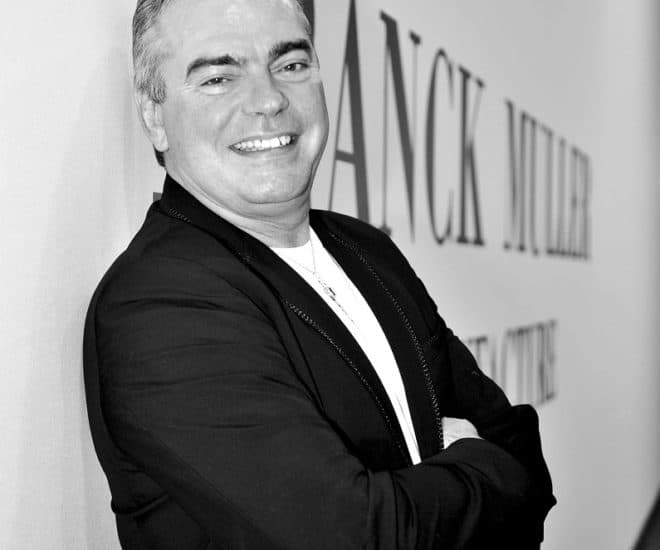 This is the WPHH's third year in Hong Kong. How has the Asian market performed in this period, and what are your strategies in the current market conditions?
The market has slowed, but the strategy doesn't change – we are not a public company, so there's no external pressure to work a certain way. Of course our growth has slowed down, and profits are lower, but that's OK, because our projects are not affected. We are constructing two new buildings in Watchland to add 16,000sqm of space, and still opening new boutiques. It's business as usual.
You're also growing Franck Muller into a very holistic brand, given the restaurants in the Hong Kong flagship boutique and the launch of a yacht.
Yes, this is the lifestyle aspect of the brand. Things like the yacht and the restaurants are intended for friends and customers of the brand, and this is important because I don't want the brand to be too commercial.
You released the Black Croco last year, and followed up with the Cobra this year. Can we expect to see more textured cases in the coming years?
The Croco was successful, and the Cobra has been well received so far, but whether I make another one really depends, because the ideas for watches like these come from suggestions people give me in conversations. There is no plan to make a line; the ideas come organically through talking to people.
How did the concept for the Gravity come about?
The idea for the Gravity was to have a carrousel, which was new to us, and to have a big opening in it so that you can look inside the movement. The carrousel is a little different from the tourbillon, you know, because the balance wheel spins around the rotating cage's central axis. Breguet didn't differentiate between them when he filed his patent, but at Franck Muller, we call it a carrousel since it spins like one. We put this complication into the Vanguard because a carrousel's parts are slightly little cheaper for us to fabricate, and the collection is supposed to be more competitively priced, so it's a good match. Because of its size, however, the challenge was to poise and balance the components, and to have the movement deliver enough torque to power the complication.
The Vanguard Gravity has an aluminum rotating cage. Why did you choose this metal, when titanium offers similar benefits such as lightness and corrosion resistance, but is also stronger?
We had ideas to offer the Vanguard Gravity in different colorways, which is why we picked aluminum, as its surface can be treated to take on different colors. Titanium might be stronger, but it's also more difficult to machine, which was a problem during production.
As the boss, are you still involved in the watchmaking side of the brand?
Yes. I still give my ideas for the new watches' designs, and I help to find solutions to the challenges with their movements. Of course, I'm no longer as involved as I was in the past, because I need to spend my time on other aspects of the business as well.
Do you miss the watchmaking part though, and maybe wished you had more time for it?
No, my work has changed, and my life along with it. My time is better spent in the other areas of the business. Anyway, I've built an excellent team of watchmakers, and trained some of them personally over many years, so I'm not worried.
We have seen many tourbillons coming from China, but no Chinese manufacture has managed to produce a minute repeater yet. In your opinion as a watchmaker, is a minute repeater more difficult to achieve?
Of course! There's no doubt about this. It's like the difference between a four-cylinder Toyota and a 16-cylinder Bugatti. Firstly, there are around four times the parts inside a minute repeater, and some of these components are very difficult to make. It's also a very complicated process to assemble and adjust a minute repeater, which is why there are so few of them. There is also the cost factor – a minute repeater is very expensive to produce, both in terms of time and talent, so it's a high hurdle for a company to cross.
Perpetual calendars are commonly available as modules today, and even tourbillons can be purchased from external suppliers. Do you think a minute repeater will ever go that way?
Yes, and it's already being done. Many minute repeaters that you see today are not made in-house, because very few brands can do it themselves.
Is there any complication that you feel you haven't explored enough, and will want to touch on in the future?
Again, this depends on ideas, because you must start with one first before you can go around finding a solution for it. It's like the Master Banker. The idea for it came from a customer of mine, who said that he needed a watch that could show three time zones at the same time. I worked for over a year based on this idea to come up with the watch, which showed three sets of hours and minutes, but based on just one movement. Future complications must also start with an idea before anything can proceed.
Do you have a favorite complication?
If I have to choose one, then it's probably the Crazy Hour, because it's fun. If not, then I will pick the classic grand complication: a minute repeater, perpetual calendar, tourbillon, and chronograph all in one.
Story Credits
This article was originally published in World of Watches
---