---
Style / World of Watches (WOW)
Hublot Black Caviar Bang
The latest addition to the million-dollar watch club is Hublot's limited-edition Black Caviar Bang based on their highly acclaimed Big Bang model. It features an 18k white gold case and a clasp that features hundreds of precision-cut black diamonds. The watch's total of 34.5 carats is made up of 322 diamonds on the case, 179 […]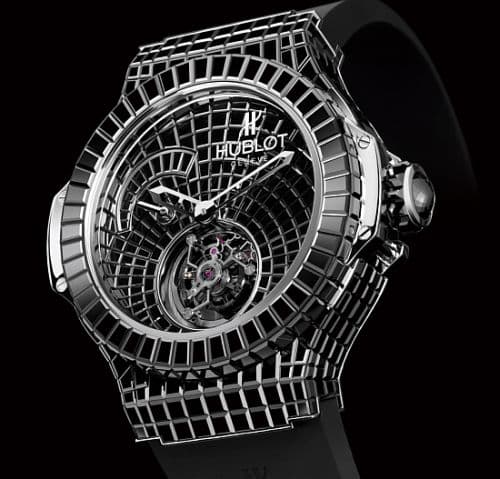 The latest addition to the million-dollar watch club is Hublot's limited-edition Black Caviar Bang based on their highly acclaimed Big Bang model.
It features an 18k white gold case and a clasp that features hundreds of precision-cut black diamonds.
The watch's total of 34.5 carats is made up of 322 diamonds on the case, 179 on the bezel and another 30 on the clasp.


These rare black diamonds are responsible for that touch of luxury and the heavy million-dollar price tag.
The watch uses the Hublot caliber HUB Solo T movement which is a tourbillon volant which has a power reserve of a hundred and twenty hours.
Creating this exceptional watch demanded over 2000 hours of meticulous work, from design to final adjustment, without forgetting the research and development, programming of the machines, choice of tools, diamond cutting, optical checking of each part, and setting and casing.
This million-dollar watch is definitely exclusive as it is a limited edition of only one piece !
---