---
Style / World of Watches (WOW)
Horological Machine No. 3 from MB&F
The backdrop is a Palladian style structure engulfed in mist in the galaxy, aligning technique and three dimensional sculptures together. From outer space 'Starcruiser' and 'Sidewinder' are travelling to Planet Earth to unravel a secret. The secret of horological swiss brand MB&F which has been travelling in the galaxy of clock-making since the Belle Époque […]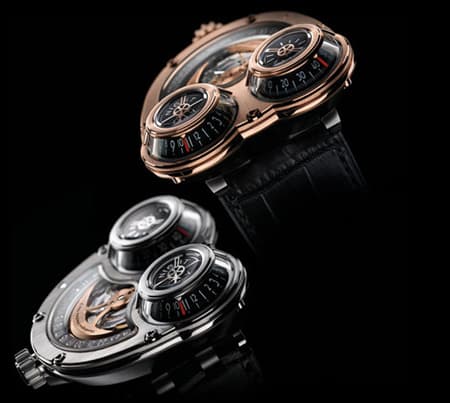 The backdrop is a Palladian style structure engulfed in mist in the galaxy, aligning technique and three dimensional sculptures together.
From outer space 'Starcruiser' and 'Sidewinder' are travelling to Planet Earth to unravel a secret.
The secret of horological swiss brand MB&F which has been travelling in the galaxy of clock-making since the Belle Époque (the era of scientific and technological advancement) and is now returning to our planet.

Once again, MB&F is redefining the gravity of time by defying our senses with their HM3, comprising of more than 300 fine-finished and high-precision components, marking the beginning of another era!
Watches! they are evolved horological machines: do we want to turn this into a battle about time! MB&F is a brand with a simple philosophy: to bring a collective of independent horological professionals: its Friends, each year to design and craft radical Horological Machines.
Maximillian Bussar and Friends, assemble ritually to create a new prototype.
The profounder of a philosophy, one whose  principle is that the purest of work is the most collaborative, Max as he is fondly called, is the current wunderkid.
The two versions of HM3 are aptly named 'Starcruiser', the cones in line with the arm and 'Sidewinder' cones perpendicular to the arm.
Sitting 47 x 50 x 16 mm lightly on the wrists of both women and men each offers its own angle on telling the time.
Three-dimensional features such as twin cones display the hours and minutes, something which no brand has ever done before.
The top caps are brazed (a high temperature soldering technique) to ensure maximum water resistance including its mystery rotors in 22K rose solid gold circled with a large date ring.
Boasting technical innovations of ceramic bearings, sapphire cones, screw heads in a matt-polished finish and slop-sided cases, both versions are available in 18k white gold or red gold titanium.
By pushing their artistic and micro-engineering perceptions further, I have yet to see an industry which is so well established rebel so sensually against the classics of its own product.
In this era of enlightenment we seem to have forgotten about the possibilities of transforming new designs and technology into fantastic futuristic time machines.
At MB&F they are daringly adventurous in setting new standards for a tradition pioneered by local Swiss artists of the past and present.
Is there a possibility of causing a sensory overload by gazing at these machines sitting both on the top and base of the wrist?
Not to be a dressing-room horological machine, well then where will the HM3 take position? I can however answer for this brand: its ambition is unique, its achievement one of a kind.
---