---
Style / World of Watches (WOW)
Glashütte Original Expands in Asia
The German watchmaking firm has been expanding its reach in Asia over the course of just six weeks with not one but three brand boutiques.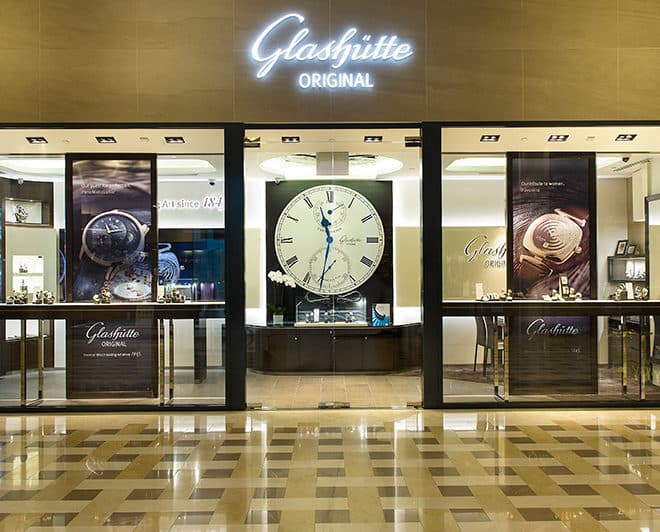 In a short span of six weeks, the German brand has unveiled two boutiques in Beijing and one in Singapore, all to continue its international expansion strategy. This is of course very welcome news, going against the grain of brands retreating in China. In Beijing, the newest boutique at the famous Wang Fu Jing Street is the fifth and also largest boutique in China alone.
Situated in one of the world's most important high-end shopping destinations, it also offers customers a chance to consult with a watchmaker on the premises. The highly trained artisan is part of the 147 sqm store's immersive German watchmaking experience, which includes a sumptuous and interactive lounge.
The second outlet in Beijing was opened late last year at Shin Kong Place. Featuring an artistic metal ceiling, the boutique was designed to reflect German aesthetics in engineering. The boutique also boasts a "Manufactory Wall" that showcases the many filigreed components that make up Glashütte Original movements. At a glance, this shows a visitor some of the advantages of being a manufacture that is part of the Swatch Group.
The end of December saw the Glashütte-based manufacture welcome its first boutique in Southeast Asia. In choosing the Marina Bay Sands resort as its new home, the luxury watchmaker ensures that visitors enjoy not only the best of German fine watchmaking but also the ambience of another globally significant shopping destination.
All images are courtesy of Glashütte Original and showcase the Glashütte Original Boutique in Singapore.
---