---
Style / World of Watches (WOW)
Franck Muller Unveils the Vanguard Rose Skeleton With Alluring Black Diamonds
Exclusive to Southeast Asia, this new series of timepieces exemplifies the collection's artistic possibilities.
This year, to add a new dimension to its Vanguard Rose Skeleton collection, Franck Muller introduces a special Southeast Asia-exclusive edition featuring black diamonds, the Vanguard Rose Skeleton Black Diamonds. A celebration of colour and contrast, the timepiece is composed of a white gold case and movement bridges treated with black PVD, set with 422 brilliant-cut black diamonds on the case and 75 gemstones on the dial — rubies, pink sapphires, green diamonds, or black diamonds — complete with enamel varnish and alligator straps in white, black, lime green, pink or red.
Powered by the slightly larger in-house 1540 VS17 calibre, the Vanguard Rose Skeleton Black Diamonds is even more challenging to craft than its predecessor: On top of having to negotiate the curved caseback, finesse is required to treat the gemstones before and after setting them in the PVD-coated bridges, and the enamel varnish hand-painting process has to be modified too — all are emblematic of the design acumen and expert workmanship of Franck Muller.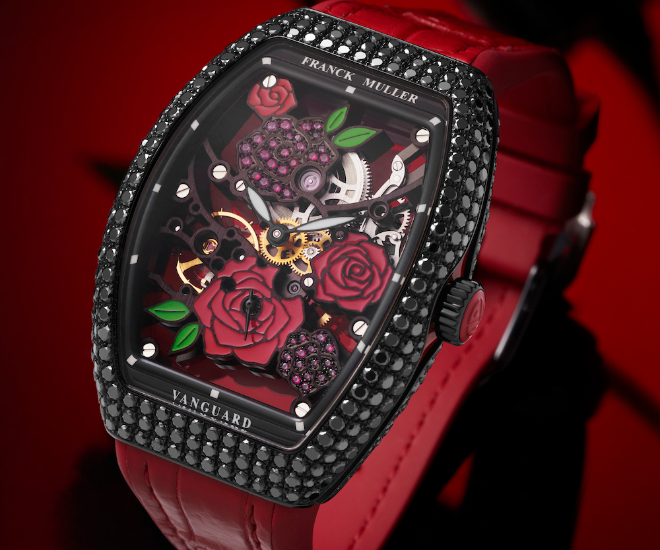 This release follows Franck Muller's earlier 2021 launch of the Vanguard Rose Skeleton, a poetic timepiece that celebrates both artistic beauty and technical prowess. Elegant and romantic, the watch is distinguished by a masterful openwork dial bearing motifs of roses and leaves on both the front and back of the skeletonised bridges, set with gems and hand-painted with enamel varnish — resulting in a mesmerising bouquet that accentuates the intricacy of the manual-winding movement within. The Vanguard Rose Skeleton runs on the in-house 1540 VS15 calibre, with two barrels providing a four-day power reserve, and it is available in 18K rose gold or white gold set with diamonds, in seven colourways, as well as the signature Colour Dreams combination.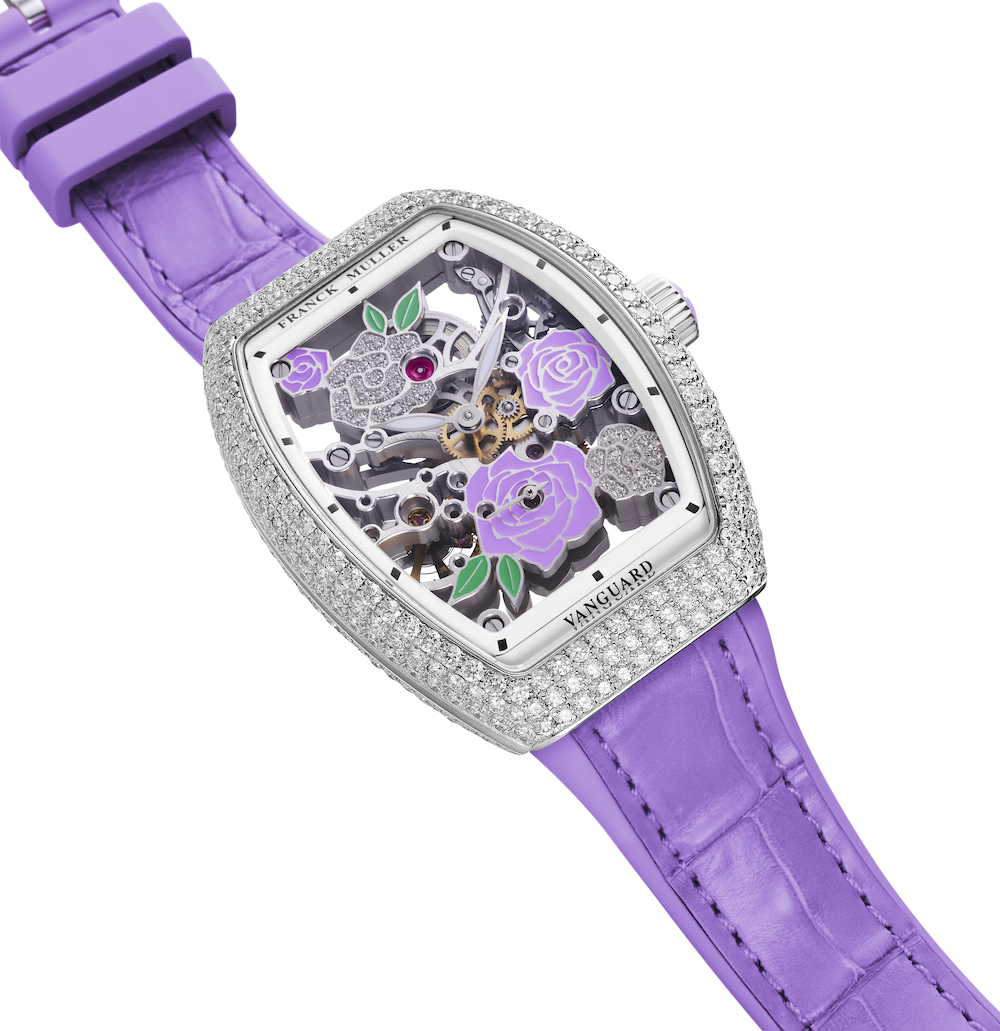 Not only are they a feast for the eyes, the floral components are critical to the Vanguard Rose Skeleton's mechanism, by serving as bridges and plates, like the seconds sub-dial at 6 o'clock. The components that make up the remarkable timepiece showcase the Franck Muller artisans' virtuosity in decoration techniques like satin finishing, circular graining, mirror polishing, and chamfering — seen on the movement, bridges, main plate, barrel and wheels. Manual chamfering and careful polishing of the skeletonised bridges, a time-consuming and extremely demanding technique, removes sharp edges to ensure the accurate functioning of the movement, in addition to crafting surfaces that gleam.
Completely done by hand, these traditional watchmaking finishing techniques reveal the extraordinary level of detail the manufacture aims for in all its creations. Combined with the artistic flair, technical excellence, creative vision, and audacity that Franck Muller is recognised for, this makes the Vanguard Rose Skeleton a series of exceptional timepieces to behold and admire.
Watch this video to learn more about the design and savoir-faire of the Franck Muller Vanguard Rose Skeleton collection.
For more watch reads, click here.
---