---
Style / World of Watches (WOW)
Fantastic Jacob & Co. Astronomia Clarity and where to Find it: Penang RendezVous 2019
Jeweller to the world's elite, Jacob & Co. will be bringing its Astronomia creations to Penang RendezVous this 11 to 13th October 2019 where you can try these quarter of a million dollar creations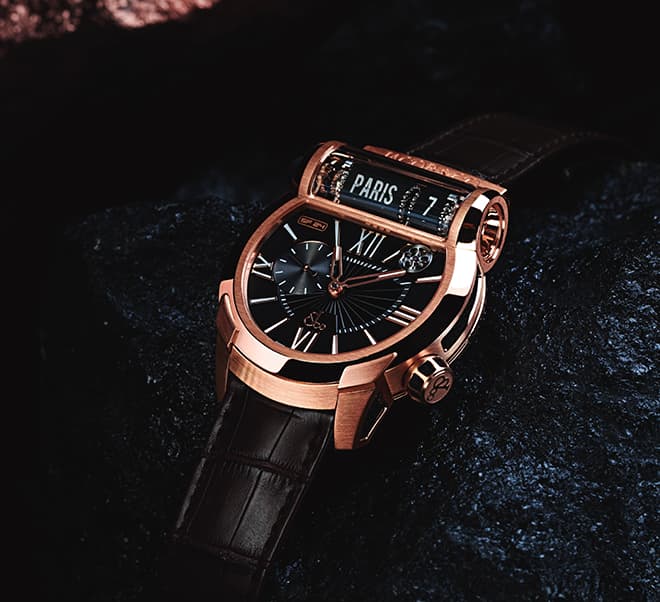 Jacob & Co. has always been known for pushing the envelope of the possible. One fondly recalls the launch of Jacob & Co. EPIC SF24 at Baselworld 2013 when the jeweller-watchmaker unveiled a bombastic, spectacularly different take on a world timer watch. Now, half-a-decade later, the EPIC SF24 seems like a nostalgic retrospective for those who fondly recall those old-fashioned departure boards at airports or train stations (largely replaced by modern flat-screens today).
In 2014, Jacob & Co. joined forces with movement designer and fabricator Studio 7h38 to materialise the horologically fantastic, technically bombastic, virtuoso of a timepiece in the form of the Jacob & Co. Astronomia. Today, both EPIC SF24 and Astronomia have evolved beyond their pioneering mechanisms and into objets of absolute fantasy and you can now catch them at Penang RendezVous 2019.
The Fantastic Jacob & Co. Astronomia Clarity and where to Find it: Penang RendezVous 2019
"With us there is no limit to creativity. This is what built my success: to do things differently. I am really proud of my first multiple timezoners, they are, to this day, genuinely original. " – Jacob Arabo, founder and chairman of Jacob & Co.
Moving on from a world timer complication and tackling one of the world's most beloved complications like a flying tourbillon and combining it with the theatricality of a mobile solar system is yet another example of Jacob & Co.'s ingenuity and ability to bend traditions respectfully while injecting an element of operatic virtuosity into a flying tourbillon which watch lovers have unfortunately grown increasingly accustomed to.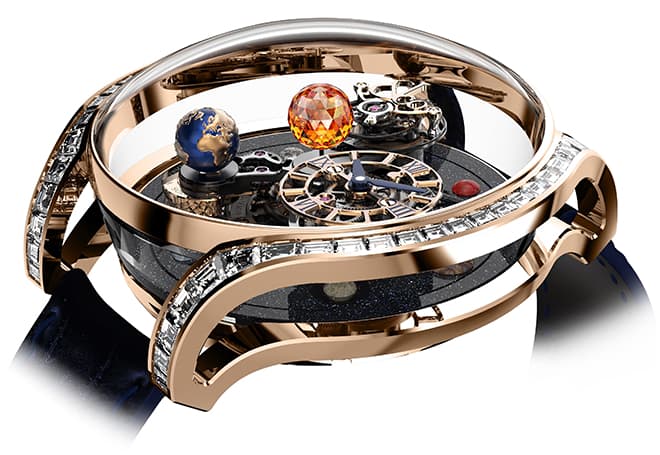 Experience a Solar System on your Wrist
While the aptly named Jacob & Co. Astronomia is indeed a mini solar system for your wrist, the design of the mechanism doesn't mimic or represent the orbit of various planetary bodies the way a Midnight Planétarium does. Instead, ensconced within a full sapphire case of the Astronomia Clarity, the atelier's iconic Astronomia Gravitational Triple Axis Tourbillon movement is now on full display to wonder and awe to all who are witness to it.
In most tourbillons, the cage completes one rotation in 60 seconds, but Jacob's Jacob & Co. Astronomia features a "Gravitational" three-axis tourbillon, and while fixed to one side, it does indeed complete one full rotation every 60 seconds, it too rotates vertically once every five minutes, or 12 times per hour.
Experience the the Astronomia Clarity's JCAM12 calibre at Penang RendezVous 2019 with its four arms set on a central axis making a complete orbit every 20 minutes while the multi-axis tourbillon system keeps the hour and minute dial subdial upright for consistent legibility. But of course, the real draw for heading down to Straits Quay this October 11 to 13, is the mind-blowing 288 facet "Jacob Cut" spherical spinning diamond which sits opposite the enamelled Earth, a hallmark of the famed jeweller.
The Jacob & Co. Astronomia Solar is the latest version of the Astronomia Tourbillon. Introduced at Baselworld 2017, the Astronomia Solar differs from Clarity, in that it features three "arms" instead of four, a 288 facet "Jacob Cut" 1.5 carat spherical citrine (representing the sun) instead of a diamond and eight planets of our solar system: Mercury, Venus, Earth, Mars, Jupiter, Saturn, Uranus and Neptune rendered in precious stones amidst a sky of adventurine.
Mechanically, the Astronomia Solar too differs from the Clarity, the JCAM19 calibre's carrier system completes a rotation every 10 minutes now instead of 20, while the Earth completes its rotation once every 60 seconds.
Also catch the Jacob & Co. EPIC X Chrono "Messi" Limited Edition at Penang RendezVous
The EPIC X Chrono inaugurates a momentous partnership with legendary soccer star Leo Messi, one of the world's highest paid athletes. Featuring a polished grade-5 titanium case decorated in Messi's national colours – Argentinian blue and white.
Water resistant to 200 metres, the Jacob & Co. EPIC X Chrono is guaranteed shock resistant, and available in a strictly limited 180 timepieces edition. The high horology column wheel chronograph displays Messi's iconic number 10 in red on the flange ring, a stylized M representing his initial – on the dial at six o'clock, and his signature on the blue sapphire caseback which offers a glimpse at the automatic bi-compax skeleton chronograph movement.
The EPIC X Chrono "Messi" marks the beginning of an exclusive three-year timepiece partnership between the football great and Jacob & Co. and will be the first of several limited edition designs.
Catch these rare, bejewelled timepieces at Straits Quay, 11th to 13th October 2019. For more information on the event, please contact info@penangrendezvous.com.
---