---
Style / World of Watches (WOW)
Family, Business, and Legacy, the Grand Conversation with Patek Philippe's Thierry Stern
President, Son, and Father, Thierry Stern has guided Patek Philippe to greater heights without forsaking the real responsibility in a man's life – taking care of his family
We often hear the adage, "there's no such thing as work-life balance." The many CEOs, Presidents and Chairmen whom I've interviewed over the years, appear to bear out the maxim: Pursuit of a fruitful career or building an empire, often means forsaking the things that makes the core of a gentleman's being – stewardship – the ultimate provision for his family and progeny in not just the essential but the emotional.
From a polite distance, I observed a fatherly expression as arm around shoulder, he pointed out a museum exhibit to his teenage son on the eve of the official opening of the Grand Exhibition. Suppressing an urge to say 'hello' and thus ruin a father and son moment,  a fond recollection comes unbidden. In a previous interview he stressed that the lifestyle and company that his family had built, was by no means "reflective of real life" and that if he didn't remind his children of reality (often through public transport and other mortal mundanities), he would consider himself a failure.
Family, Business, and Legacy, the Grand Conversation with Patek Philippe's Thierry Stern
Hence, speaking with this exemplar of gentlemanliness in private room within the halls of Marina Bay Sands Theatre, LUXUO and World of Watches had the privilege of finding out what makes Thierry Stern the embodiment of successful work-life balance while uncovering the secret of building the world's finest watchmaker.
What are your feelings about the Singapore edition of the Grand Exhibition versus the ones you have held in other parts of the world?
It is an exhibition about educating people first rather than something commercial. Most of the people on the first day were collectors, to be frank, some even knowing Patek better than I do. They are here because they love the brand and for some, they haven't had the chance to come to Geneva. So I decided to bring Geneva to Singapore.
Most importantly, there are also many young people who enjoy fine watches and though they might know the brand, they don't really have a good idea about who we are. Exhibitions like these also allow us to educate the next generation, they might enjoy an Apple watch but they also find mechanical watches appealing and perhaps one day, they might like to own one and I think it's important for them to come and really understand the value and provenance behind those watches. Understanding the modern collection today within the context of history behind the beautiful museum pieces makes this a very unique presentation.
This is the biggest Grand Exhibition that we have done in terms of size. We took two years to prepare because the real challenge of this market, the whole Southeast Asia region, is that not only do they deserve to have Patek Philippe here but that they're such good, passionate and knowledgeable clients that they ultimately become our best ambassadors. I've seen the touring with the friends and explaining the exhibits better than we do. Even if we're at the top, we always need to invest in the brand. Never sleep, the others are not sleeping.
The limited editions produced are not solely for Singapore, but Southeast Asia. Is there a reason why you don't want to make for Singapore only special editions? And does that mean that for Greater China, you will have another exhibition to address the needs of that market?
With such a big exhibition, I had to look at a bigger scale, one cannot do it just for a single market. I don't it would be fair because the whole region deserves it. These Grand Exhibitions are difficult to realise and so you really have to focus on the maximum number of people. Singapore is the hub for Patek, you know, but we are working with all the six markets so it was important it to be for all of them. At this scale, it's logical to do it this way.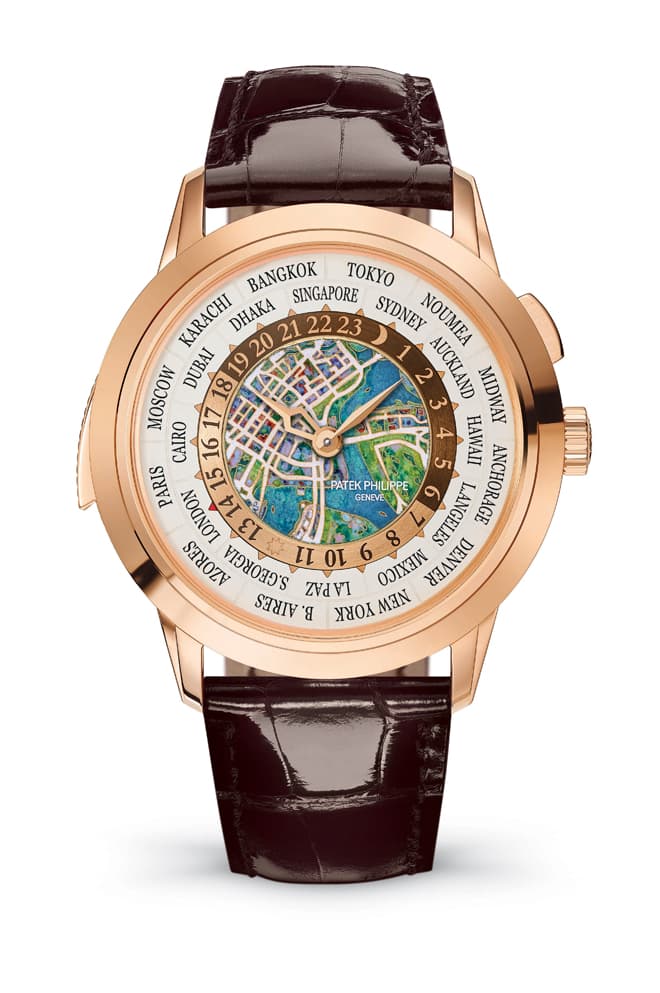 Now for China, I'm not prepared yet to do such an exhibition  because my problem is that there will be too many people and I don't have enough watches. So I have to be very cautious, I would enjoy doing and we will definitely do it in the future definitely. Is it going to be the same one? I don't know, I have to check. But it's not something that I'm ready to do next year, that's for sure. It's going to take a little bit longer. We are a small company that we don't have that many product, we are talking about 62,000 pieces and all of them are nearly already allocated. We present those pieces at the Basel fair and we do not sell them, we allocate them. That means that the retailer would come and say I need five and I would tell him, "Sorry, I can only give you two."
Can you imagine how many watches we could sell in China? t's a huge amount and I don't have them to be frank. So I have to go step by step, I will increase (production) eventually but I'm not willing to take pieces from other markets and say, "Oh, thank you for your business over the years but now I need to take timepieces and send them to China," this wouldn't be fair. And I do not believe that our Chinese client would like that either because they know how respectful we are. And I think that's why they're interested in the brand, not only because it keeps the value not because it's a beautiful watch. But also because there is I think, a family behind with certain values, who likes to be fair with everybody.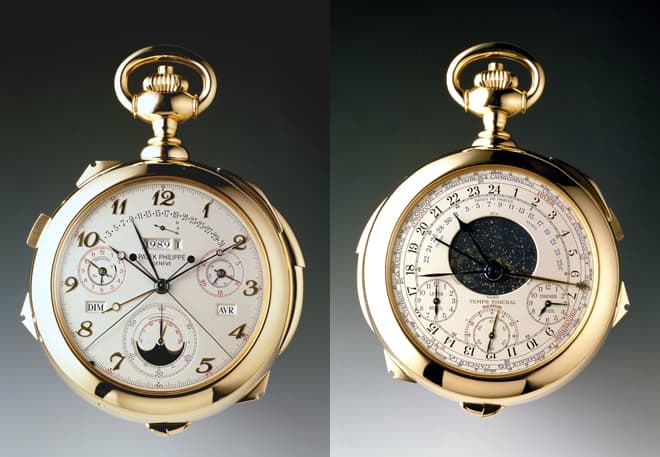 In addition to educating and informing people do you think is also effective as a tool to whet the appetite of consumers?
Oh, definitely, of course. You can see people start to think, "oh interesting, maybe I will buy one." Many people here have told me as well that they dream to buy one some day. It is also the realisation that Patek Philippe has a certain value beyond the monetary perspective. It is also the embodiment of family values that they can transmit to their kids in the future. Interestingly, you will also be part of a family. I don't know how to explain that: But if you are wearing a Patek, and see somebody else wearing one, you will look at each other's watches and say, "nice watch," and then you start to talk as if you are a part of a global family and people like that.
In this part of the world where craftsmanship is still very important, there is tremendous respect for people working on the material and finishing of the movement. They truly appreciate it and that's what I like. Hopefully I can impart the passion to start a collection or maybe just own one some day. That's enough for me.
Patek Philippe has always had a strong relationship with the Singapore market. For SG50, we had three Dome clocks. And for our bi-centennial, we have now this exhibition. Can you tell us a more about the company's relationship with Singapore?
My grandfather started coming to Singapore in the 60s. For the first time, he met Mr. Tay from The Hour Glass and Mr. Lim from Cortina. They were the first ones, you can't tell from the size of their operations today but they weren't even the biggest ones, they were just starting their business. It was educational for them and my family, I wasn't there obviously and this was a story that I heard from my parents and grandfather. He said that it was not easy, because at the time, there was no process or structure, they were like buying watches and reselling them, there was a network but it wasn't really organised. And so, we started with Cortina and Hour Glass, learning to respect every country's operating culture, there were handshakes and not really formalised agreements. My grandfather was very kind and very good with relationships. He got along very well with those families, were weren't just business associates, we were friends.
Patek Philippe was a brand that was not about making money, we had a business together but we were just passionate about watches. We respected the artists and we respected each other and it was these relationships which lend a strength to Patek. We are a family business and we deal with our business as a family. It was also important to have fun and enjoy the relationships with each other and respect each other. This is something very unique today.
Given your long 63 year relationship with Mr. Anthony Lim of Cortina, would it be right to say that in business dealings you would prefer to deal with family owned business and not so much with the unduly corporate or bureaucratic conglomerates?
You have to be open to all the business depending if they were agreeable to rules and the way we sell Patek. But to be frank, yes I prefer dealing with family. It's normal as we are a family business, it's a different type of relationship. It is also good to work with the groups, the only difference is that you have to be very clear about how you operate and because they have figures to justify to their shareholders, we are also understanding when they push products more aggressively than usual but as long as they follow the rules, I don't mind at all.
Conglomerates have been here since the 80s and they are here to stay but I do not like dealing with some people who are not agreeable to our family's rules. Why? Simply because I risk alienating the clients who believe in Patek's values. Our partners have to be as passionate as we are at running a good business while keeping a familial relationship. You don't need to push, push, push, we need to have fun and look at the long, long term. The groups, they don't look that long term, they have a maximum of a five year plan. Families operate with a longer term vision, five years is nothing, that's why I prefer to work with family because I know they will still be there in 20 years.
So would it be right to say that you value the unquantifiable like trust versus the quantifiable like sales and revenue?
Oh, totally. Trust is very important. You know, my dad, I remember was very sad when we started to have contracts, his business was done with a handshake. Today, you have to sign contracts, depending where you are, you have a pile of paper and that's a little bit sad.
I believe we get much more out of cherishing the relationship then just making money. I do not believe in that level of productivity, money is always there and it will come if you have a good product, so you should not worry about it. Worry about having close relationships, trust makes all the difference.
With family businesses comes legacy and legacy can be a double edged sword. Do you, as part of the Stern family feel a heavier burden responsibility?
Oh, yes. Of course, you feel it. I have been talking about that with my sons already, and it's very important that they understand I made my choice when I was young. So the pressure that I had on my shoulders, I choose to have it. You cannot be prepared, you can only learn by doing it and growing. But it was something I accepted that because I really wanted to do it and that's what I said to my kids, I said, "listen, you will have to choose your own destiny, if you're willing to take over fine. I mean, I will be there to help you. But if you're not willing to, I'm not going to force you."
I have seen this happen very often, especially in Asia, where family hierarchy is so important that there's nearly no choice. In Europe, it's strong but not as rigid, for me, it's okay, if my kids don't take over, we would organise the business in a different way because you cannot jeopardise the brand or kill the life of your kids by giving them no choice. Force them and they will be unhappy, this also means that the business will not be do as well.
Yes I would prefer them to take over but if you ask me to choose priorities between my children or Patek, it's an easy question, it's definitely my kids. With Patek, I can find somebody to run it, perhaps a fantastic CEO will take over for a while and then the next generation will one day take the reins again. I don't really want to see someone outside the family running Patek Philippe but if my son is going to be sad running it, it will not work. You need to be passionate.
You have a Singapore edition Pilot Calatrava this year but when you launched it in 2015, there were mixed reactions. Is it selling pretty well today and do you think it is harder to launch a new watch today in the age of social media?
No, it has been always the same. it was the same as 24. I mean, when we launched the first 24, it was made of quartz watch in steel with diamonds and everybody said I was crazy and this will never work. But sometimes you should not listen to people when creating something, you have to believe in what you do.
I always try to have 80% of the new model easy in terms of design, that means it conforms to Patek Philippe DNA or is part of an existing line like the Calatrava and it is simply an evolution of the series. I know how to do beautiful watch. But I think that all of you, I mean, the press, the customers, the retailers also expect me to launch something new and to surprise you. So every time you are launching something totally new, people are scared. Retailers are not willing to take too much risk. And they say I don't know, you know, between this new model like the pilot, and the annual calendar, I will take the annual calendar because I know people are willing to have it.
So I have been looking at this for many years. It was the same with the Aquanaut, the same with the 24 and the same with the Calatrava Pilot but if I do it and believe in it, it will work. Why? Because I'm traveling all the time and listening to people. I try to get all the information from all over in the world and decide what I can make of it. Eventually, retailers call me back six months later, saying they will take five or six pieces. You need to take risk, but it's a calculated risk. If you like it great, if you don't like it, that's fine. When I come to Basel I never push people to buy anything, it's something where you have the right to give your opinion, and you have the right not to take it.
Speaking about risks, you had a 1959 Digital prototype back in the day, it was mechanical, but with digital indications, any chance of you revisiting that prototype?
I will not compete with Apple, that's for sure. Because in terms of budget, I'm not sure I can do that, we have the same figures at the beginning, but they have a few more zeros at the end. So my goal is to stay in a mechanical world, and to adapt the design. So in the future, you will see more maybe modern design. It's a pleasure to create, but I have to fight with production every year because we have too many new models. So they you know, production is panicking, they say, well, 40 new models, not possible, you have to cut in half. Yes, we will take some risks with a new design but still with a beautiful mechanical movement.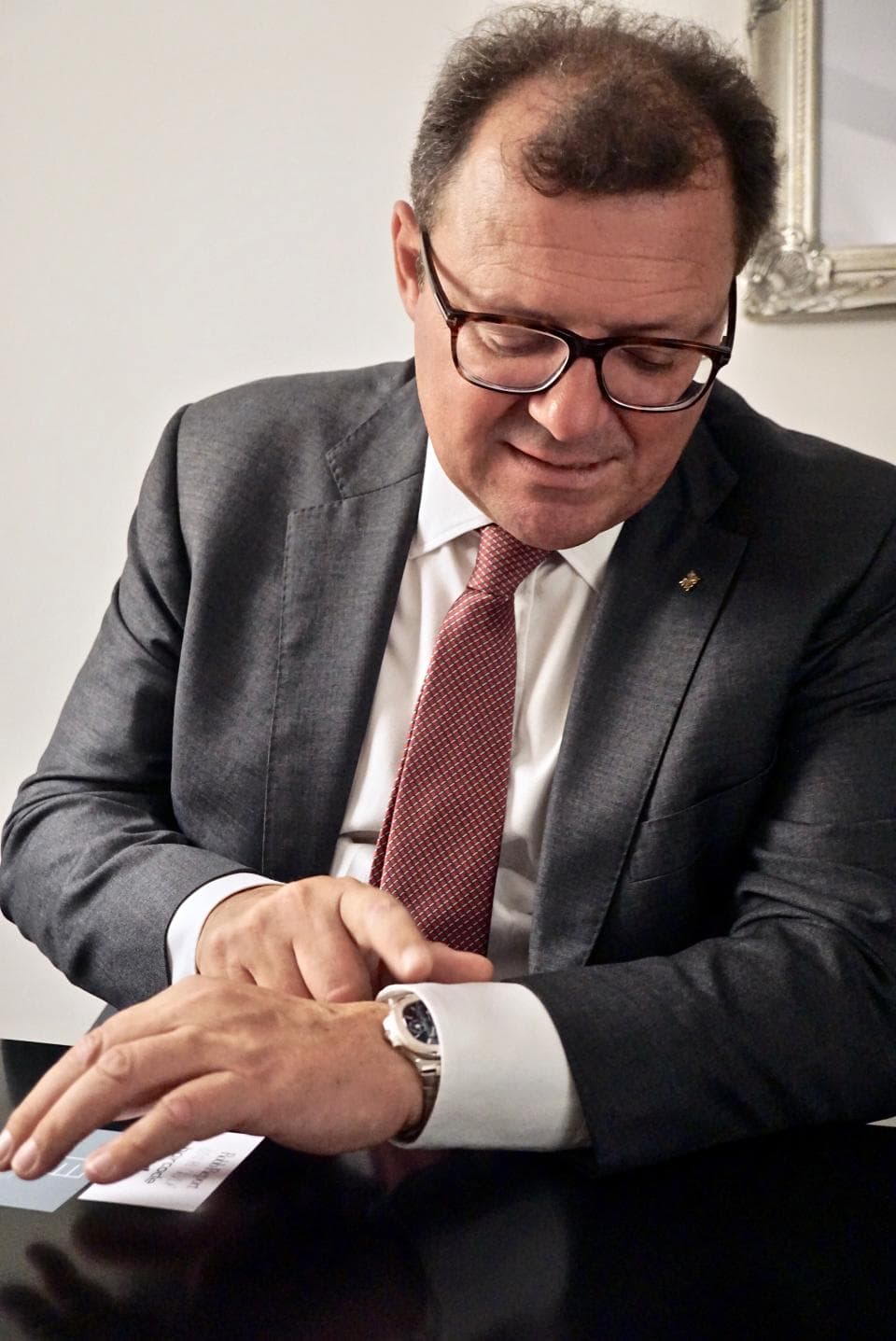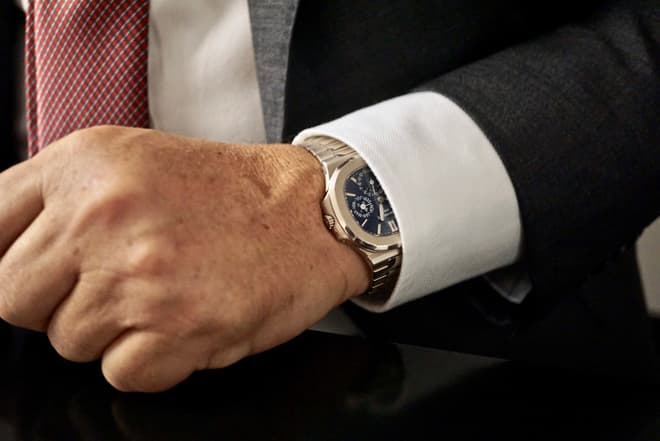 I could not help but notice, you are wearing a ref. 5740 (Nautilus Perpetual Calendar), is this your daily watch and does it imply that it was your favourite?
It is my favourite for now but really the 5320 (Perpetual Calendar) is my favourite. I put this on because it is very hot in Singapore and I wanted something with a bracelet. I wanted to take the 5740 for a test drive and decided to keep it, so yes, in the Nautilus collection, this is my favourite. A thin Nautilus with a perpetual calendar really makes it the top of the line but it's also a much higher price which makes the 5711 so popular but it's a very long wait list. I have no idea why it's so big. It's a difficult product for us because the waitlist is so long and not everyone will have one because one day, we will stop. (Whispers) But if we stop, something else will show up. [laughs]
Patek Philippe Watch Grand Exhibition 2019
Last Day Sunday 13 October 2019
Where: Sands Theatre, Marina Bay Sands, 10 Bayfront Ave, Singapore 018956
Open: From 10am to 7pm
Admission is free
---