---
Style / World of Watches (WOW)
Exclusive Tour of the Patek Philippe Service Centre Singapore
Patek Philippe invited us to tour its Service Centre in Singapore, and get hands-on with the process to understand how watches might live forever.
If your watch is doing its job right, you hardly notice its presence — you just glance at it every so often and it gives you the time. As beautiful as that rich green dial on Ref. 5270 is, and as compelling as the calendar apertures on Ref. 5905 are, you will not be gazing lovingly at these all day long. A lot is happening under that dial to keep the watch going (no pun intended, although if you saw one there, good for you!) and, all too often, we do not think about this. Well, that is to say until the watch starts to lose or gain time in an alarming way, or to stop altogether. That is when you will need to experience a fundamental part of the watch collecting experience: servicing. We will go so far as to say that your journey as a collector goes to the next level the first time you have to service your watch.
Having said that, servicing timepieces tends to be ignored all too often. This would be unimaginable for cars or even your home air conditioner, despite the fact that most people are not collectors of air conditioners! Somehow, there is a sense in the collecting community that if nothing is wrong with the watch, you need never consider servicing at all. Certainly, watches are generally pretty tough instruments that tend to keep ticking along, but even when it comes to quartz powered ones, servicing is crucial.
You might own a Patek Philippe Twenty~4, which is wonderfully constructed instrument, but the battery was not made by the watchmaker and cannot be considered in the same way. In other words, please remember to regularly change your battery, even if the watch in question is still running. Battery leaks can catastrophically damage a watch, beyond the point of no return. That covers all we have to say about quartz watches, mostly, because mechanical watches are the class of timekeepers most in need of servicing as these are truly meant to stay in service, theoretically forever.
All Roads Lead to Servicing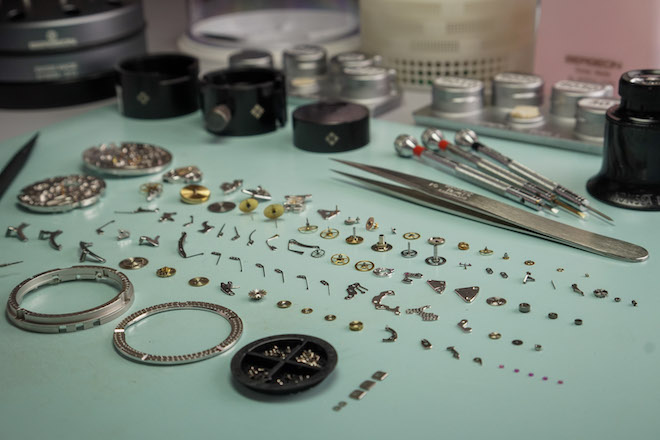 This idea of watches serving multiple generations of owners is particularly important to Patek Philippe, which recently invited select press to tour its servicing facilities in Singapore. Patek Philippe's regional subsidiary, Geneva Master Time, handles the bulk of the brand's servicing needs at its 380 sqm Wheelock Place facility. Service is one of the key pillars (values as Patek Philippe puts it) of the brand, so the business of taking care of watches that have been sold is indeed taken very seriously. It is well worth remembering that all the 60,000 watches made by Patek Philippe annually must eventually find their way to a service centre. In our present moment where demand far outstrips supply, this is a sobering thought. You might think that this is a given, but there are plenty of brands that are let down by their after-sales practices.
What is important to understand here is that servicing requires qualified specialists and can be quite laborious. For example, Patek Philippe says that it takes at least 200 hours to service a watch, on average; that works out to five weeks, approximately. The service centre representatives say that this amount of time covers all the bells and whistles, but only for the most basic watches. Additional functions will take more time, and perhaps even more expertise than is available at this regional service centre. Patek Philippe sends all chiming watches, advanced research timepieces and grand complications back to the manufacture in Geneva for servicing, for example. All watches made from the 1960s and earlier are also sent back to Geneva, as well as any that might require specialised machining that is unavailable here.
For the purposes of this brief story, we will only be looking at those watches whose movements that will be serviced at the Wheelock facility. This means every kind of watch, from time-only all the way to manual-winding chronographs and perpetual calendars. All these watches, and quartz ones too (as mentioned earlier) will require essential maintenance. Upon receiving any given watch, four Technical Specialists will run a battery of processes, including the following: diagnostics, battery replacement (if relevant), bracelet and strap adjustment; extracting information about the watch from the archives (Patek Philippe has records of all watches made from 1839); and setting the watch. Obviously, if the diagnostic does not indicate a specific problem, no intervention will take place (you may have sent the watch in for polishing, for example, but the diagnostic will still be performed).
The Whole Nine Yards
As for the full service, it consists of the following, according to the brand: complete disassembly and inspection of all parts; replacement of worn parts; cleaning, assembly, lubrication and calibration of the movement; adjustment of dial and hands; water-resistance test; complete testing and quality control of the work once finished. Once again, repairs will be done if necessary and not as a matter of course. Similarly, polishing is only done if requested by the owner of the watch. Patek Philippe tells us that the watchmakers' primary concern is with the running of the watch, and not about the aesthetics.
Of course, movements vary in complexity but Patek Philippe has broken down specifics for the servicing of simple automatic calibres with 150 components. Disassembling and checking components (2.5 hours); assembling and lubricating components (2.5 hours); regulating the movements (1.5 hours); and encasing (30 minutes). We have tried our completely unqualified hands at each of these steps at the service centre (and beyond), except for casing, which we have never touched.
We can confidently report that it all takes the better part of an entire day — and this is without the processes mentioned above (diagnostics and such), as well the act of actually identifying and replacing components. In addition, we had the benefit of the watchmakers guiding us, including at the service centre. If we only had an instruction manual, illustrated or otherwise, it would take longer, and perhaps not get done at all. Full disclosure: the movements we worked on at the service centre were not Patek Philippe movements but garden variety Unitas pocket watch calibres.
Polished Charm
While the assembly and disassembly of the movements, and oiling of the same, was the highlight of the tour, we were most impressed by the polishing activities at the service centre. There are two dedicated specialists here who work on polishing cases, and each of them has more than 20 years of experience. This work is always done by hand, and takes as long as required. A gold case takes up to 1.5 hours to polish, with the bracelet in the same metal taking up to two hours. Platinum is by far the most difficult, with each case taking up to four hours.
It is appropriate to end with the words of Patek Philippe President Thierry Stern, explaining the importance of customer service. "We are convinced that in our family-operated manufacture, the know-how required for servicing, repairing, and restoring our watches is just as important as the competence needed to craft new watches. For this reason, we place great emphasis on having this work performed exclusively by watchmakers who have been trained and certified by Patek Philippe." In short, your journey with your watch merely begins when you take possession of it; the rest is a lifelong relationship, which your children will take up.
Servicing is an Institution
The Patek Philippe Service Centre in Singapore is one of only a handful of such facilities in the world, or it will be when Patek Philippe is done streamlining its service centres, some of which are operated by partners and retailers. As far as we can report, there are currently brand-operated service centres in the United States, Germany, France, China, Hong Kong, Japan, Taiwan and Bangkok, aside from the one in Singapore and Geneva of course. These centres act as hubs for their territories, and adjacent ones. The service centre in Singapore was last expanded in 2015, while the one in Bangkok was expanded last year.
The vision of each centre is, to quote from Patek Philippe's official statement is to "guarantee excellence to every customer anywhere in the world for the service of all timepieces manufactured since 1839." A noble and ambitious vision, to be sure, and the service centre is very much like a miniature version of the manufacture itself. This brings us to another way in which the service centre in Singapore is distinguished.
One of only four locations in the world to house a Patek Philippe Institute, the Singapore facility offers a training programme for watchmakers and other technicians and specialists. This includes a full watchmaking apprenticeship course spanning two years, with a final stretch in Geneva itself that will see the apprentices create their own watches. Along the way, they will also learn how to make their own tools, as is traditional in Swiss watchmaking. This year, five apprentices graduated from the programme, including two Singaporeans. The other three Patek Philippe Institutes are in Geneva, New York and Shanghai.
For more watch reads, click here.
---