---
Style / Fashion
Moncler Genius 1 – Pierpaolo Piccioli Launching this October
Dropping in stores this October 11th is the seventh of eight unique collections, 1 – Moncler Pierpaolo Piccioli, created in pursuit of hieratic purism.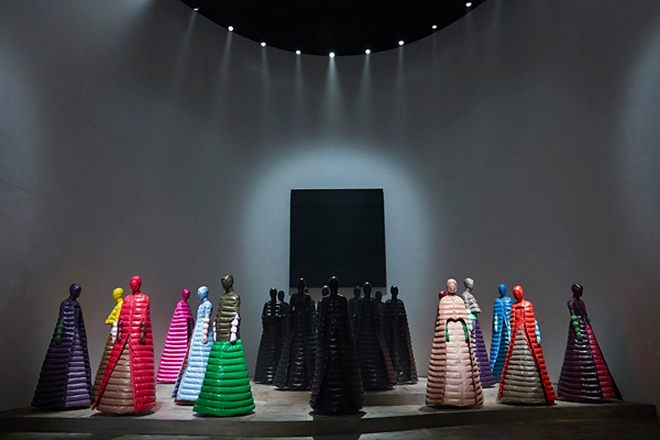 Earlier this year at Milan Fashion Week, Remo Ruffini staged the relaunch of his Moncler brand with the Genius group, featuring Simone Rocha, Craig Green and Pierpaolo Piccioli amongst other designers to recreate Moncler's Signature down jacket. The mega-collaboration was slated to launch a collection at a time on a monthly basis, presumably tapping on streetwear's "drop" style that has reconstructed the way consumers buy products.
"We have chosen designers that differ greatly from each other as we have always spoken to different generations", says Remo Ruffini, Chairman and CEO of Moncler, who originally conceived this ground-breaking turning point for Moncler. "We constantly need to offer new experiences and new ideas. Moncler Genius is divided into several collections over the year. We have overhauled everything, by overcoming the very concept of seasons. Our approach is monthly, weekly, daily. An approach which considerably reduces the time that elapses between the collections' presentation and when they actually arrive in the stores".
1 – Moncler Pierpaolo Piccioli
Moncler is a brand known for their winter uniform in quilted jackets. Thanks to the functionality and high-quality products, the red, white and blue rooster logo is now earning recognition as the brand symbol. Other than staging unique relaunch to reinterpret Moncler's brand identity, Ruffini's role here is also to expand the reach of the rooster logo through Moncler Genius where each collection targets a specific niche, such as Piccoli's collection, for instance, would presumably target Valentino's client – ingenious.
Dropping in stores this October 11th is the seventh of eight unique collections, 1 – Moncler Pierpaolo Piccioli. In pursuit of hieratic purism, Pierpaolo Piccioli created graphic shapes that are as mystic as they are futuristic. His Medieval Madonnas seen through space-age lenses merge form with essence, which for Pierpaolo is the very definition of purity
Pierpaolo stripped the classic duvet to the bare essence. A-line silhouettes ooze a couture feel while keeping the sense of functionality which is a Moncler pillar. The collection encompasses zip-up hooded capes, both long and short, and skirts, complete with padded duvet spats and padded duvet gloves. Functionality is idealized to an nth: Pierpaolo worked solely with Moncler's basic down filled nylon, further highlighting the idea of reducing garments to the essence. Pieces become the building blocks of high-impact graphic looks. The sum of elements is highlighted by the contrast of saturated colours. Items come in a pictorial palette of ivory, black, amethyst, imperial yellow, bright green, orange, red and cherry red. Hues are meant to be mixed rather than matched. To highlight the sense of angelic spirituality, Pierpaolo worked with monk and artist Sidival Fila, who created the abstract and angelic canvases for the installation.
1 – Moncler Pierpaolo Piccioli Collection
---