---
Style / Accessories
Victoria Beckham owns 100 Hermes Birkin bags
Victoria Beckham is well known for her extravagant taste in fashion, but news that she owns 100 Hermès Birkin bags is likely to be seen as nothing less than excessive. A US financial website worked out that the sometime pop star's collection of the coveted bag alone is worth £1.5million ($2.3 million). Thebigmoney.com revealed that […]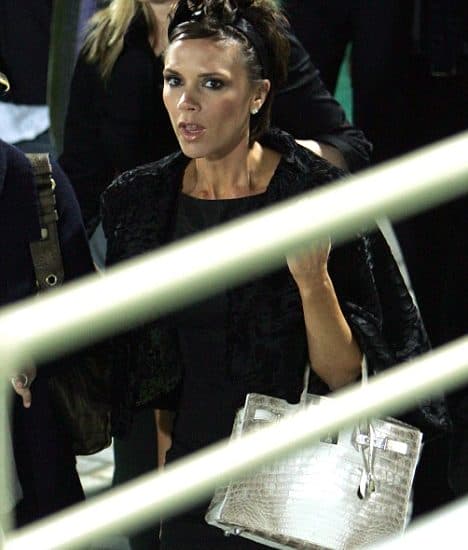 Victoria Beckham is well known for her extravagant taste in fashion, but news that she owns 100 Hermès Birkin bags is likely to be seen as nothing less than excessive.
A US financial website worked out that the sometime pop star's collection of the coveted bag alone is worth £1.5million ($2.3 million).

Thebigmoney.com revealed that the 35-year-old owns around 100 of the style, which start at £4,200 for the basic model.

Of course, La Beckham is not one to settle for basic.
As countless photographs will testify, she regularly carries luxurious versions in pink ostrich skin and glossy black crocodile, worth up to £42,000 each ($ 65,000), as well as the rare 'Silver Himalayan' style, which, at £80,000 ($124,000), comes complete with three-carat diamond.
The bag, which was designed in 1984 by French fashion house Hermès and named after the actress Jane Birkin, is seen as a fashion classic.
The Birkin was allegedly created after the company's CEO Jean Louis Dumas sat next to the actress on a Paris to London flight.
Read the full story @ dailymail
---