---
Style
Gucci Re-invents the Dive Watch With Sustainability in Mind
The fashion house is continuing its sustainable efforts with a new class of Dive watches made from bio-based materials.
Playful, practical and utterly individual, the Gucci Dive watch captures the unique spirit of the Italian fashion label and the enjoyment it takes in experimenting with design. Now, with 100% recycled steel, bio-based rubber and four fun colours, it combines its focus on sustainability with fashionable timepieces.
Based on sporty watches, it combines classic and contemporary performance elements. While the classic iterations are made with fabric, rubber and steel, the luxury house's bio-based counterparts features a rubbery plastic as its main material, with recycled steel being used for the crown, buckle and case back.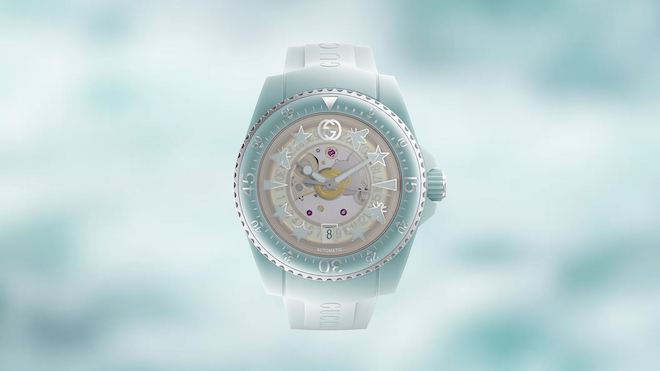 Hearing the word "plastic" may turn off the more eco-driven shoppers, but the Dive's plastic is sourced from renewable and natural sources. At least 65 percent of the case comes from eco-conscious content, while at least 46 percent of the strap can say the same.
As for its technical features, the timepiece is water resistant up to 200 meters and runs on automatic movement. An antireflective coating covers the sapphire glass for optimal visibility. But to tell the time, you'll have to look to the stars; keeping with Gucci's signature, quirky nature, instead of traditional numbers, Gucci adds stars, bees and an interlocking "GG" to keep things light and whimsical. The creative use of the bee and the iconic symbols of the Gucci brand acts as a symbol of the union between fashion and watchmaking.
The Dive comes in a small run of colours more lively than the brand's previous collections. Each colour coats the bio-based strap and watch face with gold accents appearing on the dial. Gucci then engraves its logo into the back of the case, the buckle and the crown.
As part of its philanthropic Equilibrium Initiative, Gucci announced that they are "dedicated to seriously reducing its footprint along its entire supply chain and embracing climate-smart strategies to help protect and restore nature for the future." Be it through incorporating sustainable leather for its bags or cutting single-use plastic from its offices, the luxury house wants to be transparent about achieving its circular goals by 2025.
Although its sustainability and stylish design are the most visible features of the Gucci Dive Bio-Based models, the 40mm diameter case, coloured transparent dials, 38h power reserve capacity and 200 meters (20 ATM) water resistance are some of the more subtle, yet impressive features of these watches.
The new members of the Gucci Dive Collection seem to steal the hearts of many watch lovers. Emphasising the importance of sustainability and the value of design at the same time.
For more fashion reads, click here.
---