---
Style / Jewellery
Bulgari's New High Jewellery Collection Pays Homage to the Mediterranean
Bulgari has introduced a collection of luxurious jewellery and watches that showcase a combination of Italian craftsmanship and Swiss watchmaking traditions.
Without a doubt, Bulgari is one of the masters in jewellery and watchmaking. As a maison with over a century of experience, Bulgari has created magnificent pieces that have been worn by some of the world's most famous individuals like Elizabeth Taylor, Audrey Hepburn, Ingrid Bergman, Grace Kelly and many others. The masterpieces have appeared on the silver screen, in award ceremonies and film festivals. Besides being an expert jeweller, Bulgari's technical capabilities transcend its niche and extend into creating mesmerising yet sophisticated timepieces.
With the Mediterranean as its source of inspiration, the high jewellery and watchmaking launch event took place in Venice. Aside from its picturesque setting, the floating city was once the centre of commerce and a melting pot of cultures. Different civilisations from the Byzantine, Moorish, Ottoman, Sicily, and Rome made a pitstop in the Venetian empire for commerce. The mix of influences resulted in a unique architectural style called Venetian Gothic. For the launch, Bulgari invited guests and celebrities to the famous Palazzo Ducale, one of the city's eternal symbols, to celebrate this momentous occasion. Bulgari's house ambassadors like Priyanka Chopra, Zendaya, Anne Hathaway, Lisa from Blackpink, Yang Yang and Liu Yifei wore pieces from the newly unveiled high jewellery and high watchmaking collection, Mediterranea.
At the heart of Bulgari is its enduring focus on craftsmanship and tradition, and this is where the brand truly shines. This collection perfectly combines two important aspects to embody the Bulgari spirit, and is divided into three universes referencing various symbols, atmospheres, and inspirations. The universes are named "Southern Radiance", "Roman Splendour", and "East Meets West".
Southern Radiance
The Southern Radiance designs drew inspiration from the captivating coastlines and striking natural beauty of Southern Italy. With its deep blue sea and clear azure sky, the region's charm significantly shaped creations from this chapter. For example, the Mediterranean Muse necklace incorporates a captivating array of gemstones in various shades of blue, elegantly complemented by a combination of platinum and diamonds in its structure. At the heart of the necklace lies the remarkable centrepiece, a 15.13-carat cushion cut blue sapphire. Together with the arrangement of aquamarines and diamonds, the necklace emulates the crashing waves along the enchanting Amalfi coastline.
Another highlight of this chapter is the Southern Sapphire platinum necklace. Its lace-style comprises scintillating diamonds and transparent sapphires that trace around a central 66.88-carat Ceylon sapphire. The deep hue of this huge stone calls to mind the blue depth of the Mediterranean Sea. This exquisite piece took about 1,650 hours to complete.
Roman Splendour
For this chapter, Bulgari's home ground of Rome was the source of inspiration. The eternal city's everlasting beauty is encapsulated by the Muse of Rome necklace. The remarkable centrepiece of this necklace is an awe-inspiring emerald, weighing an impressive 218.53 carats. Lucia Silvestri, Bulgari's jewellery creative director, had to face the challenge of creating a design that could delicately balance the weight of the emerald while showcasing its unique appeal with an ethereal lightness. Silverstri collaborated with two skilled artisans to fashion this one-of-a-kind piece that gracefully accentuates the detachable central pendant, exuding elegance and refinement.
To infuse a touch of modernity into the piece, Silvestri also conceived an emerald and South Sea pearl sautoir, which adds versatility and allows it to be worn in various ways. This additional element enhances the necklace's contemporary appeal while offering the wearer multiple styling options.
Another notable creation is the Roman Esedra sautoir which boasts a 66.88-carat emerald, which is a tribute to an iconic Bulgari piece from the 70s.
Paying homage to a legendary Bulgari creation from the 1970s, the Roman Esedra sautoir beautifully showcases a seamless fusion of gemstones, ranging from emeralds and amethysts to turquoises. The exquisite arrangement of these gems, mirroring the vibrant hues found in the yellow gold chain, captures the distinctive and exuberant essence that defines Bulgari. This colour coordination reflects the brand's iconic flair, deeply rooted in the flamboyance of the Mediterranean region.
East Meets West
The captivating "East Meets West" collection skillfully combines elements from Western and Eastern cultures. The Oriental Buds high-jewellery secret watch, accompanied by a matching necklace, transports us to a lush and exotic garden, drawing inspiration from the symmetrical beauty of Byzantine architecture. This extraordinary timepiece, painstakingly crafted over 900 hours, radiates vitality and vitality, boasting a mesmerising fusion of diamonds, tourmalines, emeralds, and sapphire beads that exude dynamic vibrancy.
At the heart of this hidden watch lies a commanding 5.65-carat Colombian cushion-cut emerald, expertly placed within a pavé-diamond setting reminiscent of Indian Mughal architecture. This centrepiece takes centre stage, dominating the concealed watch. With a simple push, the flower-shaped design opens to reveal a striking dial adorned with shimmering diamonds.
The extraordinary Baroque Serpenti necklace combines two iconic Bulgari elements: the captivating snake motif and the allure of emeralds. This masterpiece showcases the fusion of these elements in a breathtaking manner. The necklace features seven alluring emerald drops, each with its own unique and irregular shape, meticulously set to achieve a harmonious balance that accentuates the transparency of these magnificent gems.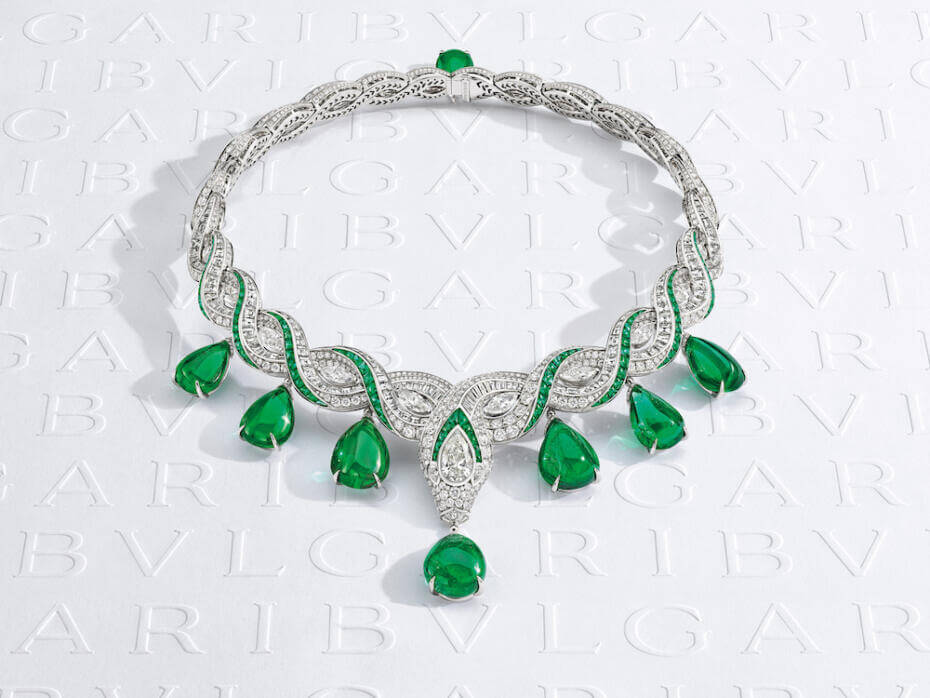 These voluptuous emerald drops are exquisite enhancements to a body adorned with diamonds and emeralds, where two serpents intertwine to create a singular entity. This design celebrates the timeless elegance of the snake symbol and embodies a sense of strength and empowerment.
The Baroque Serpenti necklace is a testament to Bulgari's artistry and creativity, combining the brand's signature snake motif with the captivating beauty of emeralds. It showcases a harmonious blend of nature-inspired design and exceptional craftsmanship, resulting in a piece of jewellery that exudes sophistication and power.
This collection's meticulous craftsmanship and intricate design showcase the harmonious convergence of cultures, resulting in a masterpiece that celebrates the union of Eastern and Western influences.
Speaking more about the new launch, Jean-Christophe Babin, Bulgari CEO, said: "With Mediterranea, Bulgari unveil its new high jewellery and high end watches collections by embarking on an epic and immersive journey that starts from Rome, the eternal city and permanent source of creative inspiration for Bulgari, to Venice, the major crossroad of Mediterranean influences where the Roman Byzantine Empire fused with the Roman Western Empire to give birth to inclusive and unrivalled arts and architecture. With great honour we celebrate the vision of the founder Sotirio Bulgari with magnificent creations that represent the pinnacle of Bulgari identity made of audacious creativity and exceptional craftsmanship."
"Offering to our guests the most extraordinary locations of the City together with pioneering AI driven interactive experiences further enhancing the beauty and emotions created by 2023 collection establishing a new milestone in extraordinary goldsmithing and gems expertise."
For more jewellery reads, click here.
---