---
Style / Fashion
Viktor & Rolf to cease ready-to-wear
Viktor & Rolf has announced its intention to terminate its ready-to-wear line, following its autumn/winter 2015 collection.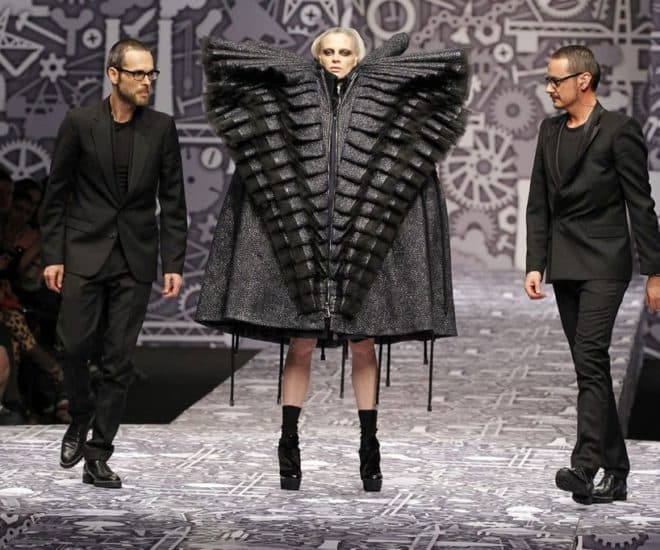 After Jean Paul Gaultier, the Dutch design duo are going back to their Haute Couture roots. All eyes will be on the brand next month as it bows out of the ready-to-wear calendar at Paris Fashion Week where designers will unveil their ready-to-wear collections for Autumn/Winter 2015.
As the Winter 2015 season marks the end of the line for Viktor&Rolf's 15-year old ready-to-wear activity, the label will shift its focus to Haute Couture in addition to the house's thriving fragrance and eyewear lines.
Viktor&Rolf are not the first and certainly not the last luxury label to bid farewell to ready-to-wear as we have seen in recent months with Jean Paul Gaultier's decision to concentrate on bespoke made-to-order fashion.
DON'T MISS: VIKTOR & ROLF FOR SAMSONITE BLACK LABEL
The reason behind the Dutch brand's change of direction is clearly motivated by a need for greater artistic and creative freedom:
"We feel a strong need to refocus on our artistic roots. We have always used fashion to communicate, it is our primary means of artistic expression.
Ready-to-wear (with its fast pace, many deadlines and fierce competition) started to feel creatively restricting. By letting go of it, we gain more time and freedom," Viktor Horsting and Rolf Snoeren explained.
According to WWD, the label does not intend to hold a runway show during the upcoming Paris Fashion Week this March but will create an Autumn/Winter 2015 collection for presentations.
Founded by Dutch fashion designers Viktor Horsting and Rolf Snoeren in 1993, Viktor&Rolf was initially embraced by the art world, before debuting in 1998 with Haute Couture to great acclaim.
The fashion house has several fragrances to its name including Flowerbomb, Spicebomb, and Bonbon released last Spring.
---