---
Style / Fashion
Valentino for Gap collection
To celebrate the opening of the first Gap store in Italy, Italian luxury fashion house Valentino will unveil a limited edition women's collection for GAP. The seven-piece Valentino for Gap collection will launch at select boutiques worldwide on November 27, including Gap's new Milan store on Corso Vittorio Emanuele, Gap's London flagship on Oxford Street […]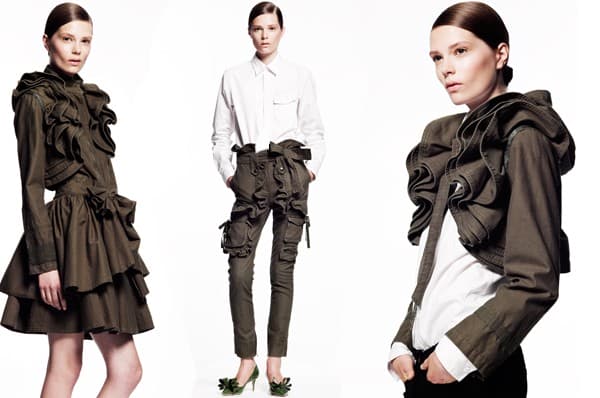 To celebrate the opening of the first Gap store in Italy, Italian luxury fashion house Valentino will unveil a limited edition women's collection for GAP.
The seven-piece Valentino for Gap collection will launch at select boutiques worldwide on November 27, including Gap's new Milan store on Corso Vittorio Emanuele, Gap's London flagship on Oxford Street
The pieces will also be available at the high-end fashion boutiques Colette in Paris and Dover Street Market in London. It has not been slated for release in the US.

Designed by Valentino creative directors Maria Grazia Chiuri and Pier Paolo Piccioli, the one-off collection infuses Gap's utilitarian basics with Valentino's signature flower-like ruffles, flounces and bows.
The traditional parka has been reinterpreted in three girly styles, all in heavyweight khaki cotton with three dimensional ruffles: a short jacket, a hooded cropped jacket, and a longer parka with ruffles around the neckline.
Other pieces from the Valentino for Gap collection include a pair of cargo pants with frill-bordered pockets, a tiered khaki skirt with a feminine bow on one hip, a grey T-shirt with an over-sized bow, and a grey hoodie with ruffles at the hem.
"We are very pleased that Gap thought of us as a partner for this project," said Chiuri and Piccioli.
"Valentino and Gap synthesise the current trend of combining luxury with basics. We wanted to mix traditionally high-end elements with Gap's celebrated street style, to create couture looks with a contemporary attitude."
The designers' favorite item is the cropped jacket, which they describe as "Gap with couture proportions."
Price points for the new line range from £69.95 (82 euros) for the skirt to £149.95 (177 euros) for the long parka.
The Valentino for Gap collection follows hot on the heels of another highly buzzed-about collaboration between a luxury designer and mass market retailer.
The H&M line by Lanvin's Israeli designer Alber Elbaz went on sale in 200 H&M stores worldwide on November 23, causing a veritable frenzy among shoppers.
Source: AFPrelaxnews
---