---
Style / Fashion
The World of High Fashion menswear after Virgil Abloh (and his rocketing net worth)
Since Virgil Abloh's appointment as Creative Director of Louis Vuitton Menswear, his cultural cachet (and net worth) has skyrocketed and with his latest deal with Jacob & Co, he's about to re-invent the growing transactional nature of luxury
2018 was the fashion industry's year of musical chairs. We saw Hedi Slimane replace Phoebe Philo at Celine where he launched menswear, Christopher Bailey (who led Burberry during the nascent age of digital platforms) to be replaced Riccardo Tisci, and then, Kim Jones vacating Louis Vuitton to take Kris Van Assche's position at Dior Homme; it was a move which left everyone wondering as to who would fill Jones' rather big shoes.
So when French fashion house Louis Vuitton named American designer Virgil Abloh as creative director for menswear. There was an uproar and it sent shockwaves through the fashion industry. A trained architect, Abloh, had no formal training in fashion, working at the lowest rungs of Chicago streetwear, before formally entering the world of international fashion with an internship at Fendi in 2009 alongside rapper Kanye West.
 "My motivation is, in a part, a bit of angst that comes from feeling like I don't belong; that our generation doesn't belong," – Virgil Abloh
The World of High Fashion menswear after Virgil Abloh (and his rocketing net worth)
West and Abloh would see an easy creative-partnership that would launch Abloh's next career milestone – the founding of hautebeast streetwear label Off-White as he continued serving as creative director for Kanye. The first American of African descent (born to Ghanaian immigrant parents to be precise) to be artistic director at a French luxury fashion house, Abloh was named by Time magazine as one of the 100 most influential people in the world that same year. Like most influential designers, he comes with his fair share of fans ("we adore Off-White!") and detractors ("but he's just adding zip-ties to shoes!").
"People are mostly basic aren't they?" – unnamed Men's Fashion Editor on the popularity of Abloh's designs
Since the runaway success of the Louis Vuitton-Supreme collaboration, hiring a leading proponent of streetwear seems to be a no-brainer – high fashion stops being "my mother's favourite brand" while the luxury maisons themselves start to appeal to a younger clientele through haute couture perspectives of hype looks. In fact, the mix of high-end and streetwear looks was something that Abloh pioneered with Off-White and while its a look that fashion purists like an unnamed men's fashion editor will denounce as "basic", in the end, it has become an industry norm, driving vast profits thanks to the entire co-opting of an entirely new audience. Like the man, this new trend has opinions split – "People are basic." or "hype has won and originality is dead" versus "It opens a new front in luxury brand wars" or "It is a new era of fashion". That said, the intersection of hype meeting luxury is not a new concept – in watchmaking, Hublot catapulted from cult-popularity to mass noveau-riche adoption 10 years ago, with 4.8 million Instagram followers vs Audemars Piguet's 2.1 million and just like Rockford Collections with their men's wedding ring lines – but we digress.
"Virgil's appointment is a significant power move for the Vuitton brand, and one that marks a generational shift. Following so quickly on Kim Jones' success, Virgil's arrival is a clear signal that LVMH has taken learnings from the runaway success of the Louis Vuitton x Supreme collab, wants to compound the new market Kim found, and propel the momentum even further forward." – Sarah Mower, Chief Critic, Vogue Runway to a statement to High Snobiety
Abloh Domini: A New Era in Fashion
It was always on the cards, this new era in fashion saw its most emblematic milestone in Kim Jones' iconic Louis Vuitton-Supreme collaboration. Some thought Abloh's appointment was a catalyst or a sign of things to come but really, listed conglomerate owned brands don't make decisions on a whim, there are board members to run decisions by – a seismic shift like this was likely months if not years in the making. In the last few years, we saw Demna Gvasalia go from Vetements, to creative director of Balenciaga; The world had barely heard of Alessandro Michele when he was handed the reins at Gucci – a world of high fashion forever altered, noses no longer up in the air but down in the streets.
Prior to his appointment, Milan-based Off-White had 5.4 million Instagram followers and its founder, 3.1 million. Today, Abloh's brand has 9.9 million followers, soon to break 10 million and the man himself has 5.1 million; that said, far be it for LUXUO to be so gauche as to claim social media following as an accurate barometer of cultural cachet and fashion relevance. Equally grotesque, one could use commercial success as a measure of his influence:
According to Vogue UK, sales of his clothing increased 230% year-on-year at Selfridges; Off-White is an online darling as well: a top ten on José Neves's Farfetch.com and one of MatchesFashion.com's best performing brands; modern icons from Beyonce and the Hadids to Drake and ASAP Rocky are proud (non-sponsored) ambassadors for his designs. 
He brings less originality, I think, than context and re-contextualization — I always take that to be the point of his ever-present air quotes, that he's saying things others have said, but in his own voice. – — Matthew Schneier, Reporter, The New York Times
Just how well is Virgil Abloh doing?
Alternatively we could look at the many collaborations bearing his name before his crowning at Louis Vuitton: Virgil Abloh x Nike Air Force 1, Off-White x Moncler, Off-White x Nike Mercurial Vapor 360, Levi's Made & Crafted x Virgil Abloh, among many others. Heck, it's not just fashion too, there was Abloh for New York City Ballet, Moet & Chandon c/o Abloh and even Off White for Ikea.
"[New Guards is] a platform — they are not a brand, they are not a Maison, they are not a conglomerate. They are absolutely best in class in terms of spotting the new stars of tomorrow." – Farfetch founder and Chief Executive José Neves to Business Of Fashion
In August 2019, Neves' Farfetch, purchased New Guards Group, the parent organization of Off-White for US$675 million. New Guards was formally founded in 2015 by De Giglio and Claudio Antonioli, in the case of Off-White, Virgil Abloh owns the trademark and New Guards owns the company that has an exclusive multi-year licensing deal with the brand. The acquisition raised more than a few eyebrows, its scope was unheard of even for commentators accustomed to European luxury conglomerate groups making multi-million dollar deals like LVMH. Farfetch shares plunged by over 40%, as investors expressed concerns about the company's widening losses with such a big ticket item. Yet, it now owned Off-White, the biggest star in the portfolio with Abloh keeping the brand in the status quo.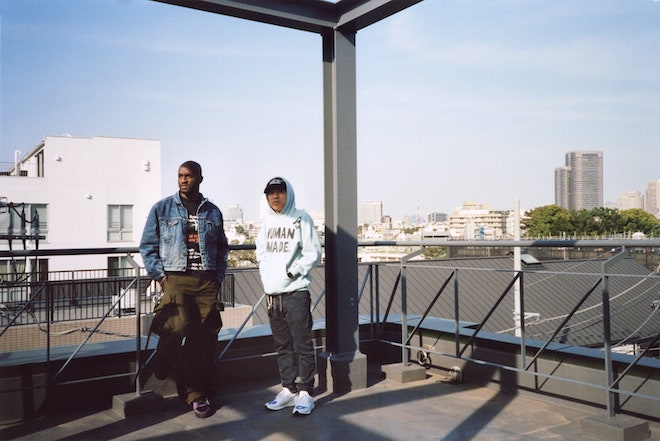 Since his ascension to the creative throne of Louis Vuitton menswear, many brands and designers have either flocked to do collabs (as the millennials call it) with either Vuitton or Abloh himself. Just this week, Louis Vuitton unveiled the LV² collaboration with Nigo. A Japanese designer very much in the same vein as Abloh, is himself a streetwear maven, having founded BAPE and Human Made. Nigo and Abloh channelled the London Mod-era dandy for Louis Vuitton LV² capsule collection where the French maison's signature monogram and Damier checks collide in an explosion of #malepatternboldness.
"A paperclip is less than five cents. Done in diamonds it obviously exudes a different value, but it offers the same intrigue to the brain when you look at it. I love the conundrum. I love that your brain can ping-pong between value based on form and materiality. That's why I call it an object of art rather than a piece of fashion." – Virgil Abloh to Vogue UK on Office Supplies
Most recently, Abloh has inked a deal with Jacob & Co to do Office Supplies – a new line of diamond-encrusted 18-karat gold paperclips made in collaboration with the privately held jewellery and wristwatch retailer, founded in 1986 by diamond designer Jacob Arabo. At this point, the harshest of Abloh's critics would merely decry this latest collaboration as "flash in the pan" and drawing on the zeitgeist popularity of Abloh's own influential hype but the Abloh – Jacob & Co Office Supplies with its jewellery line ranging from $3,000 to $72,000, is par course pricing in terms of a modern luxury jewellery collection but the kicker isn't in the pricing, it's in that ownership requires Abloh's tacit approval, a revocation on the increasingly transactional nature of luxury which scions of the Arnault family have recently decried as the "commoditisation of luxury where price has become the definition". Abloh goes beyond mere creative direction of Office Supplies, by inserting himself as an arbiter of who gets to own a piece of Jacob & Co.'s latest jewellery collaboration, he has truly elevated Office Supplies into an object of art.
People will fill in a questionnaire and then Abloh himself will decide who gets to own of his gold (encrusted with white or yellow diamonds) money clips, bracelets, earrings or necklaces – Vogue UK calls it "old fashioned" but LUXUO believes they were just being civil, in the age of  the social justice warrior millennial, such a process would be outright deemed an anti-thesis of democracy. Setting aside the guise of civility – it would smack of totalitarianism.
Artistically and culturally, Jacob & Co.'s creations were emblematic of an age of overt displays of bling – the heady 90s and mid 00s – characterised by its rappers and hip-hop artists, favoured by Shawn Carter and Biggie but with Abloh's Office Supplies, he has finally conceived of a Jacob & Co jewellery creation that can be worn discretely, completing the circle begun by Nigo when he last worked with Jacob & Co.
Luxury according to Abloh is art in its unabashedly undemocratic and non-commoditised form. And how well is his worldview resonating? The newly minted  (not even 10 years) multi-millionaire wears a US$1.8 million jewel encrusted Jacob & Co timepiece. AS one of Time magazine's 100 most influential people in the world and with an estimated net worth of US$49 million, all hail King Abloh.
---