---
Style / Fashion
The Dior and Amoako Boafo Celebrate Black Excellence, Creativity and Portraiture With an All-New Summer 2021 Collection
The Dior x Amoako Boafo Summer 2021 collection represents an intimate, all-encompassing and honest cultural dialogue based on true mutual admiration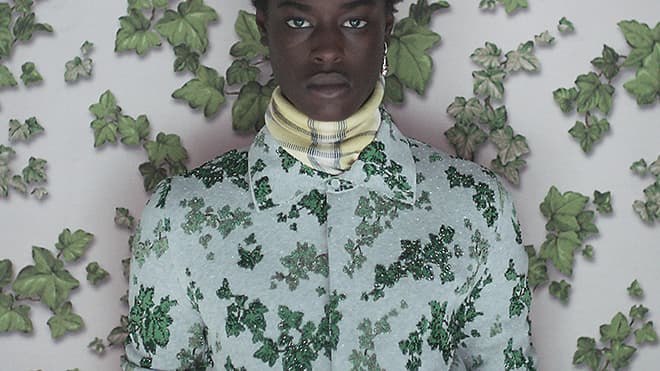 In an intimate, all-encompassing and honest cultural dialogue which began as early as 2019, Dior Men's Artistic Director Kim Jones unveils his special collaboration with Accra, Ghana-born, Vienna-trained artist Amoako Boafo. Having met at a repurposed DEA warehouse, better known as the Miami Rubell Museum, where contemporary works by emerging and established artists are showcased – the duo formed what has since been described as 'love at first sight', an electric bond based on true mutual admiration.
The Dior and Amoako Boafo Celebrate Black Excellence, Creativity and Portraiture With an All-New Summer 2021 Collection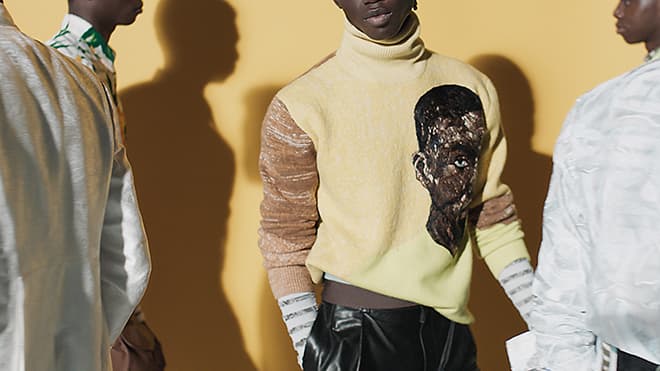 As a constant and infinite source of inspiration for the house of Dior, Kim Jones had spent much of his childhood years travelling across the African countries of Botswana, Tanzania, Ethiopia, Kenya and Ghana. Crediting these places for molding his formative images of life, Jones has always maintained a great adulation for the continent's nature, culture, and people, which he aims to reflect in his latest collection.
Expressing and mixing different cultures and techniques, whilst exploring perceptions of blackness and masculinity in particular, Amoako Boafo's Black Diaspora portraits have since been transposed onto the garments of Summer 2021, immaculately illustrating the savoir-faire and history of haute couture.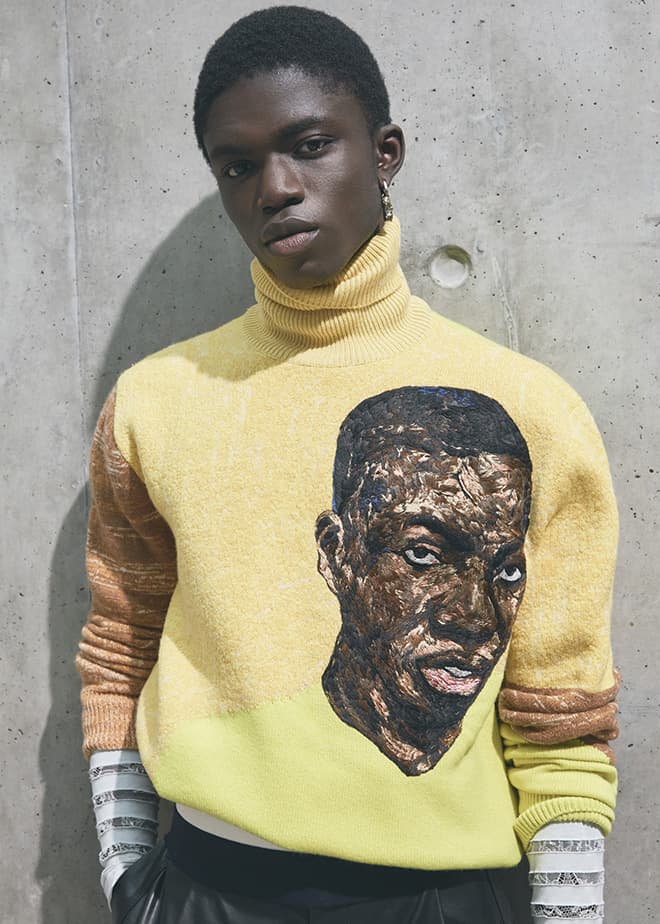 More than a source of inspiration, Boafo's artworks are an essential foundation, a 'dialouge' of unimaginable colors drawn from his vivid, near-surreal hues of fluo yellow saturates moiré, alongside blue, coral and green. Drawn from the graphic patterns that characterize his work, each print features a jacquard of paintbrush strokes based on a photograph of the richly textured canvasses in his studio, taken by Kim Jones.
Subtly streamlined and refined, the 2021 looks combine sportswear influences with the Dior Maison's exceptional tailoring, illuminating a series of unexpected links between the painter and the brand's heritage. Showcasing a three-dimensional effect, each piece appears as a painted canvas, printed and layered with ribbed knits, jacquard patterns, embroidery, and knitwear – elements which represent a crossroad between contemporary art and documentary.
In an effort to reflect the depth and breadth of the Maison's heritage, alongside Baofo's love for foliate textile, the Dior Summer 2021 Men's collection will be presented in two separate parts.
Edited and sound tracked by esteemed video artist Chris Cunningham, the collection's first installment showcases imagery shot in London and at Amoako Boafo's studio in Ghana, whilst the second installment, directed by Jackie Nickerson, alludes to a celebration of portraiture, the magical power of creativity, and art's ability to transport, through unveiling the season's final creations.
---