---
Style / Fashion
Rafael Nadal, Richard Mille and Nike – The Man Maketh the Brand
Wearing his namesake Richard Mille and with Nike's latest technology, Rafael Nadal is epitome of how the right ambassador can enhance a brand's perceived value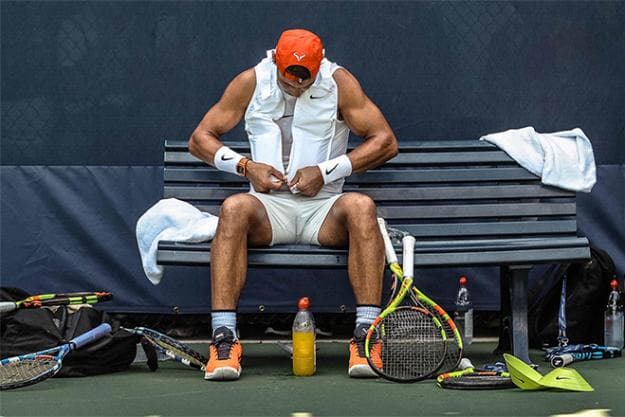 With the latest brouhaha involving Serena Williams and Rafael Nadal losing to unseeded Australian John Millman wearing a special Nike vest, it seems that a lot of the biggest news out of the US Open was not about performance but rather fashion-related.
Flushing Meadows, where the US Open is held, has had a scorching couple of weeks, with midday temperatures pushing 95 degrees and humidity reaching nearly 50 percent. Athletes are doing everything they can to stay cool. To that end, you may have noticed both Rafael Nadal and Maria Sharapova don an unfamiliar piece of equipment on Monday in preparation for their late-round matches.
Rafael Nadal, Richard Mille and Nike – The Man Maketh the Brand
"Anything that can help with this heat is a benefit, We typically use wet towels to stay cool, but this vest gives me relief in all the places I need it. Every area of the vest was designed with players in mind." – Rafael Nadal, Athlete and Ambassador
The court cameos are the latest Nike cooling vest, designed to reduce the stress on the body caused by high heat and humidity. While the vest has undergone extensive wear tests, this marks the first time the vest has been worn for a tennis competition.
This sort of association underscores a critical element in how a brand chooses and deploys its ambassadors or "friends of brands". The Laureus World Sportsman of the Year and World Number 1 ranked tennis player is not just a physical specimen but the embodiment of the kind of elite personality who brands love to test their latest innovations with.
"I wanted to beat the world record for the lightest mechanical watch once and for all.  The record was smashed with this watch weighing exactly 18.83 grammes, including the strap that represents the heaviest part. This was a huge challenge." – Richard Mille on designing the Rafael Nadal Tourbillon
Beginning with the Richard Mille RM 27-01 Rafael Nadal tourbillon, the world's greatest tennis player has been assisting the Swiss watchmaker and his other brand sponsors with his high octane play-style. Limited edition of 50 pieces, the calibre RM27-01, developed in 2013, with its complex, original architecture is the result of Richard Mille's determination to create a movement held in total suspension in the heart of its case. Inspired by civil engineering infrastructure suspensions, and the crazy, hard swinging volley tennis style of Nadal, Richard Mille had to adapt these modes of construction to the watchmaking sphere, shrinking them to a space just a few tens of millimetres wide and to keep its lightness, make the watch case from an extremely strong anthracite polymer injected with carbon nanotubes.
Likewise for Nike, their Sport Research lab tested the relationship between body temperature and athlete performance and Nike researchers found that roughly 25% of energy used during exercise goes toward moving muscle, and the remaining 75% becomes heat that increases body temperature and hinders player performance.
To that end, Nike designed a special customisable cooling vest with four removable cooling packs to cover maximum surface area across the front and back of the torso, and is capable of quickly reducing body temperature within approximately two to three minutes.
Lightweight and form-fitting, the Nike cooling vest is comfortable enough to wear in warm-ups before matches, between games and during rest periods to help athletes play longer and harder in extreme conditions. In this respect, Nadal is the kind of ambassador in which Richard Mille and Nike have found as an avatar of wearable innovation and technology.
---