---
Style / Fashion
LUXUO Style: The Latest from New York Fashion Week and the Fashion Industry
From Peter Do's Helmut Lang debut to Ralph Lauren' glamorous return to New York, these shows made the headlines for all the right reasons.
At New York Fashion Week, Peter Do highlights modern minimalism for Helmut Lang debut garnering rave reviews, Ralph Lauren marks their return to New York with a glamourous showcase of gold lamé and fringe while newcomer Singaporean Grace Ling makes headlines with an anthropomorphic collection that melded metal with the human form. In other breaking news, Sarah Burton's departure from Alexander McQueen once again shines a spotlight on the ever evolving landscape of fashion and its revolving doors of fashion creative directors.
1. Peter Do's Helmut Lang Debut
As one of the most highly-anticipated showcases of New York Fashion Week, Peter Do certainly delivered with his own brand of a modern minimalism at Helmut Lang's Spring 2024 collection. Honing in on a new take on luxury, Do's directional aesthetic was made abundantly clear — utilitarian meets urban sensuality.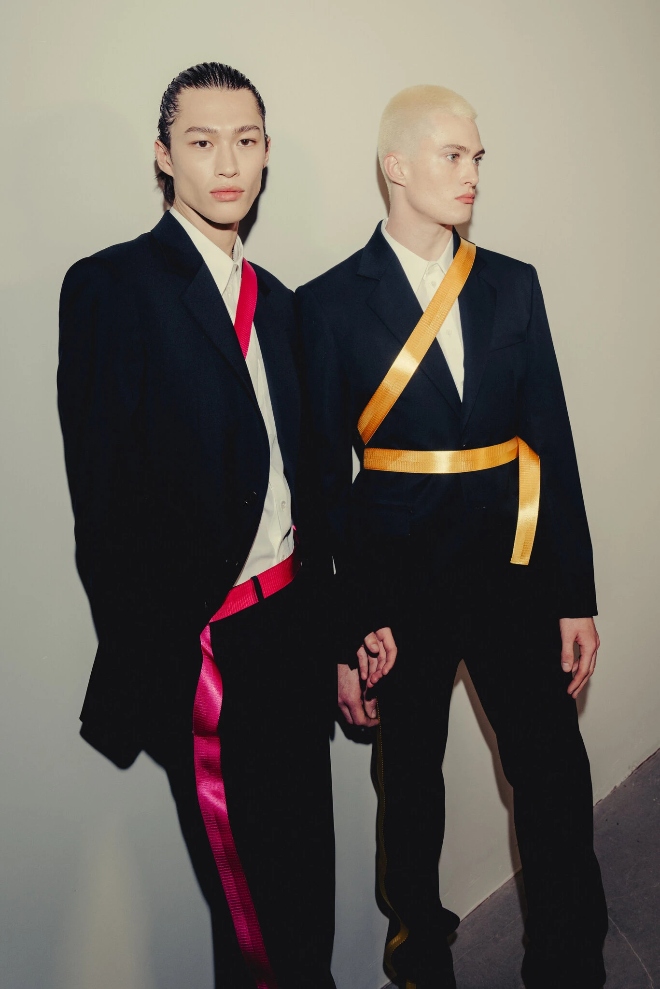 The show was emblematic of the city it was in. From the location — the fourth-floor of a loft in the Meatpacking District — to printed motifs featuring photos of taxis displaying Helmut Lang advertisements from the 90s. Bright fuchsia and neon-coloured seat-belt-like sashes adorned sharp-shouldered fitted jackets while manipulation of fabric and textiles hugged the body alongside wordings displayed on white shirting in an ode to Do's Vietnamese roots.  
2. Ralph Lauren Returns to New York
Perhaps it was an omen of good luck but there was something about watching 90s supermodel Christy Turlington gliding down the runway in a one-shouldered cascading gold lamé gown that sent hearts of fashion enthusiasts around the world aflutter — talk about a comeback.
The collection was a love letter to elevated Bohemian dressing with embroidered beads, sequins, floral prints, dresses and gowns lined with chiffon and tulle. This was Lauren's first New York Fashion Week collection since 2019. In a statement to The Associated Press describing the woman he designs for, Lauren explains that she "dresses for who she is on a particular day", remarking that the collection is "inspired by her individuality — all the ways she can express herself through colour, texture, contradictions". As each model glided down the runway in their vibrant ensembles ranging from flowing blouses to blue denim, a sense of freedom and liberation came into the air.
3. Grace Ling's Anthropomorphic Collection
Newcomer Grace Ling is a young designer to look out for. Ling made headlines for her metal-meets-human runway collection under her own eponymous label. There was something inherently late 90s, early 2000s about the collection, be it the sheer gradient dresses mimicking cloth burnt off at all the right places or the panelled chrome bodices (which some critics drew comparisons to the early works of Alexander McQueen). Ling successfully balanced sensuality with a thoughtful examination of how fabric and metal can mould and drape the human form cohesively. It was an eerily dystopian display amongst designers of her young cohort breathing fresh air into the city's fashion landscape.
4. Sarah Burton Leaves Alexander McQueen
Alongside the headliners at New York Fashion Week was also Sarah Burton's exit from Alexander McQueen. Burton's departure from McQueen comes after a tenure of over two decades, 13 years of which was as creative director, filling in the role after the late Lee Alexander McQueen who passed in 2010. Sarah Burton received mostly positive reviews during her time, arguably one of her most successful career moments being when she designed the wedding dress for Kate Middleton, Princess of Wales for her wedding ceremony to Prince William, Prince of Wales in 2011.
Burton was, however, at times described as being unable to step out of the shadow of her predecessor whose runway collections were especially audacious, daring, avant-garde and often otherworldly. Regardless, it has been largely agreed upon that Burton successfully sustained the McQueen DNA in her design approach, merging her demure take and penchant for florals with McQueen's dark, almost gothic themes.
For more on the latest in fashion and style, click here.
---