---
Style / Fashion
Loewe Opens First Southeast Asia Store
The fashion house opens its first boutique in South-East Asia with an exhibition of its Fall/Winter 2016 collection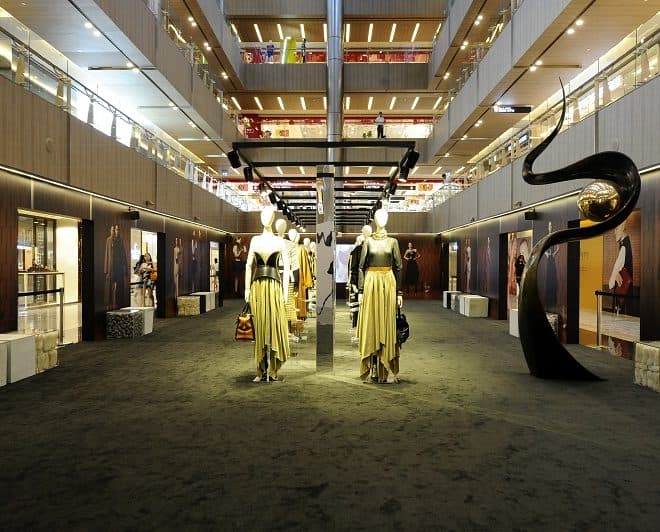 Luxury fashion house Loewe opened with its newly designed Casa Loewe in the heart of Singapore with a resounding bang, kicking things off by showcasing its Fall Winter 2016 collection right in Paragon Mall. This was the first look at the collection since its debut at Paris Fashion Week, and it was combined with a cocktail reception for VIPs and media from the region. Also present at the event was Loewe's Creative Director Jonathan Anderson.
The Casa Loewe stands as a spacious boutique with gleaming black Marquina marble on the façade. Notable inside the store are the showcase of Loewe's signature bags, as well as a special emerald green canopy overhead. This canopy was a reinterpretation of architect Javier Carvajal's 1959 piece – first designed for the Loewe flagship store in Madrid.
The exhibition, displayed in the center of the mall, was flanked by images from Publication No. 10 under the creative direction of M&M (Paris), styled by Benjamin Bruno and photographed by Jamie Hawkesworth at the Maison de L'Unesco the day before the fashion show in Paris set the space for the exhibition.
"The opening of Casa Loewe in Paragon not only presents the brand's modern identity, but with Singapore's growth and emergence as a gateway for other South East Asian markets, also strengthens its presence in the region" said Anderson. Indeed, with other stores like Boucheron also viewing the region as an important market, this could be the start of a new era of luxury for Singapore, and Southeast Asia as a whole.
---