---
Style / Fashion
How Louis Vuitton is resonating with Generation Z and Millennials
Going beyond traditional means of advertising, Louis Vuitton found innovative ways to infiltrate a new diversified market through smart collaborations
Credits: Photography: Daryl Tan Styling: Sapphire Chin Photography assistant: Alif Styling assistant: Khoo Yong Hao
Leading the luxury industries' fight for every millennial's heart and wallet is a house with over 165 years of tremendous evolution. Louis Vuitton, once known solely for its signature rugged luggage bag, has successfully become one of the most sought after brands amongst millennials. Following the lead of a new executive VP, Delphine Arnault; the first woman and youngest person to ever occupy a management post in the LVMH group, the brand had begun strategically pivoting its messaging to suit a younger demographic through teen-oriented campaigns and endorsements. It was Delphine who also initiated the very first LVMH Prize – an international competition to discover young fashion designers and talents. At the time, Louis Vuitton was focused on positioning itself as a brand which created platforms to give rising creatives the recognition they deserved.
How Louis Vuitton is resonating with Generation Z and Millennials
Going above and beyond the traditional means of advertising, Louis Vuitton found innovative ways to infiltrate a new diversified market, through collaborations with popular, up-and-coming brands and designers such as Off-White Founder Virgil Abloh and Supreme.
These collaborations were of major significance. Supreme's emergence in the market as a New York-based skatewear brand had become a global phenomenon. The brand's cache was on the rise with endorsements from celebrities such as, Mike Tyson, A$AP Rocky, Jim Jones and Rosa Acosta. It wasn't long before the brand had gained significant market share with a cult-like following amongst the youth. Louis Vuitton's collaboration with Supreme had thus given both brands the opportunity to tap into the other's demographic and elevate their position vertiginously as market leaders in their respective fields.Upon launch, reports revealed LVMH group's profit skyrocketed at least 23%, amassing the company's approximate earnings in the first half of the year to $23 billion USD. The consumer response to the collaboration couldn't get any more favourable.
These efforts coupled with multiple other back to school campaigns not only boosted sales but also created buzz and the illusion of accessibility across all demographics. The brand's success can be measured by Piper Jaffray's latest "Taking Stock with Teens" fall survey which reported a rise from 11% to 14% in Louis Vuitton's approval ratings amongst a total of 9,500 teenagers with an average household income of $65,400.
Credits: Photography: Mun Kong Styling: Wilson Lim Photography assistant: Melvin Leong Styling assistant: Sapphire Chin

Riding on the wave of success, Louis Vuitton's partnership with Virgil Abloh was another step in a greater direction. The American designer, DJ and stylist, gained prominence as the 21-time Grammy award winner, Kanye West's creative director. He has since made immense waves in the fashion industry with his luxury streetwear label, Off-White. The label which focuses primarily on high-end T-shirts, hoodies and sneakers, is greatly beloved not just by teenagers worldwide but celebrities like Rihanna, Kendall Jenner, Marc Jacobs and Julia Roberts. Garnering experience and knowledge from internships with Fendi, working under Kanye and even with Jay-Z – Virgil was successful in creating a brand some describe as "ironically simple" yet so adored.
The partnership in March 2018 which made Virgil the artistic director of menswear at Louis Vuitton could not come at a better time. Virgil was at his peak, had a tremendous following and become the pinnacle of contemporary fashion. Virgil Abloh's partnership intended to bring fresh appeal to the timeless Louis Vuitton…and it did. Debuting with a Spring 2019 menswear collection, titled "We Are The World", the line gained cosmic recognition and presented Louis Vuitton in a renewed light. Featuring neon colours, sporty silhouettes, chunky sunglasses and basketball-style high-tops with bold panels – the line was the ultimate technicolour fantasy and embodiment of timeless youth, embarking Louis Vuitton onto a new chapter.
Credits: Photography: Mun Kong Styling: Wilson Lim Photography assistant: Melvin Leong Styling assistant: Sapphire Chin
Since then, Louis Vuitton is leaving no stone unturned. Besides, who doesn't crave a little childhood nostalgia, 90s paraphernalia, and arcade-style FUN! The Endless Runner is an original Louis Vuitton and Virgil Abloh web game which was launched to their site in early July 2019. The game which infinitely scrolls, is more than a way to pass the time or compete with friends – it's a unique traffic booster and a definite reason to get people talking.
Whether it's the cutting-edge games or over the top avant-garde art and street style collaborations – this is merely the beginning of their efforts. Louis Vuitton has every intention of conquering the under-35 market by 2025, or maybe sooner… thanks to their newfound partnership with Riot Games and involvement in the League of Legends World Championship.
Credits
Photography: Daryl Tan
Styling: Sapphire Chin 
Photography assistant: Alif 
Styling assistant: Khoo Yong Hao
*Update: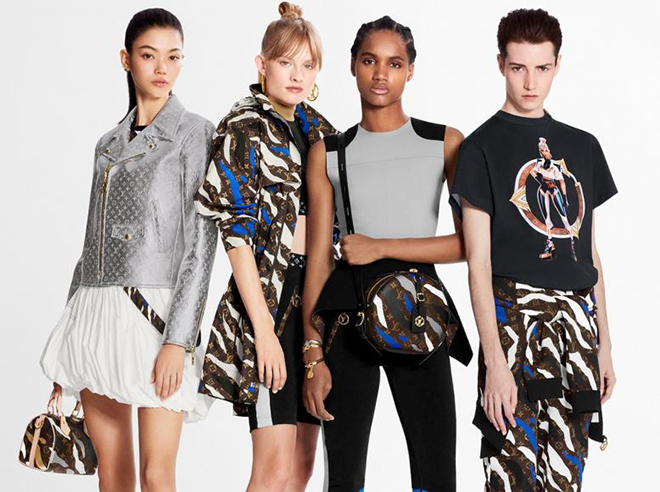 Louis Vuitton's collaboration with League of Legends launched for pre-order on 9th December. The collection, designed by Nicolas Chesquiére in partnership with Riot Games incorporates unique and original references and colours true to the actual game universe. Featuring anything and everything from a $170 bandeau to a $5,600 leather jacket plus a Qiyana-inspired champion t-shirt for $670 and a $2,420 hoodie – the collection appeals to both material and digital fashionista players with special Louis Vuitton game skins, costing as little as $10 to $15.
---