---
Style / Fashion
Ermenegildo Zegna to Launch E-Commerce
Italian menswear company Ermenegildo Zegna is launching its first e-commerce site on December 9. The new online boutique will be operated by Yoox and will carry the brand's main line as well as the younger, more casual Zegna Sport line. The Z Zegna line is currently the only one available for retail online, but it […]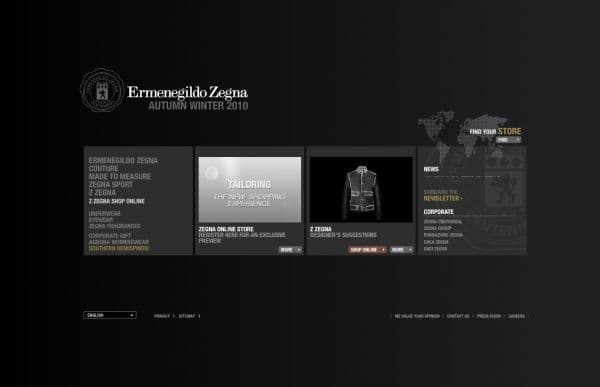 Italian menswear company Ermenegildo Zegna is launching its first e-commerce site on December 9.
The new online boutique will be operated by Yoox and will carry the brand's main line as well as the younger, more casual Zegna Sport line.
The Z Zegna line is currently the only one available for retail online, but it is sold via Thecorner.com — a virtual mall also operated by Yoox.

The Italian house is celebrating its 100th anniversary this year. CEO Ermenegildo Zegna said its new e-commerce site "represents a natural evolution of the brand, in addition to being the very first step in our second century of history."
Zegna also added, "I believe digital marketing is a substantial pillar of our brand strategy, one we cannot disregard."
To commemorate the company's centenary, the first 100 online customers to shop on Zegna's new e-commerce site will be given the book Ermenegildo Zegna: An Enduring Passion for Fabrics, Innovation, Quality and Style.
What's more, customers can register to receive a sneak peek at the e-commerce site a few days in advance of its official launch date by simply providing their email addresses.
Ermenegildo Zegna previously tested an online store (US only) in 2007, but had developed it in-house.
This time around, it chose to partner with Yoox, the leading global Internet retailing partner for top designer brands.
The Italian company is the brainchild behind the online boutiques for marni.com, emporioarmani.com, diesel.com, valentino.com, and dolcegabbana.com, among others.
Other fashion companies who have made the foray into the world of e-commerce this past autumn include the avant-garde Belgian label Maison Martin Margiela, which debuted its first online store on October 12, and the American label Rag and Bone, which launched its website on September 7.
To register for a sneak peek at the Zegna e-commerce site, visit zegna.com
---