---
Style / Fashion
Armani taps Chinese market with online store
Italian fashion designer Giorgio Armani plans to tap the Chinese market with a new online store that opened Friday for Emporio Armani. "In view of the increasing enthusiasm for online shopping and the growing importance of the Chinese market, I have decided to open an Emporio Armani online store in China," Armani was quoted as […]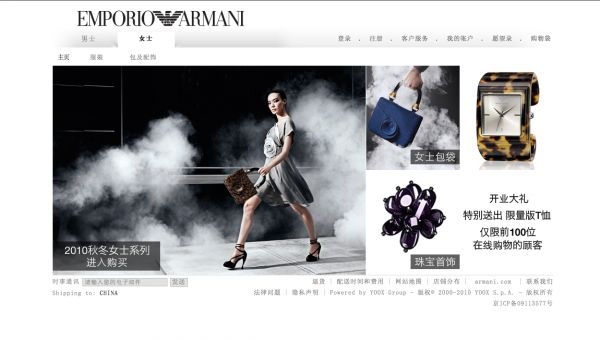 Italian fashion designer Giorgio Armani plans to tap the Chinese market with a new online store that opened Friday for Emporio Armani.
"In view of the increasing enthusiasm for online shopping and the growing importance of the Chinese market, I have decided to open an Emporio Armani online store in China," Armani was quoted as saying in a statement.
"We have identified a significant group of consumers who will certainly appreciate this new approach to shopping, one that becomes more popular every day".

Online retail sales in China, which has the world's largest web population of at least 420 million, soared 117 percent last year to 39 billion dollars (29 billion euros), according to iResearch, a Beijing-based research firm.
US fashion giant Gap launched an online store in China earlier this month and Wal-Mart — the world's biggest retailer — has said it too plans an Internet presence in China soon. Apple opened an online store in October.
Armani said it was "the first fashion brand to offer a 'flagship store' online experience in China." The website is backed by Yoox, an Italian online fashion retailer that has grown rapidly during the global economic crisis.
The Armani Group has more than 5,000 employees and 13 factories, producing clothes, as well as accessories, eyewear, watches, jewellery and perfume.
Source: AFPrelaxnews
---