---
Style / Beauty & Wellness
Scarlett Johansson for Dolce & Gabbana Cosmetics
Scarlett Johansson is the sexy protagonist of the new Dolce & Gabbana line of cosmetics' advertising. The Italian designers have chosen Scarlett Johansson for a series of sexy Marilyn Monroe-inspired photographs by Sølve Sundsbø. "Scarlett is sure of herself. She's a beautiful girl, but she's really easygoing. She is very Dolce & Gabbana. We see […]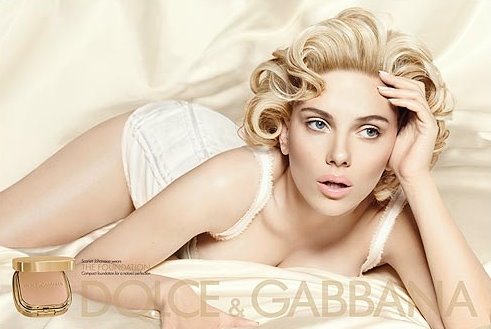 Scarlett Johansson is the sexy protagonist of the new Dolce & Gabbana line of cosmetics' advertising.
The Italian designers have chosen Scarlett Johansson for a series of sexy Marilyn Monroe-inspired photographs by Sølve Sundsbø.
"Scarlett is sure of herself. She's a beautiful girl, but she's really easygoing. She is very Dolce & Gabbana. We see makeup as another thing for women, like a dress."

We worked on the makeup line like we work on a clothing collection — you can change makeup like you can change your clothes, depending on your mood" said Stefano Gabbana.
Dolce & Gabbana Makeup will be launched in March. Preview on La Rinascente, Milan.
---