---
Style / Beauty & Wellness
Louis Vuitton Unveils World Cup Trophy Trunk
French fashion house Louis Vuitton has unveiled an elegant leather-bound case that it produced to carry the trophy to South Africa on Tuesday. This case has been unveiled in the presence of Patrick-Louis Vuitton, Yves Carcelle (CEO of Louis Vuitton), and also the supermodel Naomi Campbell. From the tournament's beginning in 1930, the World Cup […]
French fashion house Louis Vuitton has unveiled an elegant leather-bound case that it produced to carry the trophy to South Africa on Tuesday.
This case has been unveiled in the presence of Patrick-Louis Vuitton, Yves Carcelle (CEO of Louis Vuitton), and also the supermodel Naomi Campbell.
From the tournament's beginning in 1930, the World Cup trophy has always been transported in an armored metal case — largely for reasons of security.
But as Louis Vuitton spokesman Antoine Arnault put it: "There was no reason why security couldn't be synonymous with elegance."


The trophy was commissioned by FIFA and was handmade in the company's original workshop in Asnières, which opened in 1859.
The travel case is covered in Louis Vuitton's iconic monogram canvas and is fitted with the company's signature brass lock and corners.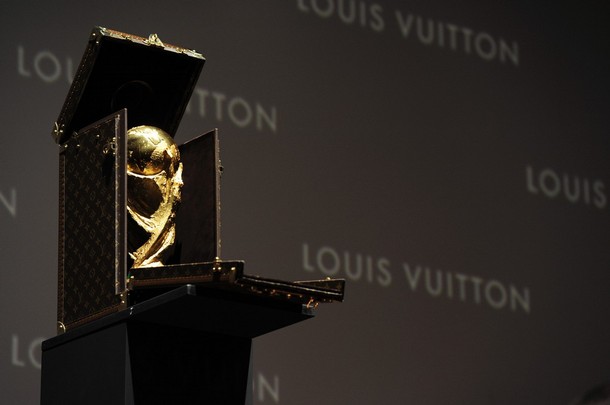 The luxury design house have long designed lavish luggage cases. Vuitton crafted the trunk that holds the world's oldest sporting trophy – the famous silver ewer of the 1851 America's Cup.
The fashion house also has a contract to make another one for the 2014 World Cup.
---