---
Style / Beauty & Wellness
Johanna Monange, Founder of Maison 21G: Importance of A Scent Wardrobe
These days, scents are all about personalisation. Johanna Monange, scent designer and founder of Maison 21G Paris, would know. With over 20 years of experience in the perfume industry, she speaks to us about her relationship to perfume, the importance of a scent wardrobe, and more.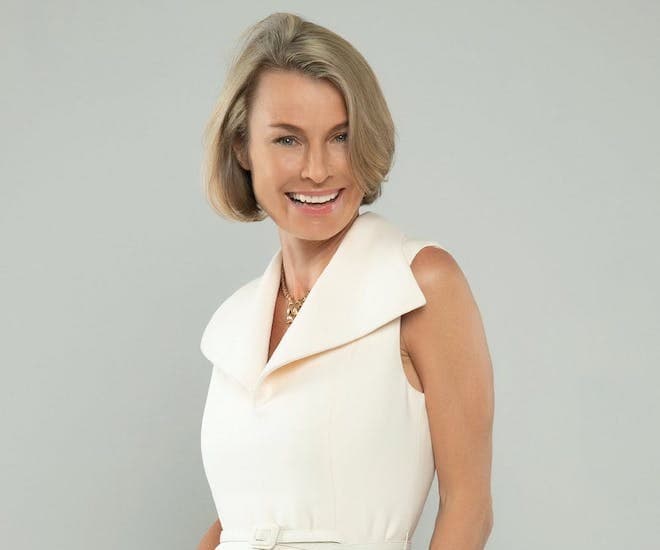 Perfume has always been deeply personal and transportive. (Just purview writings on fragrances to get a whiff of such — a Chanel N°5 can go from being described as "a sparkling drink on summer's day", to smelling like "rolling around on crisp white sheets in a silk nightgown.") It is this ability to give us magic, even in the most mundane of moments, that has made it particularly pandemic-proof.
And even as the pandemic plods on, the desirability of bespoke fragrances lingers. After all, we wear fragrances for the delight in wearing it for ourselves, not just to attract others, contrary to what age-old wisdom suggests — so it would only make sense to create a scent that is uniquely our own. Enter Maison 21G Paris. A perfumery house that offers the experience of creating customised blends of scents according to your personal preferences, it has since expanded rapidly over the past year, with plans for global expansion.
"It's the same as going to the restaurant… You can't impose on every guest to take beef. What if I don't like beef?" says French founder Johanna Monange, who made Maison 21G's debut with a boutique in Duxton Hill, Singapore, in 2019. "We first discover what you like or don't like, how to pair our scents with other scents, and for what occasion it is perfect for." This comes unlike traditional perfume marketing, where brands will convince you to buy a perfume with lots of advertising, she says. "Instead of pushing things onto people, I prefer to understand who you are and guide you to create your own perfume. We're just here to teach you and transmit our knowledge as scent designers."
What attracted you to the world of perfumes?
It was purely by chance. Usually, you come from a family of perfumers in France, transmitted from father to son. For me, I studied international business and I was deeply passionate about discovering new cultures, which led me to go to China in the last year of my masters to study at the University of International Business and Economy (UIBE) in Beijing. After graduation, I found a job under a company called Mane, one of the last prestigious French perfume houses, and trained at their Grasse perfumery school for two years. I learnt about raw materials, how to recognise a palette of 2,000 molecules and essences to create iconic accords in South of France, in Grasse. I was surrounded by people who were very passionate about perfumery, and I fell in love since. Since 23 years ago, when I entered the perfumery world, I never exited. When you touch this world, it's impossible to step away from it, it is so addictive. Again, it was never part of my plan. It was thanks to my experience and knowledge of China that I was given this opportunity, as the house wanted my insight to tap into the Chinese market, and in exchange I would learn about perfumery. So I always say I want to finish my career in China, because it's thanks to them that I entered the world of perfumery. Which is why I am very happy to start Maison 21G Paris in Asia, and to reach China eventually.
You're familiar with many different cultures. Have you noticed scent preferences between cultures?
There is a huge difference in each culture. It depends on where you're born — whether you're from the city or countryside, your education, your scent environment, etc. Even within China, someone from Beijing, Shanghai and Guangzhou, would have taste differences.
For instance, in France, we love heavy, sexy, oriental fragrances. The women around me during my childhood were wearing very strong scents, my mother was wearing L'Heure Bleue de Guerlain and my grandmother wore Poison of Christian Dior so you get used to it — this is your environment. But in China, people like to wear light perfumes. It is all about harmony, so the scents have no overdose of ingredients and were always quite balanced. In the US, it is all about freshness. They love green floral, transparent white floral, fruity notes, such as cucumber or coconut. Italians love citrus notes like bergamot or the elegant orris from Toscany, and in India they love a strong spicy scent.
What about Singapore? What does the Singaporean woman like?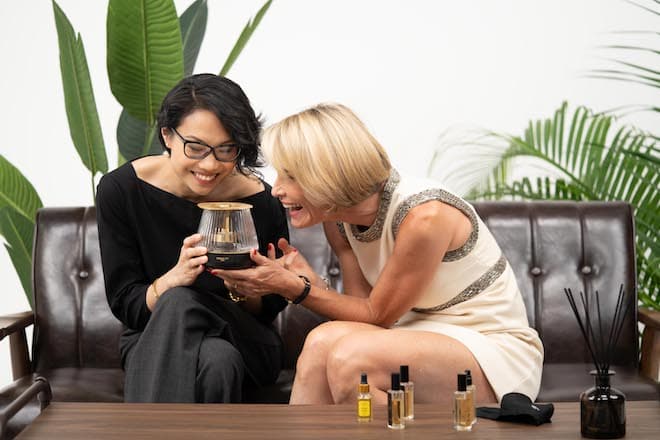 This was very surprising to me. When I developed the haute couture 35 notes for Maison 21G's Paris collection around natural iconic ingredients, like jasmine and tuberose, and I brought back some scents that do not exist anymore in the market, like Mimosa and Lily of the valley. And Singaporeans love these scents! The favourite scent of Singaporeans is mimosa, which is a little yellow fluffy flower found in the south of France in Grasse's mountains. It is very fresh, powdery and delicate. Another favourite is tea — green tea, and I have launched an exclusive white tea, which is fresh, delicate and crisp, because Singapore is so hot and humid. You love sandalwood and vanilla as well. Combined, they are very sexy and elegant, perfect for night. But we are not one scent, we are many scents — there is a scent appropriate for every occasion, whether at work or a red-carpet event. So, I very much believe in a scent wardrobe.
What do you mean by scent wardrobe?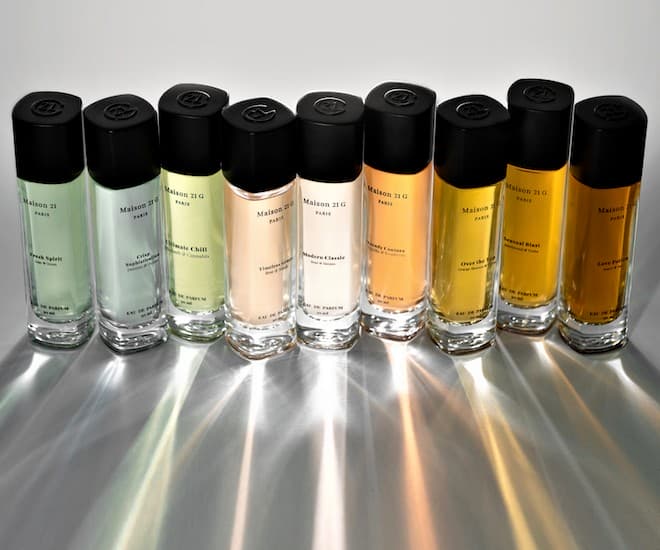 It's the same as with how your makeup enhances your look. Perfume is an accessory, an extension of your personality and style. It says a lot about yourself. Just as if you dress in the wrong colour, or in something too vulgar — it is the same with perfume. If you go to a meeting, you don't put an intense vanilla scent, or an oud scent in the morning when you're meeting your boss, because you're going to send a very sexy or strong message. If you're in jeans, you put some musk, orange blossom, mimosa, for a red-carpet event, to stand out, you put your Amber, Oud or patchouli. So just like your wardrobe, perfume is here to help, whatever the occasion and your mood.
What was your first perfume?
We followed the big tradition in France: your mom or grandmother offers you your first perfume when you're 14. At that time, Cacherel's Anaïs Anaïs was a very popular scent, very distinctive and floral. I don't know why, but my mom was a very original woman, she picked up a completely new perfume called New West, launched by Aramis, and it was the first ozonic marine perfume, a new trend started in the '80s. This perfume used a high dose of the famous calone molecule, which is the smell of the sea. At that time, everyone was asking me: "What are you wearing? You smell like the sea breeze, the beach!" Now I love the smell of the ocean — it helps you escape.
What's so special about Maison 21G Paris?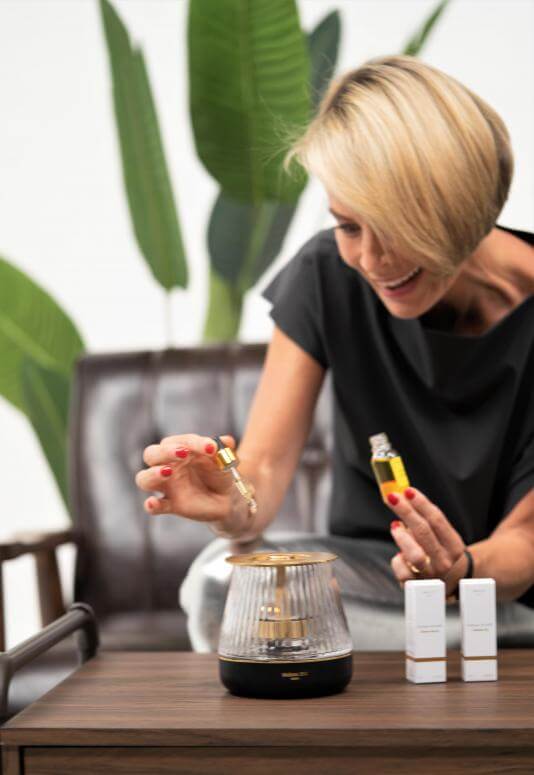 Transparency, education, helping people understand their own style. I want to create a more sustainable world around perfumery, because when you look at perfume, you have no idea what the sources are and what is inside your formula. We are fully transparent with our formula, we tell you the level of natural ingredients, we don't use preservatives, because it is bad for your skin, and everything is freshly made in the Maison. Nothing is from the shelf. When you come in, we mix it in for you, so you don't need preservatives. Other brands will produce millions of bottles of the same scent and it will stay in stock or on the shelf for months until you buy it. Perfume is very fragile so this is why big brands need to use preservatives. We also go beyond the product. My staff are called scent designers, we are here to understand you, who you are, and why you want to make this perfume. It's not like, I look at you and tell you what you need. No, you tell me what you need and I need to listen to you, understand who you are — if you are married, have a kid, or are chasing a boy. I need to be very close to my customer to get the right scent. So beyond bespoke, it's the service you provide to people, how close you are to the people.
Is there a winning formula to making perfume?
No, there is no winning formula. The winning formula is the one you like as an individual. Because I can't enforce anything on you. There are super high quality ingredients, like oris — it's S$50,000 a kilo. Rose, S$8,000 a kilo. Vanilla, S$20,000 a kilo… All beautiful, rare ingredients, which take a lot of skill and patience to harvest by hand carefully. So I think that there are beautiful ingredients, but no perfect formula. What is perfect for you is not perfect for me.
You've also launched a home scent range. How do you spruce up your living space with scents?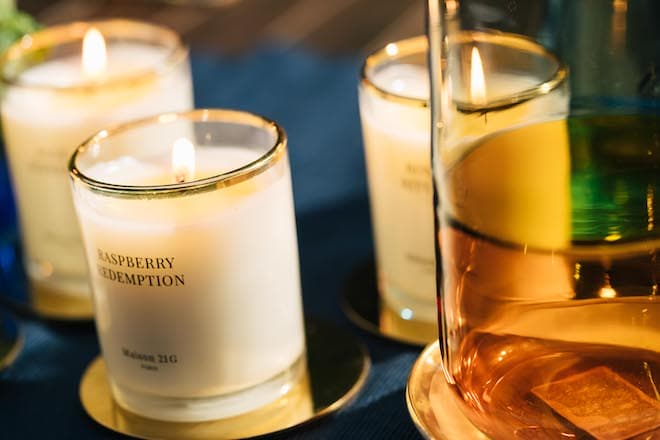 I love candles, I put them everywhere, with different scents in different rooms. In my living room, I like a relaxing, sensual ambience, so I put on amber and sandalwood. In my bedroom, I use a home scent, which I spray on my pillow and bed sheet — made with lavender and tonka, because the combination is really relaxing. In the bathroom, I like it to smell crisp and clean, so I use bergamot, green tea, and a little sage. In my office, for focus, I will use an oil burner, where I use vetiver, combined with green tea.
This article first appeared on L'Officiel.
For more beauty reads, click here.
---