---
Style / Beauty & Wellness
Flora by Gucci Fragrance
New fragrance by the house of Gucci, named Flora by Gucci, aims at young customers and it was inspired by a floral motive. The name comes from their "iconic" floral print Flora which was first revealed on a Gucci scarf back in in 1966 for the royal Princess Grace. Flora is, after Gucci by Gucci, […]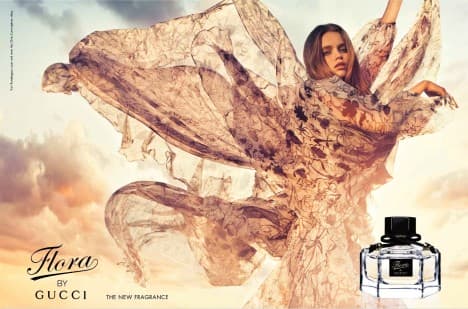 New fragrance by the house of Gucci, named Flora by Gucci, aims at young customers and it was inspired by a floral motive.
The name comes from their "iconic" floral print Flora which was first revealed on a Gucci scarf back in in 1966 for the royal Princess Grace.
Flora is, after Gucci by Gucci, the second fragrance under creative leadership of the house of Giannini from Florence.

The first one, Gucci by Gucci, is perfect for a powerful Gucci woman, while Flora is addressed at a sensual, young girl.
According to Frida Giannini, Gucci's creative director,"Flora is lighter, the floral scent of course evokes a younger consumer, and she has a hedonistic, daring side. I don't want to say that Flora is the daughter of Gucci by Gucci but maybe the younger sister."
Advertising face is Abbey Lee, Australian model, who is wearing a silk dress with floral print.
In a shot by Chris Cunningham in a cornfield in Latvia, Lee is captured as standing in the middle of more than 40000 silky flowers dancing in rhythm of wind with musical background of original remix – "I Feel Love" by Donna Summer.
Inez & Vinoodh photographed advertising materials with a floral pattern.
Flora's line includes eau de toilette spray, 30 ml. for $52, 50 ml. for $65, and 75 ml. for $90; deodorant, 100 ml. for $35; body lotion, 200 ml. for $45, and shower gel, 200 ml. for $38.
---