---
Style / Beauty & Wellness
Illegal Golf Courses In China Flourish
China seems to be caught in a conundrum. While the country has over the past decade actively encouraged the rapid rise of its middle class, it now seems quite unsure of how to handle the trappings that go with their newfound wealth. First the hammer came down on billboards advertising luxury brands — from March […]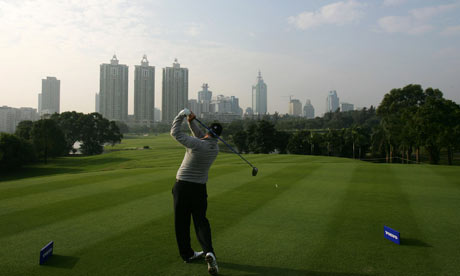 China seems to be caught in a conundrum. While the country has over the past decade actively encouraged the rapid rise of its middle class, it now seems quite unsure of how to handle the trappings that go with their newfound wealth.
First the hammer came down on billboards advertising luxury brands — from March they were banned in Beijing and Shanghai, as well more regional cities such as Chongqing, for promoting a lifestyle that was both "unhealthy" and "foreign."
And now the authorities have again turned their attention to the pastime that was at one stage banned for being too "bourgeois" — golf.

China only built its first golf course in 1984 and while estimates suggest that there are a few million people playing the game now, that figure is expected to grow to around 20 million by 2020, according to industry figures. The problem that has again arisen, though, is exactly where they are swinging their clubs.
China in 2004 issued a ban on the building of new golf courses across the nation — save for those being built on the southern holiday island of Hainan.
But in that time regardless, the number of courses overall has risen from 170 to an estimated 490 now, with 60 of those courses being built last year, according to reports in Chinese media.
The problem as the government sees it is that valuable farming land is being taken up by golf courses, which also place a heavy strain on natural resources such as water. That's why the government has vowed to track down the illegal courses — and close them when it does.
But the growing trend is for China's modern-day businessman to mix his work with golfing pleasure, hence the demand for new courses and the growing problem of developers adding 18 holes — or more — to their properties without declaring the plans to the government.
"In China today you'll find it quite common for businessmen to forge relationships out on the fairways," explained Alex Jenkins, editor of Hong Kong Golfer magazine. "Golf is a status symbol and it works to your advantage if you can take a client out for a round."
The sport's rising popularity can best be seen on Hainan Island where the massive Mission Hills complex continues to take shape, with 10 courses now — and counting.
The Chinese government has included golf among its plans to expand the tourism potential of Hainan Island — and to make it more attractive to the legions of world golfers who head to Asia yearly on golfing holidays.
According to the book Golf Tourism, which was released last year, the sport injects some US$20 billion (15.6 billion euros) into the world tourism market each year, with more than 50 million people playing the game while they travel.
Source: AFPrelaxnews
---