---
Top 5 Prime US Waterfront Real Estate Luxury Villas for Yacht Lovers
With the growing number of high net worth individuals come the surge in boat owners looking for prime real estate with access to their beloved ships without leaving their homes
With 1 in 10 U.S. households owning a boat, more than a few real estate developers have pivoted to luxury waterfront developments to cater to the growing population of boating enthusiasts. From South Florida across to the exotic Caribbean, buyers can purchase a luxury villa and receive access to the finest marinas, or better yet, berths in their own backyards all within a stone's throw of their high end communities.
Top 5 Prime US Waterfront Real Estate Luxury Villas for Yacht Lovers
Like a car, a yacht costs a lot more than the price its owner bought it for. Unlike a car, these additional expenses are wildly exorbitant because the total number of yachts doesn't allow for the kind of infrastructure which the car population gets to enjoy through economies of scale. Additionally, there are special expenses for thing like yacht crew, dockage/berthing fees, and maintenance. As a result, there are a growing number of luxury US real estate developments that have arisen to soften some of the exponential expenses with a corresponding improvement of overall lifestyle.
 illa Bimini Resort & Residences
Spanning three private islands in The Bahamas, the illa Bimini Resort & Residences is the newest 40+ acre community resort development that is only reachable by boat, seaplane and/or helicopter and will feature an onsite marina. The yacht lovers' luxury waterfront real estate is still in development (having broken ground in August) but the spec sheet shows that owners can fit up to a 90 ft yacht in their backyard.
"The property is designed to complement the laid-back Caribbean vibes alongside the luxury of unplugging." – Alejandro Capo, co-founder and a principal of Island Developers
Designed by Island Developers, a leading Caribbean real estate development firm, globally recognised Oppenheim Architecture + Design and renowned landscape architect Raymond Jungles, the beachfront eco-chic illa Bimini Resort & Residences will feature 54 designer residential villas and a five-star boutique hotel.
Just north of Bimini, the secluded beach hideaway set on 40 acres and spanning over 9,000 feet of coastline is all about escaping the relentless pace of daily life, slowing down, disconnecting and focusing on the things that bring the most pleasure: nature, family, quality time and of course, yachts.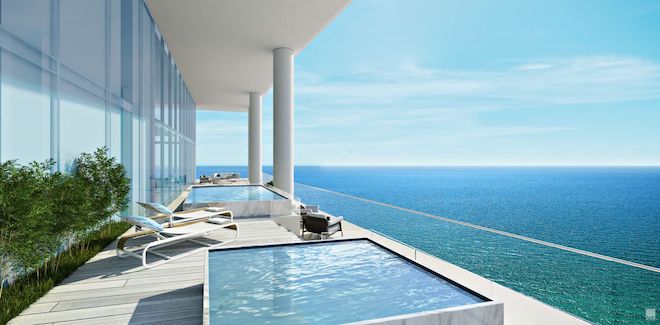 Turnberry Ocean Club Residences
An ultra-luxury, waterfront condo development located in Sunny Isles Beach, the Turnberry Ocean Club residences was designed with yacht owners in mind offering private complimentary marina access to the newly renovated Turnberry Isle Marina & Yacht Club just down the street.
Gifted with contemporary 54-story glass architecture, the Turnberry Ocean Club residences designed by celebrated architect Carlos Zapata features 154 flow-through, waterfront luxury residences with direct, spectacular ocean and bay views. It recently completed a multi-million-dollar renovation complete with exquisite lpe wood decking, a modern aluminium floating dock system that accommodates vessels up to 180 feet (average slip length of 90 feet) offering in-slip fueling and pump out service. Residents of Turnberry Ocean Club receive complimentary access to the marina along with many more experience-based amenities including access to Fontainebleau aviation.
The Ritz-Carlton Residences, Miami Beach
Bringing together renowned Italian architect and designer Piero Lissoni's modernist vision, The Ritz-Carlton Residences, Miami Beach is an exquisite collection of 111 Miami luxury condos and 15 stand-alone villas with the added benefit of impeccable service by The Ritz-Carlton.
The exclusive waterfront luxury real estate development is an expansive seven-and-a-half-acre property nestled on the shores of Surprise Lake, with both access to lake and the adjacent ocean. Needless to say, but we'll say it anyway, The Ritz-Carlton Residences, Miami Beach caters to the ultimate yacht lovers' lifestyle.
The waterfront Ritz-Carlton condo offers a marina with 36 private boat berths for its owners, as well as unlimited access to The Residences' private captained day yacht, a Frauscher Lido 1017.  The yacht is graciously arranged by the on-site Ritz-Carlton concierge for day trips and to access the navigable marine helipad.
Oceana Bal Harbour
Developed by billionaire Eduardo Costantini, Oceana Bal Harbour is a masterful 240-unit luxury waterfront development within Miami's elite South Beach enclave. Completely parallel to the ocean and right across from the Bal Harbour Club Marina, residents calling Oceana Bal Harbour home can berth their boats for easy access to Miami's iconic waterways.
With unobstructed views of South Florida beaches and city highlights like the Bal Harbour Shops, the yacht lover's family and guests are easily satisfied with these neighbouring attractions for a quick spin on the boat across Biscayne Bay. Icing on cake, Costantini had acclaimed artworks by internationally-acclaimed artists: Jeff Koons, Callum Innes, An Te Liu, Jorge Mendez Blake, Taryn Simon, Juan Usle and Garth Weiser installed and residences are considered "co-owners" of these blue-chip artistic creations.
Completing the yacht lovers' lifestyle, Oceana Bal Harbour offers resort-style amenities such as: a 24-hour concierge service, an upscale, gourmet residents-only restaurant, Ballerina, a world-class spa, valet parking, private designer cabanas, a relaxation pool and Olympic-style lap pool, a grand salon with chef's kitchen and bar, a kid's activity room, and a cinema.
Caroline Bay
Those looking to dock their superyacht? Check out the island of Bermuda. Located in a private enclave on the west end of the island of Bermuda, Caroline Bay is a 182-acre resort community that boasts a full-service super-yacht marina that has been open since last year, when America's Cup was hosted on the island. The marina offers state-of-the-art power; water; MarineTech docking system, environmentally secure sewage waste systems and 2,340 linear feet of dock space to accommodate visiting yachts up to 300 feet plus; this includes 30 superyachts berthed Mediterranean style plus 80 berths for smaller vessels.  What's more? The destination will have a collection of 173 Ritz-Carlton Reserve branded residences and a Ritz-Carlton Reserve hotel.
Ultra-luxurious homes are surrounded by three pink sand beaches and serene, turquoise waters, The Cove, the first of 35 residences are slated to be launched this year. Fully complete, Caroline Bay will be the largest development the island has seen in more than four decades.
---