---
Properties / Homes
The Rise of Luxury Properties – Ho Chi Minh City
We look at some of the notable luxury property projects that are sprouting in the heart of Ho Chi Minh City.
High-rise luxury properties are fast becoming the norm in Ho Chi Minh City's District 1 and 2.
Walk among parks elevated hundreds of metres above ground, work out in top-notch gyms, swim in infinity pools overlooking the city and complete the luxurious living experience with a pampering spa and then an exquisite dinner in a world-class restaurant located just steps away from the comfort of your condominium apartment. You might be mistaken that you're in New York, London or Singapore – except you aren't. You're actually living it up in Ho Chi Minh City's District 1, or more popularly known as Saigon's Wall Street.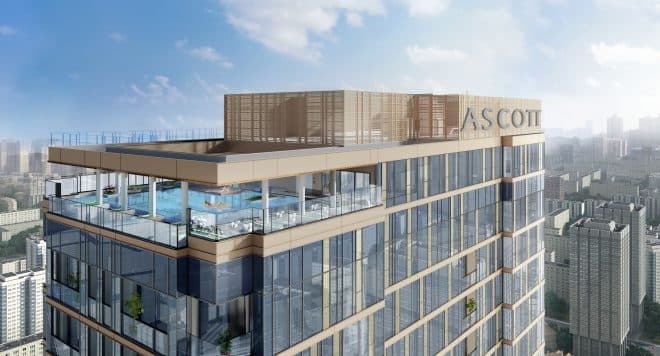 The facade of Ascott Centennial Saigon, Ho Chi Minh City, Vietnam.
Enter the Dragon
In recent years, every high-heeled buyer wants a piece of the action in Southeast Asia, recognised as one of the best regions for investment. Enter Vietnam, which opened to foreign investments in the last decade with more factories moving operations from South China to Vietnam. According to an article in Bloomberg, Vietnam is "where southern China was 10 or 15 years ago". Overseas investors are targeting the real estate market in Vietnam, zooming on luxury properties namely in District 1 and 2 of Ho Chi Minh City.
In addition, Vietnam looks set to benefit from the Belt Road Initiative. A Knight Frank report titled "New Frontiers: Prospects for Real Estate along the Belt and Road Initiative" ranked Vietnam 13th in the Belt & Road Index (BRI) 2019. The report also mentioned that over the past five years since the BRI was launched, USD 59.25 billion in Chinese-linked capital has been invested across transport, logistics and real estate in Southeast Asia.
The increasing prices are evident of a booming real estate market in Ho Chi Minh City. A luxury apartment in District 1 costs an average of USD 5,500 to 6,000 per square metre, which is an almost 20 per cent jump from the previous year according to various reports. While prices are on the rise, it is still considered a nifty bargain compared to Hong Kong or London, hence its attractiveness to many investors.
Bright Lights, Big City
The Grand Manhattan is one such chic example. The 39-storey commercial and residential development covers 14,000 square metres and is situated in the heart of the city within walking distance of the iconic Ben Thanh market, Nguyen Hue boardwalk promenade, several schools, universities, hotels, restaurants and the financial district.
With landscaping spanning 4,200 square metres, well-heeled residents can traverse the green spaces freely and enjoy the lush foliage nestled within the exclusive space. The attention to nature is evident in its effort to marry urban architecture and nature. An assortment of world-class amenities includes a shopping mall, swimming and jacuzzi pools, kid's playgrounds, spas and saunas, tennis and basketball courts, outdoor lounges and even parking privileges, the latter a scarcity in District 1. Besides the amenities, the project by Novaland Group boasts 976 units ranging from 68 to 90 square metres and 21 penthouses tastefully designed with natural lighting and excellent ventilation above ground. Indeed, one can feel top of the world when staying in The Grand Manhattan.
100 Co Giang Street, Co Giang Ward, District 1, Vietnam, Ho Chi Minh City
thegrandmanhattan.com.vn
Stellar Living 
CapitaLand Vietnam's presence in Ho Chi Minh is palpable, especially with its first branded residence located in District 1. In collaboration with world-renowned The Ascott Limited, the project will offer 102 units for sale across a variety of configurations: two-, three- and four-bedroom apartments, and penthouse units. D1MENSION's proposition is for well-heeled buyers who desire a highly exclusive development where high-tech amenities are a must. Thankfully, the project will offer state-of-the-art "sky facilities" such as the Sky Infinity Pool, Sky Gym and Sky Party House.
At the project's apex, future residents can appreciate panoramic views of the surroundings such as its nearby river views flanked by manicured lush sidewalks. The project's exterior sports a clean aesthetic and it is no wonder it was recognised by the Property Guru Vietnam Property Awards 2017 as the Best Luxury Condo Development in Ho Chi Minh City and by the Asia Pacific Property Awards 2017 to 2018 with the Five Stars Awards for Property Single Unit in Vietnam. D1MENSION will be the first residential project in Vietnam to offer property management and concierge services by The Ascott Limited, CapitaLand's serviced residence arm and one of the leading international serviced residence owner-operators. Future residents can enjoy being pampered with Ascott's unmatched service every day.
608 Vo Van Kiet Street, Cau Kho Ward, District 1, Vietnam, Ho Chi Minh City
www.D1MENSION.com.vn
By the River
Located right on the edge of Saigon River, Centennial Saigon touts itself as an international destination built on the fruits of the pioneers and strives to preserve the legacy for generations to come.  This essentially translates into Centennial setting the bar high as a waterfront property competing with the likes of New York, Sydney and Singapore. A high-profile collaboration with Ascott Serviced Residences to manage the service apartments within the luxury property will attract well-heeled buyers. Boasting 46 floors and three basements with 410 units, the property comes with sky amenities that include rooftop infinity pool, home theatre, lounge, gym and golf simulator all located on the highest floor.
There's even a contemplation deck dedicated for residents to tune out. Developed by Alpha King, the prime location is only a five-minute's walk from Ben Thanh Market, Notre Dame Cathedral and many more international schools and universities. As seen with the proliferation of luxurious high-rise apartments, luxury living has gotten foreign investors and upper-class Vietnamese living well, on top of the world.
2 Ton Duc Thang Street, District 1, Vietnam, Ho Chi Minh City
en.centennialsaigon.co
---