---
Properties / Homes
Luxury Property: 5 of the Best Island or Waterfront Homes in the World
Waterfront homes are considered prime real estate by many. These luxury properties are prized for their views and according to a new study, health benefits. Here are 5 of the best beachfront properties in the world.
Beachfront or waterfront homes are considered prime real estate by many. These luxury properties are prized for their views, the environment and if it comes with beach access, the lifestyle. Island or waterfront homes often make us feel good and recent scientific studies show that if you could turn your holiday house into a permanent residence, living near a body of water improves your health.
Luxury waterfront homes are not just a luxury for the lifestyle anymore, according to a study in Volume 39, May 2016 of Health & Place, "increased visibility of nature (green and blue space) was associated with lower psychological distress". The effects of waterfront living were so potent that it surprised even the scientists that after health and topographic data were analysed, views of water or 'blue space'  were "significantly associated with lower levels of psychological distress," according to Michigan State University health geographer Amber L. Pearson but that "we did not find that with green space." – thus the verdict is out, island or waterfront living might be the ultimate luxury property we need.
Here are 5 of the Best Island or Waterfront Homes in the World
Turtle Tail Drive
Location: Providenciales, Turk, Providenciales
Price: $7,481,492
Size: 11,000 sqft
With 11,000 square feet, 6 bedrooms and 6 bathrooms, Tip of the Tail is Provo's newest, most spectacular luxury waterfront villa and the Caribbean's benchmark in eco-luxury. The waterfront home defines contemporary style, masterfully built for indoor/outdoor living. The Turtle Tail Drive or villa Tip of the Tail is a private, Miami meets Mykonos interactive experience with nature and the waterfront.
A giant pivot door welcomes you into the breathtaking view that is the Caicos Banks in Providenciales, Turk, framed a 20-foot wide sliding glass door leading into the patio of the luxury property. The indoor/outdoor style extends the hypnotic beauty that is seven shades of blue oceanfront, nearly 500 feet of it on your 1.1 acres: in terms of atmosphere, this is luxury living at its finest – the salt air, the waves and the pulse of the sea.
Tip of the Tail on Turtle Tail Drive is equipped with fire-pit, huge sun lounger, glass walled pool and yoga deck, your own private beach with its powdery white sand, should you decide to put down a cool $7 million encompasses 10,000 square feet.  Isolated but not lonely, turtles, rays, lobsters and tropical fish are the only neighbors. Nearby activities include paddle boarding, snorkeling and boating. This is the tropical paradise you have been searching for.
Great room with a bamboo fan, Sonos sound, LED lighting, dining space for 20 and an Italian kitchen is the ultimate space for entertaining. Two master suites with floating king beds, built in closets and spa like bathrooms. Two guest bedrooms, each with two queen beds. All main floor suites face the sea. A fifth suite adjacent to the beach bar. A sixth suite and be used as a flex space or staff quarters. Double car garage for the toys. Secret zen garden for serenity.
Tavern Island Norwalk
Location: Norwalk, Connecticut, 06854 United States
Price: $10,995,000
Size: 6,116 sqft
With 6,116 square feet, 6 bedrooms and 4 bathrooms (3 partial), Tavern Island Norwalk is a private and serene escape a mere hour away from New York City; it is also one of the rarest luxury properties in New York. The romantic Tavern Island boasts incredible sunrise and sunset views overlooking the charming harbor of Rowayton. On a clear night, New York City in a stunning display of all its electric glory can be seen on the horizon. This 3.5-acre compound consists of a beautifully restored Tudor-style main house with interiors of more than 6,000 square feet, a recently built boathouse with guest quarters, an antique caretaker's house, and a tea house built on the perfect location to capture glorious waterfront and Manhattan views.
If the 75-foot long swimming pool of the residence isn't enough, the waterfront home is also blessed with 360 degrees of waterfront with private beaches, and a dock with a protective sea wall—providing safe harbor for two shore launches. Meticulously landscaped grounds match your luxurious surrounds.
Considering the fact that New York City townhouses go for tens of millions of dollars and luxury condos are climbing into the hundred million range, slightly less than $11 million for an entire private island and mansion is quite the bargain, especially considering the fascinating provenance – owned by legendary lyricist Billy Rose with the many celebrity guests like Marilyn Monroe, Barbra Streisand, and Lillian Hellman, who wrote The Little Foxes while staying there.
Island Creek House
Location: Southampton, New York
Overlooking the water in Southampton, Island Creek House is a non-conforming, small waterfront "townhouse" designed around strict environmental regulations which demanded that the luxury beachfront property be vertically orientated to conserve surrounding protected wetland preserve. Designed by Tamarkin Co., better known for their work on New York City high-rises, the Island Creek House Southampton features natural stone foundations, punctuated with old-growth cypress harvested from the south form the rustic facade.
The luxury property sits at the wetland edge with 360 degree ribbon windows offering views of the spectacular wetlands. Timber planks have been slow-cured in deep water for a century to provide a durable exterior that will slowly weather to a grey hue over time. Internally, the natural palette continues with new-growth cypress-clad walls and ceilings, a floating concrete staircase, and large picture windows mounted in blackened steel.
The Southampton house is vertically segmented with basement for child's play, and living area at the literal and social centre of the house while the upper most floor is the master suite. A vertical core connects the levels, with an open-tread stair under an operable skylight allowing light, air and people to move throughout the house. Outdoor spaces are created by a top story covered terrace and a cantilevered deck, expanding the interior out into the surrounding landscape.
Modern Lodge
Location: Weatherby Lake, North Kansas City
Size: 3,200 sqft
With 3,200 square feet, 3 bedrooms and 3.5 bathrooms, Modern Lodge along Weatherby Lake, North Kansas City was conceptualised by Austin and Leslie Walsh and executed by architectural firm Kem Studio as a home not just to wind down but to entertain friends.
The home surrounded by cypress and sleek dark metal offers an immersive view of Weatherby lake as you leave the city behind you. Thanks to the wood cladding the two story luxury waterfront home, Modern lodge looks like a giant cypress box enveloping a white stucco box volume housing private areas.
The first floor of the Modern Lodge features a wide-open expanse encompassing the living area, dining room and kitchen. An otherwise all white kitchen is punctuated with dark grey Caesarstone counters while large picture windows in the living room serve as said aperture. The house is physically connected to the lake with large stones extracted from the site.
Seaberg House
Location: Melbourne
Recently recognised at the Australian Architecture Awards, the Seaberg House Melbourne is one of the many acclaimed Kerstin Thompson Architects (KTA) projects. Located along the Melbourne coast, the Seaberg House is reminiscent of the classic Australian beach house with contemporary design in the key of Nordic minimalist design.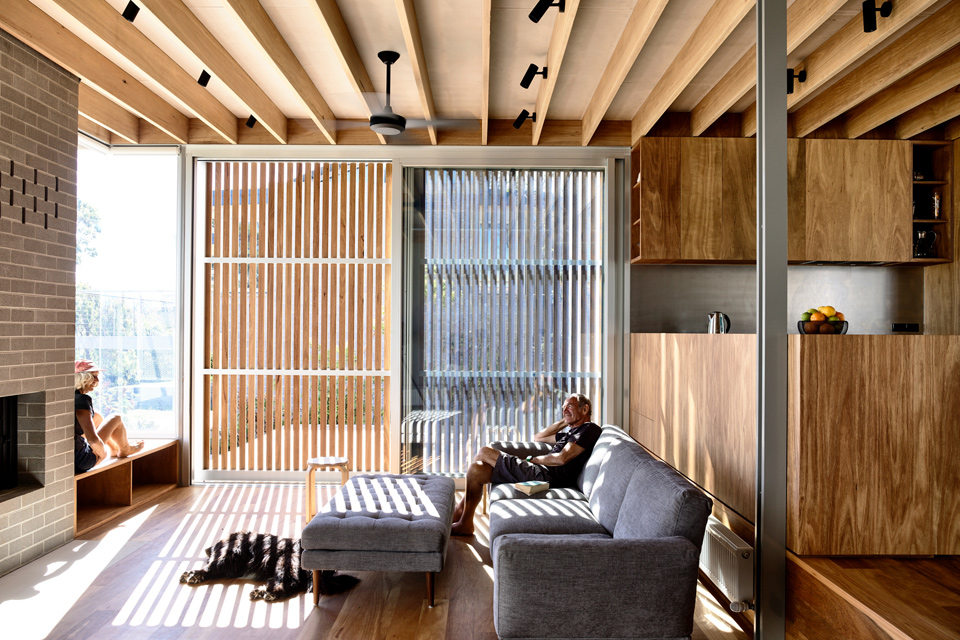 Wooded material lightness greets you, the Seaberg House is simultaneously both part of the Australian waterfront and also apart from it. The living room and the master suite is part of the House's core with a cluster of outhouses connected by a wooden platform. This planned separation ensures privacy with continuity to the central communal spaces – the ensemble hangs together in a loose arrangement to accommodate the many combinations of family life while ensuring that each space in the house gets maximal unobstructed views of the pacific ocean thanks to the multi-level layout.
A palette of neutral greys contrasted with warm woods allows the play of natural light filtered through slatted windows and screens extends the outdoors indoors, bringing the beach outside in.
---