---
Properties / Hotels
The Upper House, Hong Kong: Top of the World
Hong Kong may be one of the busiest cities in the world, but a world away awaits when staying at The Upper House, where luxury and comfort meet.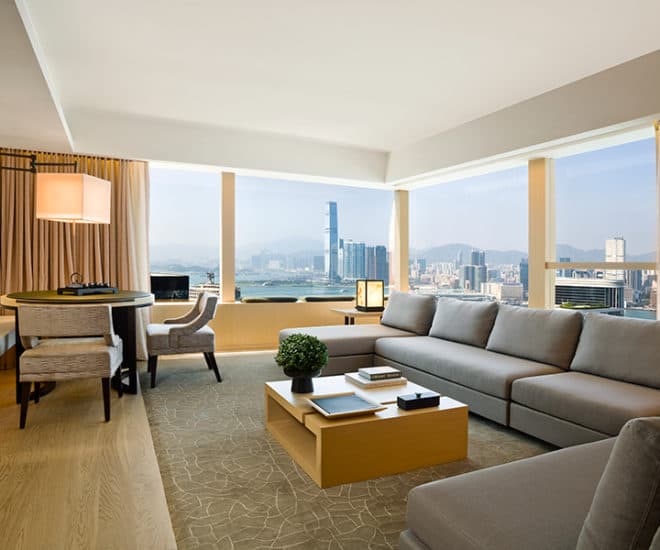 Located at the heart of Hong Kong's business district is Swire Hotel's luxury hotel, The Upper House. Sitting atop Pacific Place, The Upper House is equipped with 117 hotel rooms (including 21 suites and 2 penthouses), and also premiere lounges and facilities. Designed by renowned Hong-Kong based architect Andre Fu, The Upper House is as calming as it is contemporary. The breath-taking views of the harbour, Kowloon and the surrounding hills that can be seen from the rooms add to this relaxing and luxurious experience.
Another notable feature about The Upper House is its size. These spacious rooms, ranging from 730sqf to 1,960sqf, are not commonly found in Hong Kong, where compact living is the norm, and is the perfect haven for whether you're in town for work or play, to re-charge and breathe before you take on the city again.
Then there's Café Gray Deluxe, arguably the best thing about The Upper House. Located on the 49th floor, Café Gray Deluxe is a grand café and restaurant that serves signature European dishes by Chef Gray Kunz, and offers a glorious view of the Victoria Harbour. Its bar is stocked with some of the best wines in the world, and serves amazing cocktails to boot. So whether you're looking to dine exquisitely, or wine down feeling like a king, Café Gray Deluxe is the place to be.
Now art lovers listen up: The Upper House is also a home to a collection of contemporary artworks and installation on display. Both local and international artists such as Mang Fung Yi (Hong Kong), Armen Agop (Egypt) and Hiroshiwata Sawada (Japan) to name a few, have their works showcased around the hotel lobby and in the suites. In addition, The Upper House is located a stone's throw from the Hong Kong Convention and Exhibition Centre (HKCEC) where Art Basel Hong Kong is held every year. And just a little bit further is the Central District, where most of Hong Kong's best art galleries are located.
Recently, the Upper House announced an upcoming partnership with the luxury lifestyle store Harvey Nichols, which is also found in the Pacific Place Mall, to offer both a unique hotel-stay and shopping experience. "At The Upper House, luxury service defines an environment which is not only about a beautiful surrounding but also a service and anticipation of service. We always work hard to go beyond guest expectations and to make every guest feel at home" said Marcel Thoma, General Manager of The Upper House, Hong Kong. He added, "What sets us apart is that mastering the skill of becoming an expert observer, actively taking note of any routine or preferences your guest may have, from the bag they carry to the way they shake your hand. Each clue provides an insight on the bespoke type of service they would appreciate."
Now take all of the above and add to it a tight-knit family of some of the best service staff in the world, always there at your beck and call for your every need, no matter how small… it really doesn't get any better than this.
The Upper House, Pacific Place, 88 Queensway, Hong Kong – +852 2918 1838
---