---
Properties / Hotels
Oil Rigs Become Luxury Hotels
What do you do with 4,000 decommissioned oil rigs in the Gulf of Mexico? Instead of blowing them up – costing millions and killing aquatic life – Morris Architects' Hotelier At Sea project turns them into luxury hotels. According to BldgBlog, approximately 4,000 oil rigs in the Gulf of Mexico will be decommissioned within the […]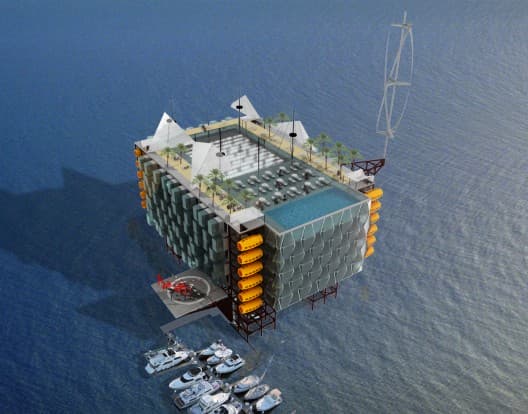 What do you do with 4,000 decommissioned oil rigs in the Gulf of Mexico? Instead of blowing them up – costing millions and killing aquatic life – Morris Architects' Hotelier At Sea project turns them into luxury hotels.
According to BldgBlog, approximately 4,000 oil rigs in the Gulf of Mexico will be decommissioned within the next century.
Morris proposed to convert this space into exclusive, self-sufficient eco-friendly, high-end resort islands off the Gulf of Mexico.


According to Curbed LA, the hotel rooms themselves "are pre-fabricated, designed to be transported out to the rig as a standard cargo container."
Each room "unit" unfolds and extends to the usable configuration.
Source: Gizmodo – Image: Morris Architects
---