---
Properties / Hotels
Hilton unveils new lobby design
US hotel chain Hilton has unveiled a new lobby design intended for its global hotels and resorts. The new lobby, which is being premiered in the chain's hotel at McLean Tysons Corner, Virginia, is designed with distinct "zones" for guests and visitors and radically overhauls the brand's current reception areas. Instead of a desk-oriented approach, […]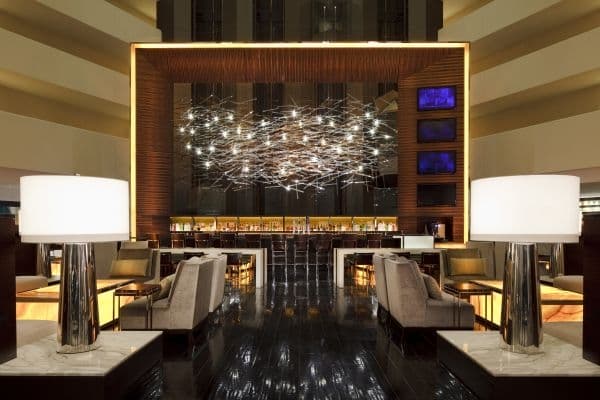 US hotel chain Hilton has unveiled a new lobby design intended for its global hotels and resorts.
The new lobby, which is being premiered in the chain's hotel at McLean Tysons Corner, Virginia, is designed with distinct "zones" for guests and visitors and radically overhauls the brand's current reception areas.
Instead of a desk-oriented approach, the new, modern design focuses on interaction and collaboration, with the centerpiece an 18-hour bar which evolves from coffee shop to cafe to cocktail bar as the day progresses.

Seating has been divided into small zones suitable for groups to meet and socialize, with soft chairs and tables, and high stools clustered around the bar and surrounding tables which are suitable for grabbing a snack or getting some work done.
For those that need to really get their heads down, there's a dedicated Technology Lounge, which updates the traditional 'business center' concept with Apple workstations and communal work tables that can be used for small teams.
Check-in desks have also been given an overhaul, replaced with 'pods' which Hilton says allows guests to interact with staff and get a more personalized service.
Lobbies are serious business for hotels — as well as determining the first impression of guests, they act as meeting places, enquiry points, offices and lounges for people passing through a hotel.
Perhaps that's why hotel chains are paying more attention than ever to making sure that the areas look fresh — last year, Holiday Inn announced a "Social Hub" concept which included cappuccino machines gaming areas for kids and computer desks as part of its $1 billion overhaul.
Source: AFPrelaxnews
---