---
Properties / Hotels
Five Hotel Escapes Worth Looking Forward To in a Post-Covid-Vaccine World
There are only two things on the agenda this 2023: planning a trip and booking a luxurious getaway somewhere far far away.
With the successful rollout of Covid-19 vaccines and the long-awaited arrival of 2023, it's time to shake off the weariness of the past and indulge in dreams of a much-deserved escape to a faraway paradise. As we eagerly anticipate the day when our travel aspirations transform into tangible experiences, let's take a moment to imagine the sheer luxury and bliss that awaits us. From the confines of our familiar surroundings, let me whisk you away on a virtual journey to six exquisite serviced apartments and hotel suites that are worth the wait, inspiring us to plan our ultimate vacation.
Serviced Apartments, Sanctum
With an array of meticulous apartments, Sanctum London sets a new standard for luxury in hospitality and places utmost importance on personal autonomy, genuine warmth, and unparalleled seclusion. By redefining luxury in the hospitality domain, Sanctum London presents exquisitely designed apartments highlighting personal sanctuaries' significance.
These serviced apartments offer expansive and tastefully adorned living spaces, ensuring an ambience that reminds you of your home. Guests can relish in the convenience of a fully equipped kitchen, a cosy living area, and a complete bathroom. Furthermore, the apartment provides contemporary amenities like high-speed Wi-Fi, secure parking, and round-the-clock concierge services. Boasting a central location, guests can effortlessly explore prominent London attractions, premier shopping destinations, and esteemed medical facilities in Northwest London.
Calilo Suite, Calilo
Set across a 1000-acre plot of land with 6 miles of coastline that all but guarantees absolute privacy to those who need it, Calilo is strategically located on the Greek island of Los, amidst one of the most successful tourist areas on earth, right in-between two world-class destinations, Mykonos and Santorini. Offering a haven of serenity and relaxation amidst the dramatic natural surroundings, Calilo redefines the meaning of luxury in hospitality through emphasising the need for personal freedom, warmth, joy, unrivalled privacy, passion and 'the creation of beautiful emotions'.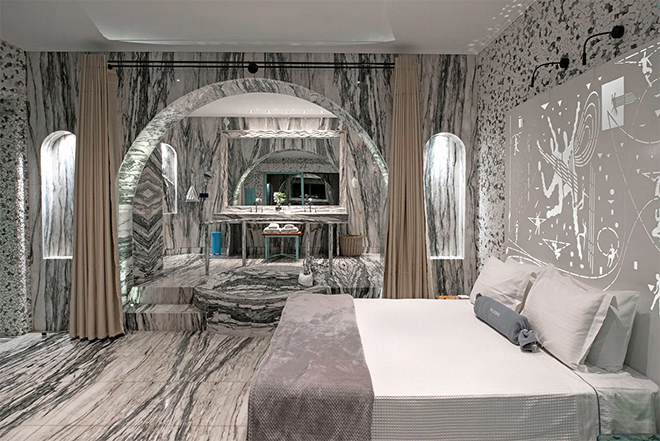 Boasting a variety of private outdoor spaces and pools, the noble Calilo suite, measures a total of 60m2 . Complete with a large outdoor marble pool with a swim-up bar, an indoor cave pool, an outdoor swinging double bed over water, ponds, and a natural rock shower, the Calilo suite overlooks the Bay of Papas, promising spectacular panoramic views of the sea alongside unrivalled privacy. Constructed over a period of 13 months from over 205,000 handcrafted and individually installed marble pieces, the Calilo suite, worth approximately US$2,425 per night, is indisputably the island of Los' most luxurious and detailed suite to date.
Suite, Singita Grumeti
Situated within the expansive Serengeti wilderness, Singita Grumeti offers an unparalleled safari experience. With luxurious thatched suites featuring private plunge pools and on-deck Star Beds, this eco-friendly lodge provides a seamless blend of comfort and natural beauty. Explore 350,000 acres of pristine wilderness, partake in guided hikes, quad biking, and electric fat bike excursions, and encounter a diverse array of wildlife in this breathtaking African retreat.

At Singita Grumeti, guests can enjoy the enchanting experience of sleeping under the stars on the on-deck Star Beds, creating unforgettable memories of stargazing in the African night sky. The lodge is committed to sustainable practices, ensuring minimal environmental impact while providing an extraordinary safari adventure.
Arctic GlassHouse, Arctic Treehouse Hotel
Designed for ultimate relaxation and comfort, Arctic Treehouse hotel is strongly influenced by the sensitive nature of the Arctic, the fairytale world of SantaPark Arctic World and rich Lappish culture. Instead of constructing a large hotel building, the designers, Studio Puisto, placed individual accommodation units on a steep natural hillside, which perfectly reflects the character of the destination and brings the Arctic nature closer to its guests. Predominantly utilizing Finnish wood, a material that has been sustainably produced and is a renewable building material, Arctic Treehouse hotel prides itself in managing urban runoff by bringing the building's footprint-worth of vegetation back to the construction site.
With every element of each unit, including internal surfaces and fixed furnishings, built indoors, the Arctic Treehouse hotel reduces its strain on the fragile Arctic nature. Its most notable, ArcticScene Executive Suite, showcases a separate bedroom and living room, where a large sofa and nest-like bed can accommodate even larger families. Doubling up as a dining area, the movable furniture in the living room is designed to maintain the suite's overall air-like atmosphere, whilst the bedroom facilitates room for a separate spa and wellness area. Featuring a scenery sauna and bath where one can enjoy the surrounding forest through floor-to-ceiling windows made using the latest privacy-valuing technology, the ArcticScene Executive Suite is worth an estimated US$795 per night.
Panoramic Ocean Treehouse, One&Only Mandarina
Designed to celebrate the destination with a blend of indoor and outdoor living spaces, private plunge pools, expansive terraces, and private butler service, the Panoramic Ocean Treehouse of One&Only Mandarina lies perched 39 ft above ground, boasting magnificent views of the Pacific below and 854 sq.ft. of spacious sanctuary inspired by the colours and textures of Mexico. Worth $1,210 per night, the Panoramic Ocean Treehouse of One&Only Mandarina accommodates up to 3 adults with separate king and day beds for sleep and lounging purposes.
The Langham Nymphenburg Residence
Regarded as the most exclusive residence in Munich, the Langham Nymphenburg Residence by Langham Hospitality Group and Porzellan Manufaktur Nymphenburg is housed within a meticulously restored 18th-century manor. Revived as a bespoke private residence, the property features seven bathrooms, four bedrooms, three living rooms, an airy dining room, a fully-equipped kitchen, a fitness centre, a conference suite, a home cinema and a wine cellar. Complete with a private sun-dappled terrace, the Langham Nymphenburg Residence is bordered by a beautifully landscaped garden, capable of accommodating up to 100 guests.
Luxuriously classic with hints of European elegance, more contemporary than one would expect for a property dating back to 1761, the Langham Nymphenburg Residence exudes an air of elevated and tasteful living, complemented by the inclusion of an exquisite dinnerware and tableware collection, a variety of decorative art pieces, and coveted Nymphenburg porcelain painting elements – which in 2016 was added to the list of Intangible Cultural Heritage by the German Commission for UNESCO.
For more on luxury properties & hotels, click here. 
---