---
Properties / Hotels
Conrad Bora Bora Nui Opens Overwater Villas
Previously named Hilton Bora Bora Nui Resort & Spa, it will be renamd Conrad Bora Bora Nui after a multi-million dollar renovation.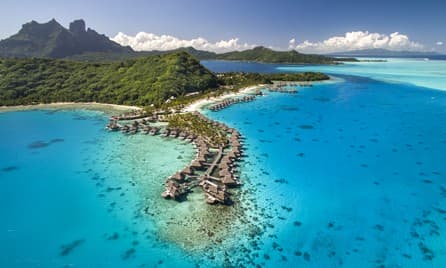 It might be a preposterous idea to suggest walking on water but nothing is out of the question for the Hilton Group. Unfortunately, technology still isn't advanced enough for us to cross the Pacific Ocean by foot, but Hilton proposes an alternative: overwater bungalows. Come March 2017, the Hilton Bora Bora Nui Resort & Spa will be reborn as Conrad Bora Bora Nui, having undergone a multimillion-dollar facelift. The new hotel in question will feature 29 tropical garden and beach villas and 86 overwater bungalows with special two-storey presidential suites. Ever fancied living right in the middle of the Pacific Ocean? Hilton has granted your wishes.
One can expect sheer luxe relaxation in this resort, with a full service spa of eight treatment rooms, one al fresco deck, a mini-gold course, fitness center, specialty restaurants and deck overlooking the lago. It's the panacea to help you escape the daily grind of life. In fact, the nearby private islet of Motu Tapu is even available for private events.
Conrad Bora Bora Nui will open March 2017.
This story is also available in Bahasa Indonesia. Read it here: Conrad Bora Bora Nui Membuka Villa Terapung
---