---
Motoring / Yachts
Palmer Johnson's eco-friendly superyacht concept
Palmer Johnson is preparing to take on the world with a 82-meter (267-foot) Ice Class expedition yacht designed by Nuvolari & Lenard, aptly named the "World". Having acquired the Norwegian shipyard Flekkefjord Slipp & Maskinfabrikk's, PJ has now positioned themselves to build "world" class expedition yachts. True to the Palmer Johnson identity, Italian designers Nuvolari-Lenard […]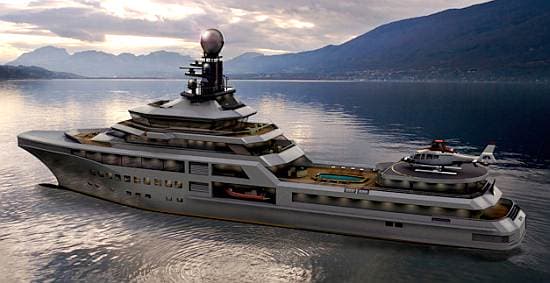 Palmer Johnson is preparing to take on the world with a 82-meter (267-foot) Ice Class expedition yacht designed by Nuvolari & Lenard, aptly named the "World".
Having acquired the Norwegian shipyard Flekkefjord Slipp & Maskinfabrikk's, PJ has now positioned themselves to build "world" class expedition yachts.
True to the Palmer Johnson identity, Italian designers Nuvolari-Lenard have ensured the six-deck interior and exterior living areas provide the highest degree of comfort.


Focusing on well-being, healthy living and relaxation, large open spaces are emphasized and extensive panoramic sea views create an open environment for ocean voyages.
PJ World uses the latest diesel-electric propulsion package from Rolls Royce to achieve DNV "Clean Class" status which also ensures peak performance, endurance, low ownership costs and greater operational flexibility.
Besides the technical specs, the yacht is a luxury wonder with its six-deck design and is equipped with a certified Heli Deck, Heli hangar, an optional garage designed for a six man Discovery submarine and, a superior Rolls Royce at-rest stabilization system to keep it anchored environmentally sensitive or restricted areas without actual anchors.
One of the first features to be seen on this Superyacht is the novel aft beach house which looks forward onto an outdoor swimming pool deck.
Adding to the list of luxuriant features are a fully equipped gym, spa with Hammam, sauna with treatment room, cinema, piano foyer and infirmary.
Crew and staff living areas comprise a separate galley, mess two lounges and dedicated gymnasium.
The yacht is fully guarded – security features include water cannons, forward scanning sonar, thermal imaging, closed circuit television and acoustic shields.
The vessel can run with full hotel load at full speed on the main diesels without requiring generators – 13 knots on one main engine or at 6 knots on one auxiliary generator set.
PJ World is destined to be another truly iconic Palmer Johnson design.
By providing environmentally friendly solutions that heighten performance whilst reducing costs and utilizing robust, reliable systems proven in the most extreme North Atlantic Seas– PJ World promises to be a game changing feat of engineering and design excellence.
Palmer Johnson World will transform the conventional concept behind exploration-style vessels and introduce a revolutionary ocean voyager for the future.
Source: YachtForum
---