---
Lifestyle / Alcohol
Rémy Martin Carte Blache á Baptiste Loiseau
The prestigious Cognac Fine Champagne house launches a limited edition Carte Blanche series in collaboration with DFS Group.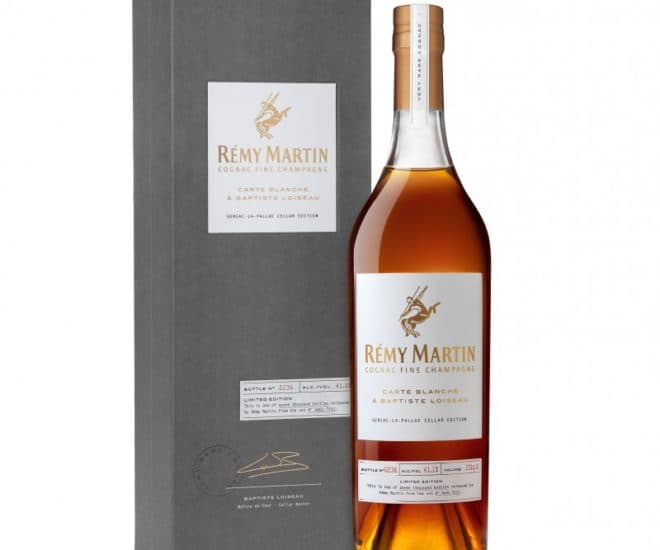 During the years he spent perfecting his craft under the tutelage of Remy Martin legend Pierette Trichet, Baptiste Loiseau tasted just about every eau-de-vie that had been set aside by previous cellar masters for their exceptional ageing potential. Now, having been granted "carte blanche" as the Cellar Master of Rémy Martin, he applies his wealth of knowledge to a special blend that is characteristic of the storied cognac house for a limited edition Carte Blanche a Baptiste Loiseau, in partnership with DFS Group.
Handpicked from the Gensac-la-Pallue cellar, the cask chosen by Loiseau reveals a balanced mix of lilac and spicy nutmeg notes, accompanied by intense aromas of leather, incense and black tea. It reportedly boasts a remarkably long finish, which we will be eager to sample.
Peter Sant, Managing Director, Rémy Cointreau Global Travel Retail, added, "Rémy Martin is one of the best-loved brands of Cognac in the world and has over many generations established an enthusiastic fan base, particularly in Asia. Today's consumers value heritage, tradition and authenticity, as did their forebears, but they covet also the new, the unusual, the exclusive. We are excited to work with DFS on the exclusive launch of this special limited edition, Carte Blanche n°1, the first expression from our new Cellar Master at the House of Remy Martin, Baptiste Loiseau."
Available exclusively at DFS Singapore Changi Airport in a handful of numbered bottles, the Rémy Martin Carte Blanche n°1 is a reflection of the Maison with its "Charentes" bottle, complete with a refined coffret encasement. The limited edition premium spirit will retail at S$295 nett at DFS until October 2016.
---