---
Lifestyle / Travel
Short-term mission trips from Singapore: Women On A Mission's Christine Amour-Levar on her expeditions and more
We catch up with Christine Amour-Levar, founding partner of Women On A Mission, on how she started the non-profit organisation in Singapore; her biggest takeaways from the expeditions; upcoming WOAM trips; and more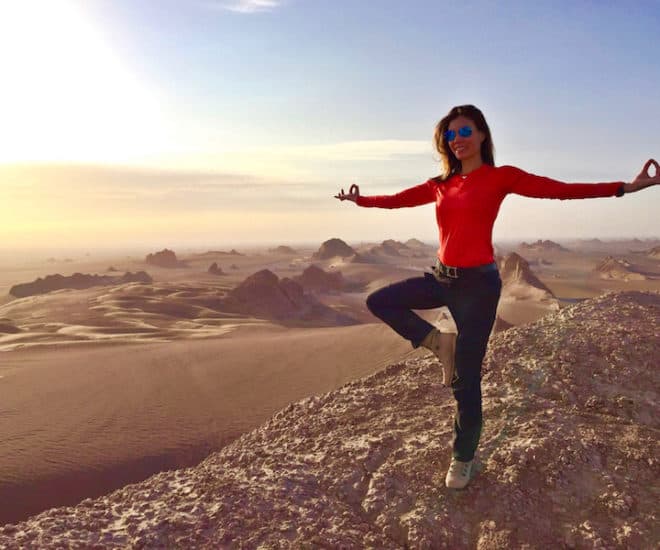 The objective behind Women On A Mission (WOAM) is simple: to raise awareness and funds (USD 1 million by 2018) for women survivors of war and for women who have been subjected to violence and abuse. But the road to achieving these goals is not that easy – though founding partner Christine Amour-Levar and her team have managed to beat the odds. At the time of writing, WOAM has raised three quarters of a million in SGD for the causes they support. The non-profit organisation has also added more partnerships with other institutions including Women for Women International, Singapore's leading gender equality advocacy group AWARE, the Singapore Committee for UN Women, Aidha (a Singapore NGO empowering domestic workers), and Pertapis Home for Women and Girls in Singapore. We speak to Amour-Levar, who just came back from a pioneering expedition in Iran, about how she combines her love of adventure with raising support for underprivileged women.
How did the idea for Women On A Mission come about?
In October 2012, I joined my friend, Valerie Boffy, a passionate Everest summiteer, and seven other women on a trek to Everest Base Camp to raise awareness and funds for women survivors of war. As we were preparing for the expedition, I wrote a press release about our key objectives entitled "Women On A Mission to Reach Higher Ground", and the name stuck! Women On A Mission (WOAM) materialised soon after our team's return from Everest. 
Tell us about your recent expedition in Iran.
We're the first all-female team in history to cross the Dasht-e Lut of Iran (or the Lut desert) on foot. The journey was breathtaking, challenging and ultimately, transformative. Everyone stayed positive, motivated, determined until the end, supporting and encouraging each other at every turn during the long days of trekking. For seven days, we were up at 4.30am and hiking 'til sunset, covering about 30 km a day. The terrain was sandy and uneven, while temperatures and climates fluctuated wildly everyday. But the desert kept us captivated by its raw beauty – from the sweltering heat of the mega dunes and the icy cold nights in the valley of the Kaluts (sandcastle-like rock formations), to the salt plains cracked by the fierce sun and the sand storms blasting through the meteorite craters. Iranians are also incredibly kind and generous people. They made us feel very welcome and at home in their beautiful country.
What are some of the things you've learnt on your expeditions?
One of the most valuable lessons I've gained from our trips is that true growth and inspiration only come from adversity and challenge; from stepping away from what is comfortable and venturing into the unknown. Our expeditions also remind us to be grateful for what we have and for the lives we lead. It is a privilege to be able to undertake such journeys by choice – while there are women who are fleeing their countries because of war or unrest, escaping with just the clothes on their backs and crossing vast expanses on foot – uncertain of any future.
Which was your most challenging WOAM expedition?
Our expeditions are all challenging in their own ways! Sometimes, the difficulty comes from the high altitudes; other times from the debilitating cold or scorching heat. On certain occasions, we have to learn a new skill such as rock climbing or stand-up paddle boarding. If I had to single out one expedition in particular, it would have to be the beautiful Tsum Valley of Nepal in 2014. The trek was particularly demanding due to the high altitude, the long hiking hours, poor accommodations with no heating, and the limited food options. Additionally, we were pushing ourselves extremely hard to reach a high pass at 5,100 metres on a tight schedule.   
Tell us about your upcoming expedition and how people can join.
Every year, we have a couple of WOAM expeditions planned: a short one of 5 to 6 days, and a longer more challenging trip for 14-16 days. In April 2017, we'll be leading an all-female team to Bhutan for a stand-up paddle boarding (SUP) expedition in support of RENEW, a charity founded by the Queen Mother of Bhutan. RENEW is dedicated to the empowerment of women and children, with specific attention to survivors of domestic violence. This will be the first time a team of women will paddleboard on the pristine rivers of the Kingdom of Bhutan. To find out more, email us at info@womenmission.com.
What is your message to women who have been subjected to violence and abuse?
You are not alone; the world is not just full of evil and hurtful people. There are many, both men and women, who want to do good and who want to help. Despite the injustice and trauma you have experienced, please don't lose hope. Life is worth fighting for.
As individuals, how can we make a difference in other people's lives, particularly those who are less fortunate than us?
It's important to remember that every little bit counts, no matter how small. Giving your time (not simply your money) is one of the best ways you can support a cause that you are passionate about or that has a special significance to you.
Who is your female role model?
I admire Queen Rania of Jordan not only for her beauty and grace, but for her humanitarian efforts as well. That said, people who are generous, kind and unafraid to dream big inspire me deeply. I also value a strong work ethic, creativity, passion, courage, determination and integrity.
You must lead a hectic lifestyle – how do you do it all?
Over the years, I've found a way to have a better balance between my professional and personal life. I have a flexible schedule and often work from home. This has allowed me to focus more clearly on what I need to get done, with fewer distractions from colleagues in the office. It also gives me the freedom to decide when I want to attend to my other work projects, writing assignments, and personal appointments, or give my children the support they need with school work and other important activities. I try to be very organised and each day is planned out very carefully.
What is your New Year's resolution?
I'd like to get better at stand-up paddle boarding to prep for the Bhutan trek next April 2017 – since it's a new sport for me!
To find out more about Women On A Mission visit www.womenmission.com
---