---
Lifestyle / Travel
Romantic Travel: 3 Cities Of Love
Fall in love in and with the new romantics such as Santorini, Copenhagen and Iceland.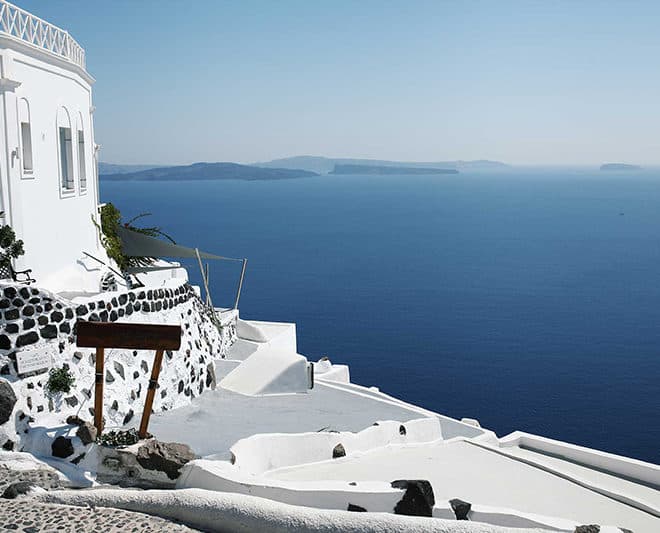 As far we are concerned, it is always a good time for romance. While the staple cities of love such as Paris still hold their allure, it would be nice to venture out to fins other scenic cities that provide just as much to offer — and a whole lot of love of course.
Iceland
With its white landscapes and freezing cold weather, Iceland may not seem like your typical romantic getaway. (It is also not a city but going to Iceland and just seeing Reykjavik is like going to Paris and just visiting Charles de Gaulle – Eds). But if there is one thing that sums up why I thoroughly believe it is, it's being able to share the raw power of nature with your other half. You can expect the sort of experience that sets your pulse racing, that makes you want to grab the hand of your partner as you witness the most majestic sights your eyes have ever seen.
Start off in Reykjavik, the largest city in Iceland, filled with quaint shops and some of the finest Scandinavian restaurants. The capital is also home to Hallgrimskirkja, a ridiculously beautiful Lutheran church and the largest in Iceland. The building – known for its expressionist architecture and stunning rooftop view of the city – will blow you away with its sheer magnificence. Grillmarkadurinn, or The Grill Market, is the place to head to for the best farm-to-table cooking, made with produce from Iceland's best exotic meat farmers – fancy some reindeer or puffin?
Rent a car and drive through Iceland's infamous Golden Circle, a route that passes Thingvellir National Park and the majestic waterfall Gullfoss, or tour on horseback through the mountains, past glacier lagoons, black sand beaches and Blue Lagoon, Iceland's most popular geothermal spa. Don't forget to make time for one of Earth's most phantasmagorical natural phenomena, the Northern Lights – the greatest and perhaps most romantic light show in the world.
Santorini
Santorini is, undoubtedly, one of the best places in the world to watch the spectacle of the sun sinking into the sea – one of the main reasons why it's the holiday destination for couples. With its old-world architecture and steep cliffs dotted with restaurants and hotels overlooking the Aegean Sea, it is the ultimate vacation spot for romance.
Stay in Oia, a small town just by the sea. Hordes of tourists are to be expected, but there's a certain excitement in squeezing through the crowds to get to the delicious feta-topped Greek salads, grilled meats and fish. Kastro Restaurant, an over-two-decade-old establishment next to the ruins of the Byzantine Oia Castle is a must-visit for its traditional Greek favorites, served with a side of that infamous Santorini sunset.
Spend afternoons exploring archeological sites on foot, by boat or by doing both. Take a trek through the volcanic islands of Nea Kameni and Palia Kameni, home to natural hot springs. Spend a few hours in lesser-known Pyrgos, the highest point of Santorini where a charming, rustic village sits. Here, you'll find ruins of Kasteli Castle, as well as neo-classical mansions, vineyards and ancient narrow paths leading up to hills and Catholic churches. Alternatively, you could simply pick any one of Santorini's black beaches – to do absolutely nothing except sip cocktails and take in the view.
Copenhagen
Colorful architecture, magical canals, fairy tale castles, charming parks and cobbled streets that beg hand-in-hand strolls – just some of the things that make up Copenhagen, a city built for lovers. Perhaps it's also to do with the fact that it was once home to author Hans Christian Andersen and the birthplace of some of the most romantic literary masterpieces. There's also the Danish culture of "hygge", an emotion and expression that translates closely to "coziness". A candlelight dinner with a lover is "hygge". Snuggling together under a blanket is "hygge". Drinking wine while cruising on a boat through Nyhavn, Copenhagen's famous 17th Century canal and entertainment district, is "hygge". Danes simply live and breathe "hygge" – it's a city with its own heartbeat.
When you're done soaking in the ambience, drop by Torvehallerne, a vibrant farmer's market with over 60 stalls selling the freshest and most sustainable produce. Get a dose of "hygge" at Atelier September, one of the homiest places for brunch in Copenhagen (I recommend the avocado on rye, pumpkin soup and yoghurt with granola). Travel back in time with your partner at Tivoli Gardens, the oldest amusement park in the world, or imagine yourselves as royals for a day at the Rosenborg Castle or Christiansborg Palace. Engage in a rom-com cliché and rent a swan boat on Peblinge Dossering Lake. Arty couples will love The Louisiana Museum of Modern Art, an architectural haven just 25 miles north of Copenhagen that boasts over 35,000 modern works of art and panoramic views of neighboring Sweden.
Story Credits
Text by Melody Tan
This story was first published in L'Officiel Singapore.
---