---
Lifestyle / Travel
Luxury igloos
Perched high above the five-star hotels and heated debate amongst global leaders in the Swiss resort of Davos, an igloo hotel offers the chance to chill out and enjoy life as an Eskimo might. Set in the midst of the groomed, snow-clad ski slopes 2,600 metres up (8,500 feet), the cluster of igloos nonetheless takes […]
Perched high above the five-star hotels and heated debate amongst global leaders in the Swiss resort of Davos, an igloo hotel offers the chance to chill out and enjoy life as an Eskimo might.
Set in the midst of the groomed, snow-clad ski slopes 2,600 metres up (8,500 feet), the cluster of igloos nonetheless takes a few liberties with the genuine polar experience.
Iglu-Dorf is built out of packed snow, but the network of 15 igloos linked by tunnels looks more like a cross between neolithic caves and an eco-housing complex perched in the Alps.

They also offer some creature comforts that are not so common on the wild expanse of polar icecap, such as a sauna and whirlpool bath. And they were not hewn out of ice.
"We built the complex in five weeks using giant inflatable balloons which were then covered with snow," explained Alexander Lau, one of the staff at the Davos igloos.
Last year, 9,000 people spent a night in accommodation ranging from a more summary standard igloo (119 euros on weekends) to the "romantik-iglu plus" (339 euros) complete with candles, carved features, animal skins, a private whirlpool and even the luxury of a toilet.
Adrian Gunter, the inventor of the Iglu-Dorf concept, built his first igloo, with the help of friends, in 1996 at the resort of Scuol, to get an early start on skiing the next day.
Since then, the company has evolved into a small empire of igloo villages across the Swiss Alps – at Gstaad, Scuol, Engelberg, Zugspitze and Zermatt – each accommodating some 38 guests a night from December through to the end of the season, in April.
Via AFP – Read the full story on Yahoo News.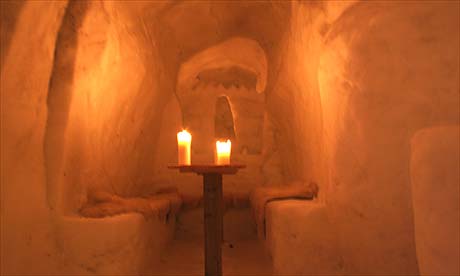 ---