---
Lifestyle / Travel
Grimshaw Architects Expand London Heathrow Airport
The airport looks set to undergo a long-overdue expansion with the help of the London-based architects.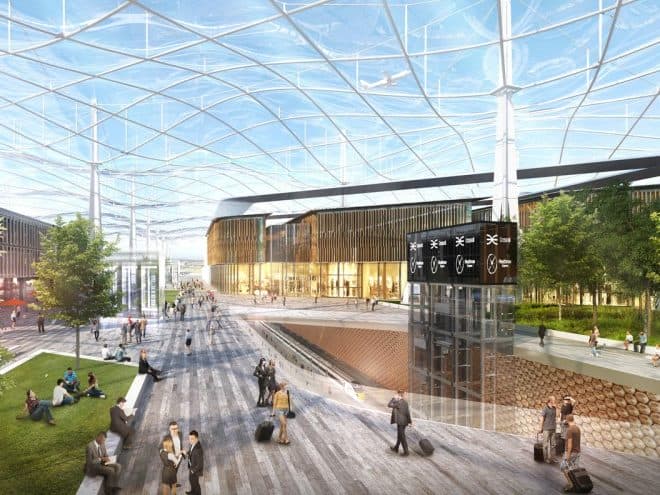 In some good news since Brexit, it seems plans to give London's Heathrow Airport a well-needed makeover might soon be a reality, with a little help from architectural firm Grimshaw.
Announced July 19, the London-based firm ousted competitors the likes of Zaha Hadid Architects, Benoy and HOK with its "visionary concept designs, which pushed the boundary of what an airport could and should be" and "unique ideas around how Heathrow could be expanded in a sustainable but affordable way."
Its concept design, revealed in a clip below, sees a new international terminal that features a satellite concourse, control tower, urban center and landscaped exterior. As per the brief, their submission showed innovative, contemporary lines with an emphasis on sustainable infrastructure. The Central Terminal will also be redesigned to become the host of Terminal 2, with a large skylight and curving balcony that will house retail outlets.
Heathrow's head of design Barry Weekes is quoted insisting that "with the concept architect and programme client partners now in place, we are now ready to begin the process of expansion once the government makes the right choice for the whole of Britain."
London Heathrow Airport is certain the upgrade will go ahead despite disapproval from public figures, as well as environmental and local advocacy groups, citing the importance of a new runway and terminal for Britain, especially in the current European climate. However, the final decision, which lies with the Transport Minister, still remains to be seen, as new Prime Minister Theresa Lay continues to strongly oppose the expansion.
---