---
Lifestyle / Gastronomy
Ferran Adria to Close El Bulli Temporarily
Molecular gastronomy maven Ferran Adria has announced that he will close his famed Catalonian restaurant El Bulli for all of 2012 and 2013. The three Michelin star El Bulli, tucked away on the Catalan coast, was last year named the world's best restaurant by Restaurant magazine in Britain. "El Bulli is not closing down. I […]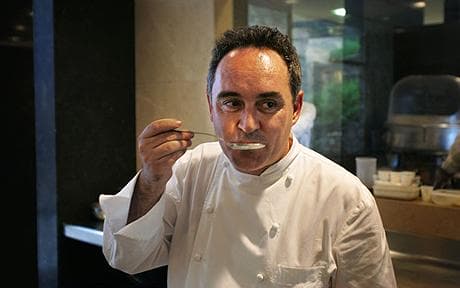 Molecular gastronomy maven Ferran Adria has announced that he will close his famed Catalonian restaurant El Bulli for all of 2012 and 2013.
The three Michelin star El Bulli, tucked away on the Catalan coast, was last year named the world's best restaurant by Restaurant magazine in Britain.
"El Bulli is not closing down. I need time to decide how 2014 is going to be . . . I know that when I return it will not be the same"

Adria blamed his decision to close the Spanish restaurant on personal problems and exhaustion.
"It is tremendously stressful working 15 hours a day while still being creative," he said.
El Bulli will be open this year through 2011 before closing — although it only seats 50 heads a night for six months out of the year.
Meanwhile, Chef Adam Melonas, who worked closely under Adria at El Bulli, has announced plans to open a 60-seat restaurant in New York.
---