---
Lifestyle / Gastronomy
Chef Vongerichten Opening Vegetarian Restaurant
Another award wining chef is embracing the vegetable kingdom with his new restaurant.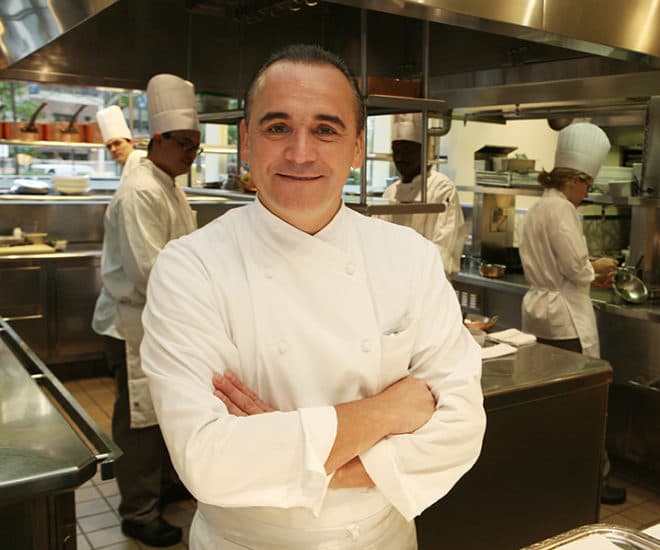 Jean-Gorges Vongerichten will be setting up a new restaurant in New York City come September. Aimed at being a vegetarian restaurant, named abcV, the chef will feature ingredients such as cabbage, mushrooms and beets as the highlights in dishes.
Rather than replacing meat with vegetables, such as with a vegetarian burger, the French chef is taking up the challenge to serve vegetable centric options for diners. The concept of a vegetable centric eatery is a first for New York. While the full menu has yet to be released, he did tease a few dishes such as sauerkraut, buckwheat crêpes, dosas and congee.
His latest venture is in response to the increasing popularity of vegetarian and vegan restaurants that cater to hose who are health and environmentally conscious. The new restaurant is Vongerichten's third collaboration with furniture and design store ABC Carpet & Home. It is a follow up to ABC Kitchen and ABC Cocina.
Vongerichten is now following in the footsteps of other chefs such as Alain Passard, Alain Ducasse and René Redzepi. Michelin-star chef Passard first removed red meat from the menu of L'Arpège following the mad cow disease 10 years ago while Ducasse replaced the red meat with cereals and vegetables in 2014. This spring, Denmark's most famous chef René Redzepi announced plans to turn his next restaurant into a part-time vegetarian eatery.
---